How to Transfer Apps from Samsung to Sony Phone?
Samsung and Sony smartphones are used by many people all over the world. Some people love owning both brands or often switch from one to another company. But problem arises when you see the new phone missing the old apps. You can just download them again, but you may not get the data back. So people require a solution that can transfer apps with all data, information and saved configuration from one to another phone. However, all type of apps cannot be transferred directly without the help of additional tools, and some lack their content like chat histories, saved links, etc. The best solution for such transfer can only be met by professional apps transfer software solutions.
Think of Coolmuster Mobile Transfer or Mobile Transfer for Mac when you want to move content freely between phones and phones. It is an one-stop solution for all copying and exporting needs. It works for old and newly released iPods, iPads, iPhones and Android tabs and phones of most manufacturers. It also provides backup & restore functions that once you choose the option of "Backup your phone", this will connect your phone to the computer and all your files will be scanned first and displayed categorically. Next time when you connect your device to the computer, launch the app and choose "Restore from Backups" The backup records ever created by the program are showed here.
Just three simple steps will help you to transfer your app between your Samsung Galaxy S7/S6/S5/S4 and your Sony Xperia Z6/Z5/Z4/Z3 phone. Download Mobile Transfer on your computer. After downloading and installation, go through the following steps. The whole process can be completed in few minutes, along with several mouse clicks.
Guide to Copy Apps to Sony Xperia Z5 from Samsung Galaxy S6
Step 1. Connect Samsung and Sony phones to computer
Double click to open Coolmuster Mobile Transfer on your computer after you downloaded and installed it, and connect both Samsung and Sony phones with the USB cord. The program screen will display 4 modes for you to select from.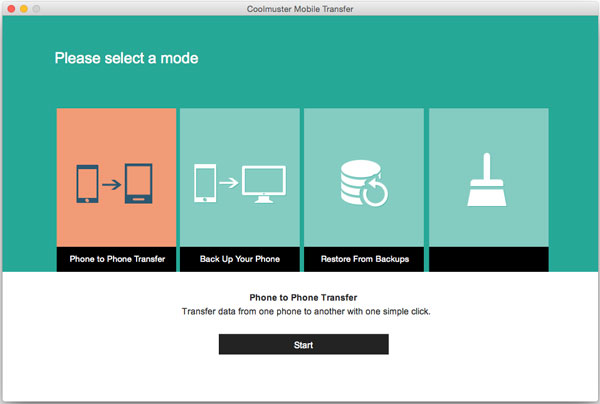 Step 2. Choose "Phone to Phone Transfer"
Choose the first option from the left which is "Phone to Phone Transfer." This will open the next window which shows the two connected phones with their transferable data. There are categories you can choose from on the top like photos, videos, apps, music, etc.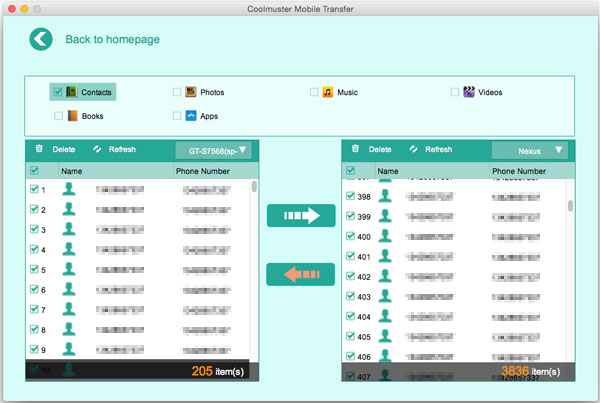 Step 3. Transfer apps from Samsung to Sony
Check the box beside apps by clicking on it as we are going to move apps only. Then, click on the left or right arrow on the interface to transfer apps between Sony and Samsung. You can move apps from both phones to one another.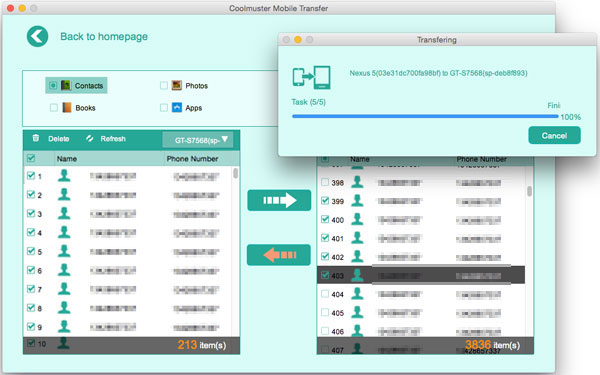 And you're done! You will love to use Coolmuster Mobile Transfer and it can make the entire process easier for you. Backup all your data you need, and troubleshoot phone problems in just a few clicks. Transfer data between your two phones and store all that you need safely.
Related Articles:
Transfer Photos, Videos, Music & Apps from Nokia to Galaxy