How to Transfer Calendar between iPhone and Samsung?
Have you ever gotten a new Galaxy S6 and run up against one big problem? Transferring your old yet important calendar to the new phone from your old iPhone has always seemed like an impossibility. But there are various reasons to take out data from one phone and get them located on another one because you don't want to lose all your old files. In today's world, it's never been more important to save data, so that you can stay ahead of the game. Another reason is that when a people owns two phones at the same time, he can access the same information in any of the phone by syncing files with the two phones. With this need, people no longer have to worry about keeping more than one phone with the same information on it.
While many mobile phone users love the customization their devices give them, tweaking every detail to their desire, when it comes to transferring calendar, they hit a wall. And that's completely understandable. Now, there's a new piece of software that's finally fixed this problem (and many more) for mobile users. iPhone to Samsung Transfer is an up-to-date solution for ensuring you can get your calendar transferred from iPhone to Samsung or from Samsung to iPhone. Not only calendar, Mobile Transfer can also share contacts, SMS, photos, videos, call history, music and more between two mobile phones in Android, iOS or Symbian system.
As a straightforward solution to transferring data, iPhone to Samsung Transfer excels at being simple to use and getting you exactly what you need. It's designed to work exactly as it says, without fuss or worry.
A Way to Share Calendar between iPhone and Samsung Galaxy
Step 1: Install and launch the tool on your computer
You'll need to head over to the downloading buttons above to download the dedicated software. After choosing the right version you need, install it on your computer and launch to start using it.
Tips: iPhone to Samsung Transfer is compatible with Samsung Galaxy S8/S7/S6/S5/S4/Note 7/Note 6 and iPhone 8/7/6S/6 Plus/5S/5.
Step 2: Connect the two phones to the computer
After getting the transfer program launched, all you need to do is connecting your iPhone and Samsung phones via USB cables with the computer to initiate a connection. iPhone to Samsung Transfer will detect them and display them as "Source" and "Destination" devices. You can easily change the places of the two phones by clicking the "Flip" button in the middle of them.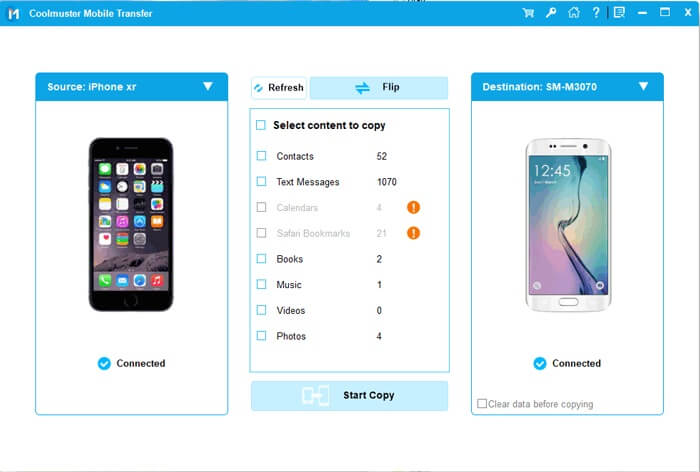 Step 3: Transfer calendar between iPhone and Samsung
From there, the iPhone to Samsung Transfer offers clear guidance for taking any set of data from one phone to another. All you'll need to do is select the type of data that you'd like to copy and send, here is "Calendar", and then click on "Start Transfer" to begin the transferring progress. That's it.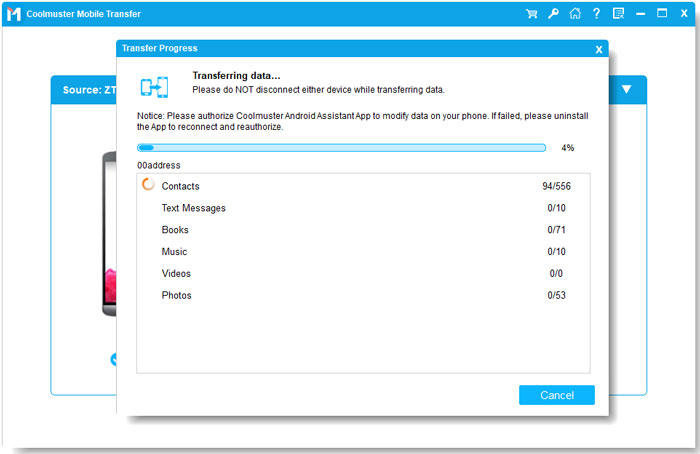 Once finished, unplug your devices and start accessing and using your calendar on your new device. iPhone to Samsung Transfer makes it that easy.
Related Articles:
How to Copy Music from Android to Android