How to Transfer Calendar from Nokia to Samsung Galaxy?
The human mind can remember so many things but due to one's busy nature,a few details may be forgotten. With a smartphone, this is no longer the case, thanks to creative developers who have come up with calendar apps that help to manage one's life. Smartphone manufacturers around the world are churning out new devices every day and making them immediately available in the market. The new devices come fitted with new features such as larger screen, powerful front and back camera, new design, faster processor and more storage. As a smartphone user, you would not want to be left out as friends are getting the new devices and bragging about them. When you buy a new Samsung smartphone, you will want to share files from your Nokia phone therefore transferring your files together with your calendar.
While smartphones come fitted with Bluetooth therefore making transfer of files easier. There are times one will need to use an external third party application like Nokia to Samsung Transfer, which is a Windows and Mac OS compatible application that enables the user to transfer different kinds of files ranging from photos, messages, contacts, calendar details, videos and ebooks among others between Nokia and Samsung, as well as other Android, Symbian and iOS devices. With Nokia to Samsung Transfer, you can benefit the following features:
a. It provides an easier way of storing files and calendar details on the computer.
b. Its a secure application therefore safe to use.
c. Provides easy sync function between smartphones and computer.
d. Restore the backed up files to your phone whenever you need.
1-Click Calendar Transferring from Symbian Nokia to Samsung Galaxy
Download the program on the Windows PC or Mac OS X and give it a shot (here we set Windows version as example). Read the following detailed instructions to see how to use it to copy Nokia calendar to Samsung mobile phone.
Step 1. Run Mobile Transfer on your Windows PC
Download Nokia to Samsung Transfer and install it on your computer. Run the program and then, you can get its clean and user-friendly primary window like the following picture.
Step 2. Connect both Nokia and Samsung phones to PC
Use two USB cables to connect both your Nokia phone and Samsung Galaxy phone to the Windows PC. The two phones will be detected and displayed in the primary window. And all the phone contens are also appeared underneath.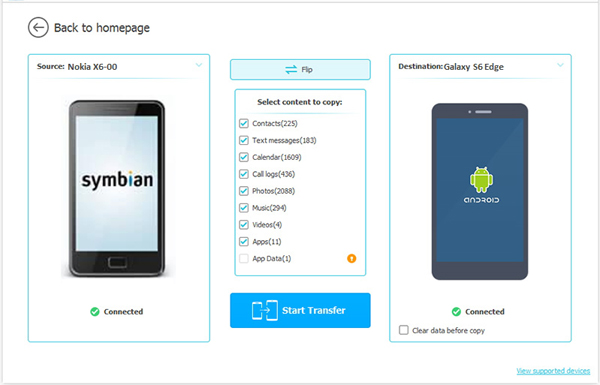 Step 3: Transfer calendar from Nokia to Samsung
If you only want to transfer calendars, you need to uncheck other file types except "Calendar". After that, click "Start Transfer" to start the calendar transfer from Symbian Nokia to Samsung Galaxy S6/S5/S4/Note 5/4/3.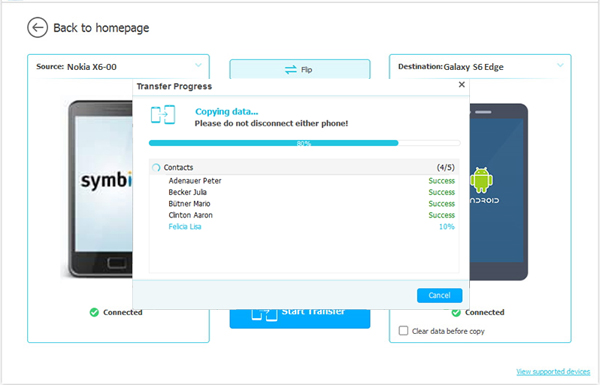 Free download the Nokia to Samsung Transfer and try it on your own!
Related Articles:
Move Contacts between iPhone and Nexus