Transfer Contacts from Old Android to Samsung Galaxy S8
While transferring data, you might find a lot of problems. For example, if you are using a USB and transferring data from your old phone to your computer and then to your new phone, it will take up a lot of time and the process may even hang due to the transfer of large amounts of data. What's more, transferring contacts between two Android phones is much more difficult than transferring other media files like photos, videos and music, especially when we can not insert the SIM card of the old phone into the new phone directly. Then, is there any way to transfer contacts from an old Android phone to the new Samsung Galaxy S8 smartphone?
To have an easy-to-handle yet professional phone to phone data transfer tool is the key point that help you realize the contacts transfer from old Android to new Galaxy S8, and the excellent Coolmuster Mobile Transfer (Windows) or Mobile Transfer for Mac is all what you need. In fact, there are three options you can choose from the program:
Phone to Phone Transfer - when you are transferring data between phones;
Back up your phone - for when you want to backup data on your phone;
Restore from backups - for when you want to retrieve the data from your backups.
Another option for erasing your old phone data permanently is coming soon. This will help you protect the privacy of your data and prevent of from getting leaked in case you are giving your old phone away.
In the last article, we talked about how to transfer data from old Galaxy S6/S7 to new S8. Then, how to transfer contacts from an old Android phone to new Samsung Galaxy S8 by using the Mobile Transfer? 3 steps are enough! Just click the following button to download the right version of the software and then read the following guide.
How to Copy Contacts from Old Android Phone to New Galaxy S8?
Step 1. Connecting old Android phone and new Galaxy S8
Link your old Android mobile phone and new Samsung galaxy S8 to the computer where you have the Coolmuster Mobile Transfer downloaded and installed, with the help of two USB cables.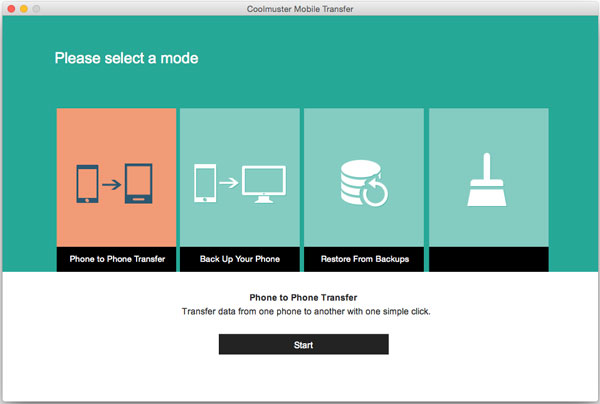 Step 2: Selecting the Phone to Phone Transfer option
Now select the Phone to Phone Transfer option from the program interface and click on the "Start" button to enter the phone transferring window. Then, the two phones, as well as all transferable file types are displayed here.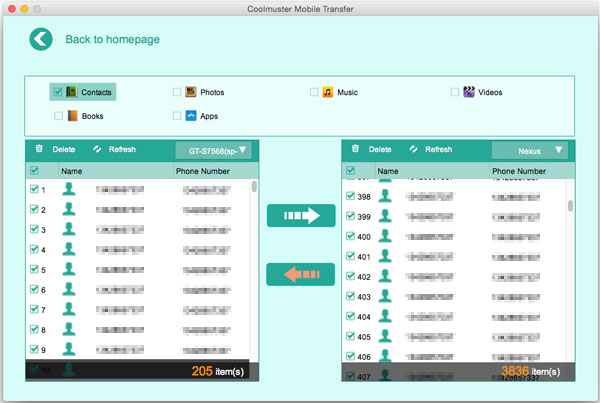 Step 3. Transfer contacts from Android to Galaxy S8
From the list at the top, select, whatever you want to transfer - contacts, photos, music, videos, books, apps etc. Here, if you only want to transfer contacts, you can select "Contacts" option only. Then, select the contacts you need and click the transferring arrow pointing to the new Galaxy S8 to begin the contacts transfer process.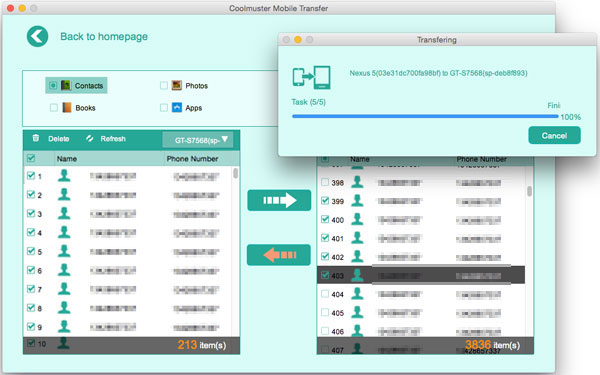 Thus, you can transfer all your contacts from your old Android phone to your new Samsung Galaxy S8 with just one click.
Related Articles:
How to Copy Apps between Two Sony Devices