3 Ways to Transfer Contacts from iPhone 7 to Samsung Galaxy S8
These days, there is a variety of smartphones being available with better and enhanced features than the previous versions or are different from other smartphones available in the market. They might have better camera resolution, better touch or a faster processor. With the changing times and the changing needs, it is evident that you would upgrade from an old smartphone model to a new one. With the new phone comes new attributes and new excitement of owning it. But how to transfer important data, such as contacts, from your old phone to the new phone?
Here in this article, we set iPhone 7 and Samsung Galaxy S8, as example, to show you how to transfer contacts from iPhone 7/7 Plus to Samsung Galaxy S8.
Way 1: Copy iPhone 7 contacts to Samsung Galaxy S8 with iCloud
Way 2: Transfer contacts from iPhone 7 to Galaxy S8 with iTunes
Way 3: Switch contacts from iPhone 7 to Galaxy S8 with Mobile Transfer
Way 1: Copy iPhone 7 Contacts to Samsung Galaxy S8 with iCloud
1. Go to iCloud backup in your iPhone;
2. Export all contact to .vcf file and then store it on the cloud;
3. Access your iCloud account and then transfer the .vcf file to your Samsung Galaxy S8.
This process not only requires you to first transfer all data from phone to iCloud and then transfer the same data from cloud to your new phone, it is also password enabled. If you have lost or forgotten your password, there's no way you can carry out this syncing process.
Way 2: Transfer Contacts from iPhone 7 to Galaxy S8 with iTunes
1. Using a USB cable, connect you iPhone to your desktop;
2. Select your iPhone from the iTunes app;
3. From the info tab, select 'sync contacts with' option and then click on 'Google Contacts';
4. Select your google account and then click on the 'Apply' icon;
5. From your Samsung phone, go to Google Accounts. Your contacts will get updated in your new phone.
Again this process also requires to you first create a backup and then only allows you to sync the contacts.
Way 3: Switch Contacts from iPhone 7 to Galaxy S8 with Mobile Transfer
iPhone to Samsung Transfer helps you easily transfer contents between your old and new phone in just one click irrespective of the platforms of either of the phones. Be it contacts, text messages, songs, photos, videos, apps, etc., you name it and this utility application help you transfer almost everything in minutes. With 100% OS compatibility and risk free transfer assurance, this application lets you transfer data between an Android supported phone to another Android phone, Android phone to an iOS phone, Android to Symbian and an iOS phone to Symbian phone with a promise of the same quality maintenance.
Tips: If you are afraid of losing contacts from your iPhone, you can refer to the specific guides on how to recover lost contacts from iPhone, and how to backup iPhone contacts on computer.
Download the free trial version of Coolmuster Mobile Transfer and install it on your computer to get ready.
Step 1. Download and install the transfer program on your computer and then using two USB cables to connect your iPhone 7 and Galaxy S8 to the computer. Launch the transfer tool to detect the connected phones.
Step 2. The user interface will show you the different options that you can choose the Phone to Phone Transfer. Then, you will be taken to the next window that will list all the moveable files for you like Contacts, SMS, pictures, videos and so on.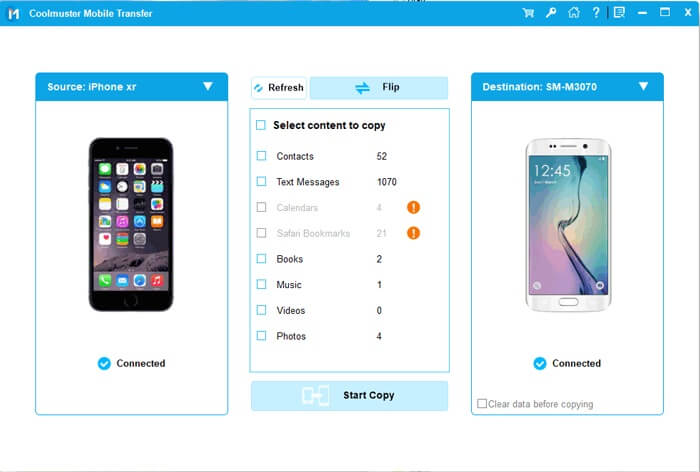 Step 3. To transfer contacts, you should tick the box next to Contacts and then click the button of "Start Transfer" on the screen the begin the transfer.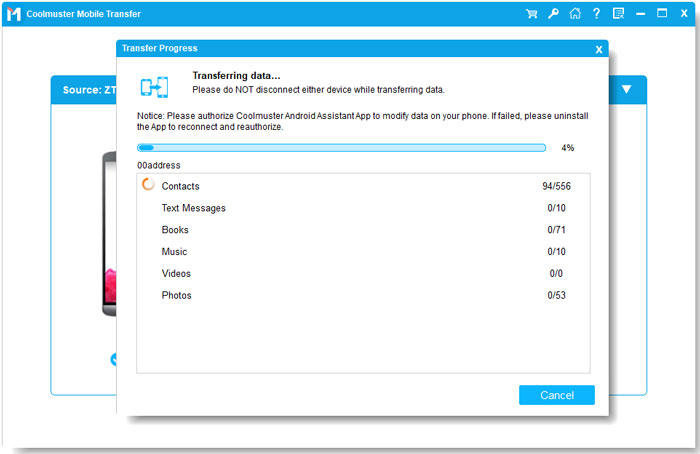 It is a downloadable program and fairly easy to use. Just click the download it for free to have a try!
Add a comment