How to Transfer Contacts from Nokia to Motorola Moto X?
Getting tired of your old Symbian Nokia phone and want to experience a totally new feeling on a Motorola Moto X phone? Many people choose to give up Symbian of Nokia and join the Android club. But after making the phone switch, you will be suffer from the problem of copying contacts from your old Nokia phone to new Motorola Moto X phone. If the contacts are not many, we can directly type them to the new phone one by one. However, since generally people have more than hundreds of contacts on their phones, it will be time consuming to copy these contacts manually.
What's worse, we can not directly put the SIM card from one phone to another because of the different requirement of card size. Don't panic! When you have Nokia to Motorola Transfer, transferring contacts from Symbian Nokia phone to Moto X can be as easy as pie. As a professional phone contacts transfer tool, it is capable to transfer data like contacts, text messages, photos, videos, music, call history and more from Nokia to Moto X easily and quickly. With the help of this program, all your wanted Nokia phone contacts can be synced to the new Moto X phone with just one single click.
Don't believe it? Just follow the instructions in the below to go through the process of transferring contact phone numbers from Nokia to Moto X. You will see all the transferred files will be as same as the original ones, nothing would be damaged or altered. First of all, please click the following buttons to get the Windows or Mac version of the program downloaded and installed.
Detailed Steps to Move Contacts from Nokia to Moto X Phone
Step 1. Run Nokia to Moto X transfer tool on your computer
Suppose you have downloaded and installed the Transfer on your computer, run it please. The primary interface of the program will pop up on the computer desktop, as the following picture shows.
Step 2. Connect your Nokia and Moto X with your PC
After running the transfer tool, connect both of your Nokia phone and Moto X with the same computer. The program will detect and display them on the program window. One phone will show up on the left and the other on the right. You can click "Flip" to switch the their places.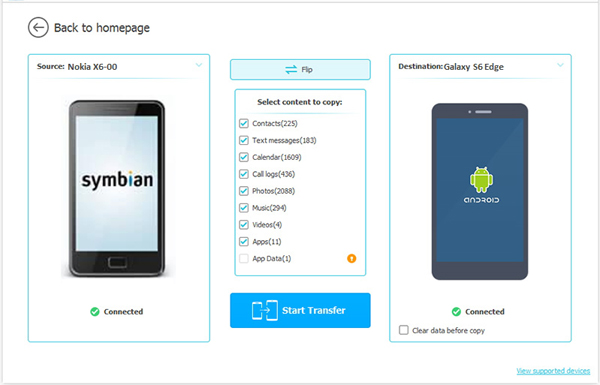 Step 3: Transfer contacts from your Nokia to Moto X
Now, here comes the hey process of the contacts transfer. Just choose "Contacts" you want to transfer and uncheck other file types. Have you seen the "Start Transfer" button? Click it and the contacts transferring will begin at once.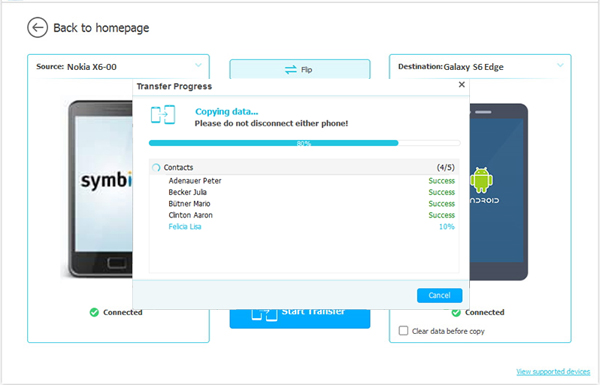 After the transfer, you can check all the contacts on your Moto X. With only one click, you can effortlessly complete the data transfer from your Nokia phone to Moto X. It's simple and time-saving, isn't it?
Related Articles:
How to Switch from BlackBerry to Android