How to Transfer Contacts from Old HTC to New HTC One M8?
For those lucky enough to have recently swapped their old HTC device for the exciting new HTC One M8, it is important to know how to swap different kinds of data from one to the other. In fact, the very last thing that you want to end up doing is starting over from scratch. It might have been necessary fifteen years ago, but it certainly is not the case now. These days, learning how to transfer contacts from a device like the old HTC to the new HTC One M8 is easier than you might think, especially with the right tools. The ability to effect a quick and easy transfer, particularly when it comes to something like a contacts list, means that you can start using your new HTC One M8 device as soon as possible.
What can the Coolmuster Phone Transfer tool do for me?
Whilst there are various different tools available online which promise to help users transfer contact lists effortlessly, a great many of these programs still make the process a lot more convoluted than it needs to be. In other words, there is no reason why the transfer of contacts from an old HTC to a new HTC One M8 cannot be achieved in three steps or less. The Coolmuster Mobile Transfer or Coolmuster Mobile Transfer for Mac tool is all that you need to start using your HTC One M8 today. It will not only allow you to transfer contact lists between two HTC devices, it will do this in a matter of seconds, and even help you to backup and restore important data.
You can enjoy a quick and simple phone to phone data transfer between almost all mobile phones by using this Phone Transfer, including Android, iOS, Symbian and BlackBerry. This is a step by step guide to transferring contacts from the old HTC to the new HTC One M8. Coolmuster Phone Transfer comes with both Windows and Mac versions. Here, we will set Windows PC as an example. Please note the operations of using the program on the Windows and Mac computers are almost similar.
Click the following button to download the free demo version of the program:
One Click to Sync Contacts from Old HTC Phone to HTC One M8
Step 1. launch the HTC to HTC data transfer tool
To start, launch the installed Coolmuster Phone Transfer tool on your computer, and it will show you the primary interface like below. Just go to the "Phone to Phone Transfer" mode and click "Start" to enter the phone transferring window.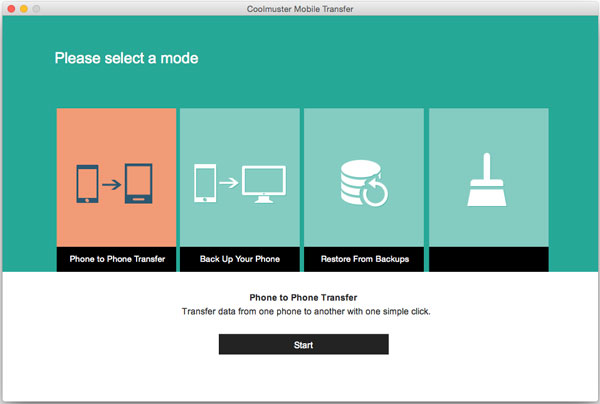 Step 2. Connect the two HTC phones to computer
Then, connect both of the HTC devices to your computer using USB cords. It should take no longer than a second for them to be recognized by the computer. Then, the program will display them in its window. One on the left and the other on the right.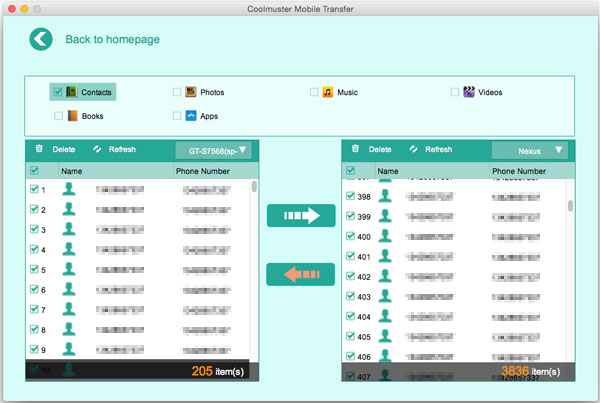 Step 3: Start to transfer contacts to new HTC One M8 from old HTC
You should take a good look at this data, and select the files that you want to put on the new device. To transfer contacts only, you can directly tick the "Contacts" and kick off the transfer by clicking the transferring arrow.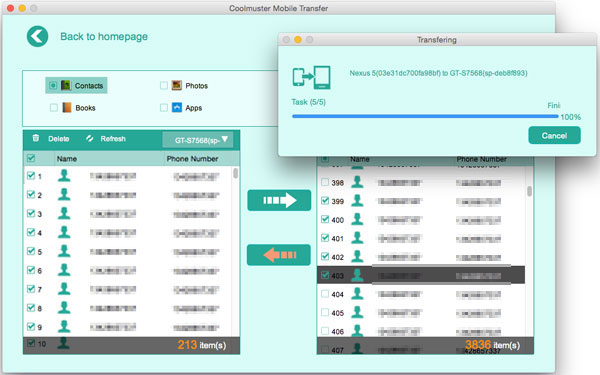 Why should I use the Coolmuster Phone Transfer tool?
With the help of this third party application, however, you do not have to spend any more time fiddling about with an old phone than is absolutely necessary. For many, and particularly for younger phone users, an old device is likely to be passed down to a friend, family member or sibling, which makes it even more important to be able to mine its valuable data, and then wipe the slate clean.
Related Articles:
Move Contacts between iPhone and Google Nexus