How to Transfer Contacts from One iPhone to Another?
It seems like Apple reintroduces new hardware every year. The length of time from the iPhone 5 to the iPhone 6 seemed to pass by in the blink of an eye. Now that you have finally gotten a new iPhone, it's time to transfer all of your old data from your old device to your new one. It's so convenient to sync up all your contacts so you don't have to re-enter all that information it took you months, sometime years, to accumulate. Can you imagine having to put all of your contact information from one smartphone to another manually? Sometimes, the only place you have a number stored is on your old phone. And you may not be able to load it manually from an old phone when its screen is damaged (which may be the reason you had to get a new phone in the first place). In these cases, you may need effective third-party software to get this job done.
Luckily, there is iPhone to iPhone Transfer software. This is third party software that allows you to transfer and sync up all your iPhone data from one smartphone to another regardless of the type of home computer you own. It allows you to transfer contacts, text messages, call logs, calendar reminders, photos, music, videos and apps between any kind of smartphone, including iPhones, Android phones, Nokia phones and BlackBerries - all with one simple click. It also allows you to back-up your phone data so you can restore it later and keep it secured, retrieve this back-up data to download all your contacts onto your new iPhone, transfer all of your iTunes data from one phone to the next easily, and even allows you to download saved data from your Apple iCloud onto your iPhone or even an Android phone.
To transfer contacts from one iPhone to another, you should first download iPhone to iPhone Transfer software onto your computer (it's available for free-downloadable for both Mac and Window OS). Then, all you have to do is following the guide in the next paragraph to move contacts from your old iPhone to another new.
Easy Way to Copy Contacts from iPhone to iPhone in Steps
Step 1. Connect your two iPhones to computer
Connect both devices to your computer with two USB cables and launch iPhone to iPhone Transfer app. You will see a screen that pops up displaying a window for each of your connected iPhones and a third box in the middle labeled "Select Content to Copy".
Step 2: Select the contacts you want to transfer
In the middle box, tick off all the content you want to transfer from your old phone onto your new one. This can include contacts, texts, Calender data, Apps, photos, music and videos you have recorded on your old phone. Here for this topic, you can directly choose "Contacts" only.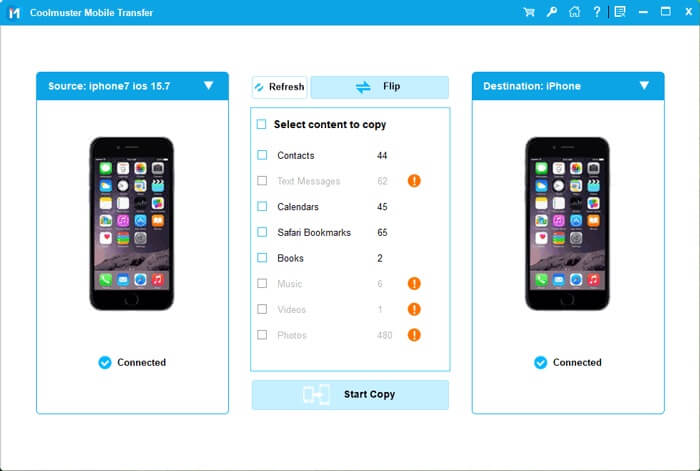 Step 3. Begin to transfer contacts from one iPhone to another
When you have chosen the "Contacts" you want to transfer from your old source phone, click the tab marked "Start Transfer". At this time, a screen will pop up displaying your data transfer progress.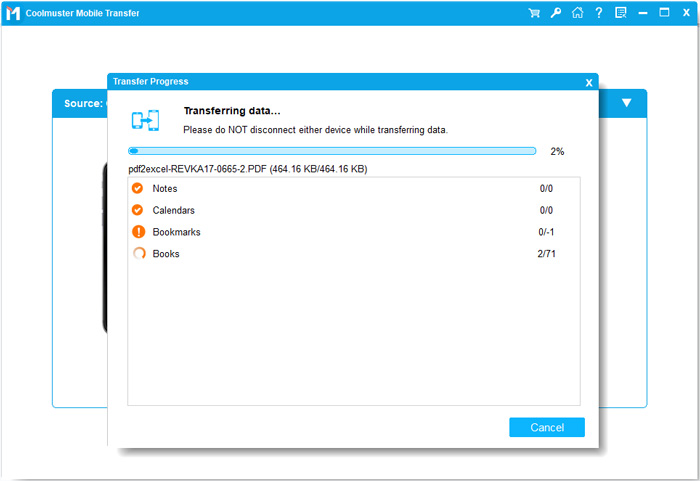 Make sure you don't disconnect any cable during this transfer process. When the screen disappears, then the data transfer is complete and you can start using your new iPhone just like your old one!
Related Articles:
Transfer Photos from Nokia to Samsung Galaxy S5