Transfer Contacts/Messages between Micromax and Samsung
Today, big smartphone manufacturers like Samsung, LG and Motorola are taking up a huge part of the market share when it comes to their Android phones. In such a case, if you have decided to upgrade from a Micromax to a Samsung Galaxy S8/S7/S6/S5/S4, then you have only made the right decision. Once you have upgraded to a Samsung phone, the next task for you would be to transfer all contacts and SMS from your old Micromax Phone to your new Samsung phone, so that you can keep on using these contacts, SMS and other files on your new phone.
Coolmuster Mobile Transfer to your rescue:
If the thought of losing important data while transferring it from one phone to another, like contacts and SMS leaves you paralyzed in fear, then you have no reason to worry if you have Micromax to Samsung Transfer. Mobile Transfer allows you to transfer all your important files, such as contacts, text messages, photos, videos, music, apps and more, in one click from one phone to another, even those based on different operating systems like iOS, Android and Symbian. The best part is that the transfer is 100% compatible and there are no risks involved.
Tips: If you have lost contacts and text messages from your Micromax phone, you can refer to the specific guides on how to recover lost contacts from Micromax phone, and how to recover deleted text messages on Micromax phone.
If you have doubt about the Micromax to Samsung Transfer, don't worry. You can get the free trial version from the below buttons, and try the transfer on your own. There is no risk of data loss during the process.
How to Copy Contacts/SMS between Micromax and Samsung?
Step 1. Connect Micromax and Samsung phones to computer
Download and install the Micromax to Samsung Transfer on your computer and then using two USB cables, connect both your old and new phone to the machine. Your phones will get immediately detected and you will be taken to the main user interface.
Step 2. Enter phone to phone transfer window
The user interface will show you the different options that you can choose from. Just select the Phone to Phone Transfer and you will be taken to the next window that will list all the moveable files for you like Contacts, SMS, pictures, videos and so on.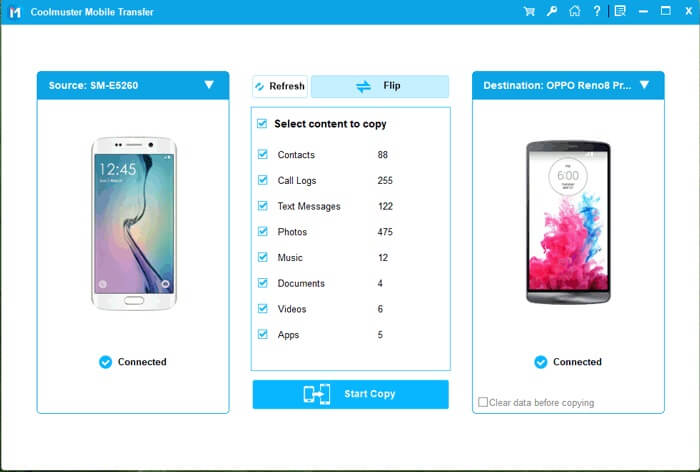 Step 3. Transfer contacts/messages between Micromax and Samsung
From the top part of the menu, select the file that you wish to transfer. If you'd like to transfer Contacts and SMS, then tick the boxes next to them. Click the Start Transfer button on the screen so that the transfer can begin.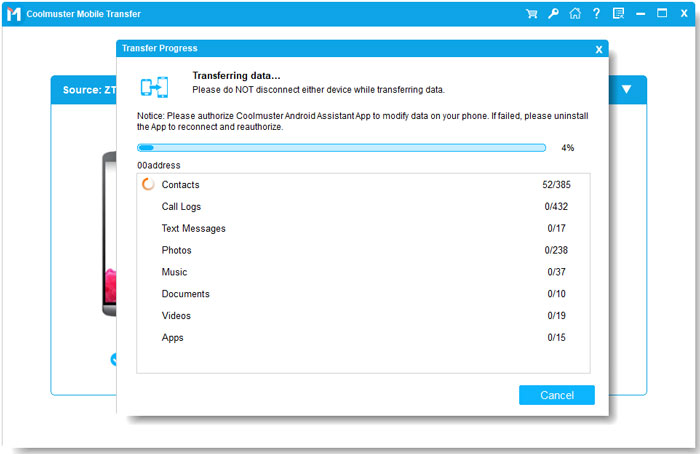 At any point, there will be a progress bar that will show you how much of the data transfer has been completed. Do not disconnect the two phones from the computer until the transfer process is finished.
Related Articles:
How to Transfer SMS between LG and iPhone