Transfer Contacts/SMS between Sony and Motorola
When people buy a new Motorola phone, there are a number of different things that they may want to do, especially if they are switching from a Sony phone to a Motorola. One of the most essential is transferring all of their contact and SMS information from the older device to the newest phone. In fact, most people may want and prefer to transfer this information to the new device so that they will not lose contact and text messages you communicate with other people that they have known for a long extended period of time. Meaning a large volume of this information can also be relevant and beneficial for many years to come as well. Whatever the reason, once the person buys or switches from a Sony to a Motorola phone, it is important that they transfer their contacts and SMS right away.
But it is a big task to copy and paste thousands of contacts and text messages from Sony phone to PC, and then from PC to the new Motorola phone! Any shortcut to do the transfer? In this case, I will highly-recommend an extraordinary phone to phone transferring tool - Coolmuster Mobile Transfer (Windows) or Coolmuster Mobile Transfer for Mac. As an outstanding phone to phone contacts and SMS transfer tool, Mobile Transfer helps you transfer contact, phone number, text content, sent and received time, and so on from Sony Xperia Z5/Z4/Z3 and keep them safely in your destination Motorola Droid/Atrix/Moto X phone. Apart from that, Mobile Transfer also supports to transfer apps, photos, videos, music, etc. between any Android, iOS and Symbian devices.
Read More:
* Transfer Contacts from iPhone to Google Nexus
* How to Transfer Data from HTC to Samsung
Process to transfer contacts and text messages in between Sony and Motorola phones is becoming easier with only 3 steps, with the help of Coolmuster Mobile Transfer. You don't need to ceaselessly copy and paste with the Android phone plugged into the PC. Just go through the following tutorial to learn how to transfer contacts and SMS messages between the two phones.
Approach: Transfer Contacts/SMS between Motorola and Sony Xperia
Step 1. Run Mobile Transfer on your computer
User will need to open up the Mobile Transfer function for PC or Mac and then connect the two devices, Sony and Motorola Phones to the same computer via USB cables. This step should be done after Coolmuster Mobile Transfer software has been installed.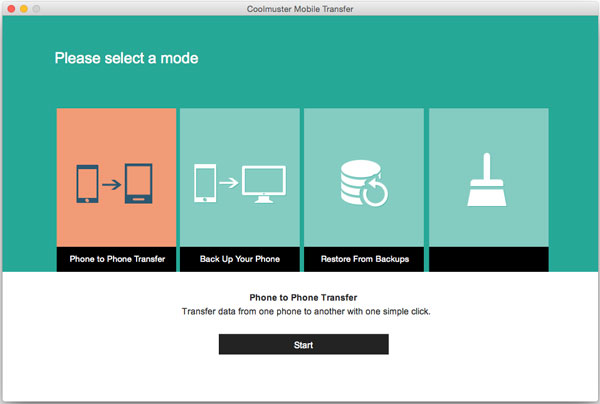 Step 2: Enter phone to phone transferring window
The user will see 3 options on their main interface, Click on "Phone to Phone Transfer". This feature will guide you into the new phone transferring window and give the user an opportunity to transfer their contacts and SMS.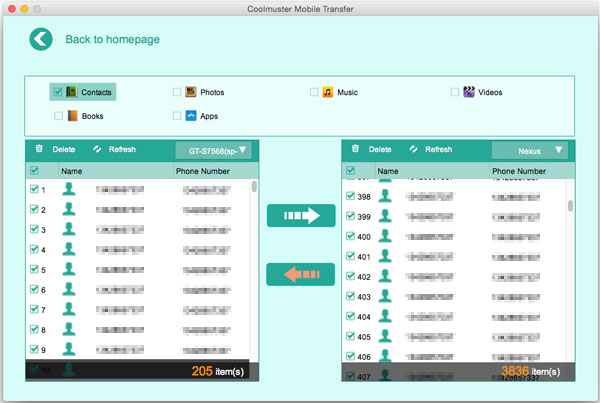 Step 3. Transfer contacts and SMS between Sony and Motorola
When the above steps are complete, the user can tick off the contacts and text messages you want to transfer, and start the phone to phone transfer selectively by clicking the right or left transferring arrow.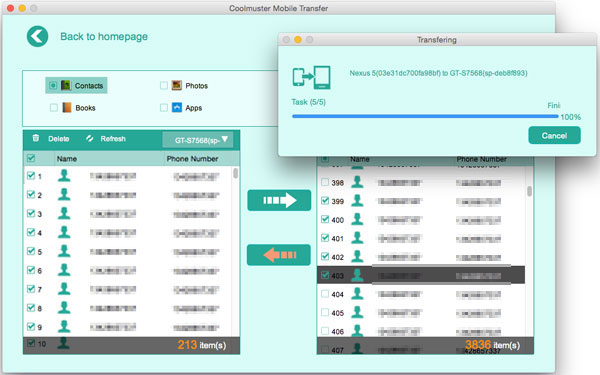 With the 3 simple steps above, you can have all the Sony contacts and SMS transferred before you sell it into the market. How about trying the handy and powerful Coolmuster Android Assistant right now!
Related Articles:
How to Transfer Contacts from Motorola to Samsung