Transfer Contacts/SMS from Motorola to HTC
People who has changed from his old mobile phone to another new one must need to make the data switch between the two phones. The switch that is made normally includes copying their contacts from one device to another so that the person does not have any unnecessary disruptions in their everyday lives. So, for those people that switch devices from Sony to HTC , the contacts and SMS that they have stored must be copied to the newest device in order to pick up priority calls that they recognize, call the right numbers for people when they have a need, and respond to text messages that they receive. When an individual decides to copy contacts SMS from Sony to HTC, they will need to choose a method in which to do so.
User has problems transferring apps because of the permissions attached to it. To correct, permissions may need to be revoked from that app so that it will not interfere with the transfer. Coolmuster Mobile Transfer (Windows) or Coolmuster Mobile Transfer for Mac is a software application that people can use to transfer everything from one mobile device to another. This software application has been designed with numerous objectives in mind. Some of the more notable include transferring apps, videos, music, SMS and the like between the two. For instance, the user may want to transfer their contact information and text messages from their old Motorola Atrix/Charm/Droid to their new HTC One M8/M9/Desire.
Read More:
* Transfer Contacts from iPhone to Google Nexus
* How to Transfer Data from HTC to Samsung
How to use Coolmuster Mobile Transfer to copy contacts & SMS from Motorola to HTC? If you want to know the answer, you can keep on reading. The following article is the right guide showing you how to transfer contacts and text messages between Motorola and HTC mobile phones. Now, you should click the buttons below to download the program.
Instructions: Transfer Motorola Contacts/SMS to HTC Phone
Step 1. Run Mobile Transfer on your computer
Install and launch the Coolmuster Mobile Transfer program on your computer. On the homepage, select "Phone to Phone Transfer" mode and click "Start" button. Now you should have arrived at the phone transfer window.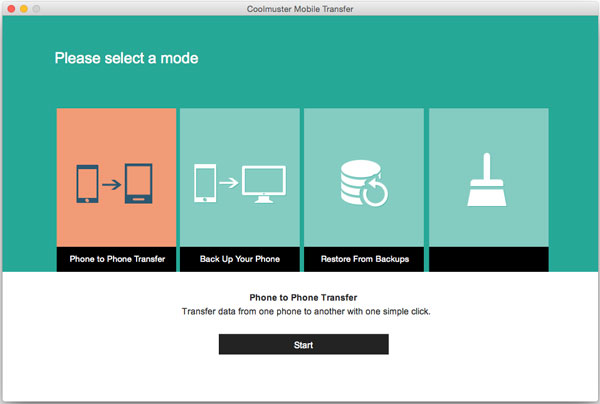 Step 2: Connect Motorola and HTC phones to computer
Connect your Motorola and HTC phone/tablet to your computer via USB cables. Your devices will automatically be detected and displayed within the transfer window. All transferable files are categorized here, allowing you to preview and select to transfer all content or individual data you would like to transfer.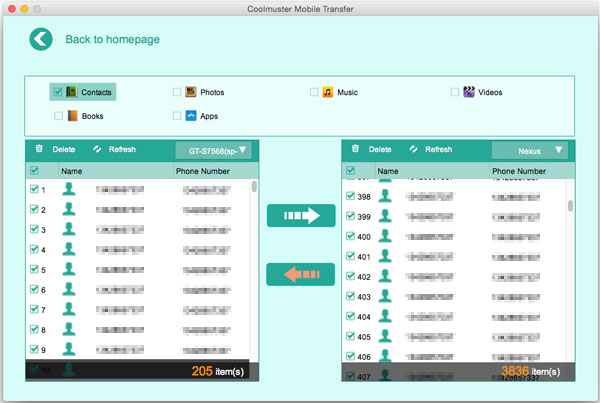 Step 3. Transfer contacts and SMS from Motorola to HTC
Click the transferring icon to initiate the data transfer process and ensure you do not disconnect either device while the transfer is still in progress. Once complete the transferring process, you can navigate to the new HTC phone to check the transferred contacts and text messages.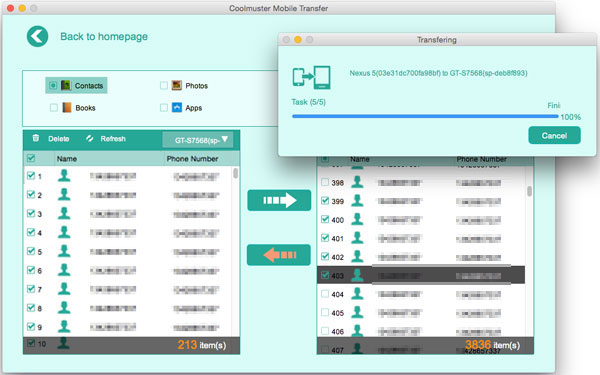 Related Articles:
Play Samsung Apps on HTC Phone