How to Transfer Contacts/SMS from Nexus 3/4/5 to Nexus 6?
People change phones all of the time since there are always new features and hardware that they want to take advantage of when they are placed on the market today. The same is true for many Nexus users, especially in the cases where an individual decides to upgrade their old nexus 3/4/5 to the new Nexus 6 version. Even though most people like to prospects of getting the better Nexus device in the industry, they may have a little or a lot of apprehension about doing all of the things that will need to be done to transfer information from one to another. For instance, when an individual upgrades their Nexus 3/4/5 to a Nexus 6, they will need to transfer contacts/SMS from Nexus 3/4/5 to Nexus 6.
For people who are actually interested in reducing the time and the effort in transferring the contacts and text messages between the two Google Nexus phones, they can look at a product called Coolmuster Mobile Transfer or Coolmuster Mobile Transfer for Mac as an effective and useful option in making the essential changes. It has been designed with several top features in mind. One of the most important is transferring content from one phone to another, including contacts, text messages, photos, videos, music, apps and books. Additionally, this software can be used to assist the users with backing up the content so that it can be restored at any time you need. Mobile Transfer is useful for transferring data between Android and Android, Android and iOS, Android and Symbian and iOS and Symbian.
It's not uncommon for Nexus owners to transfer information from one device to another. Since people can swap phones with others, purchase a new device, or upgrade their phone for a newer version of nexus, it is important that they have a process that will make this job much easier. Therefore, when an individual has a need to utilize the Mobile Transfer feature (transfer contacts/SMS from Nexus 3/4/5 to Nexus 6), they can complete the task in 3 steps. These three steps are listed below:
Easy Path to Transfer Nexus 3/4/5 Contacts & SMS to Nexus 6 Directly
Step 1. Install and launch Mobile Transfer on computer
Users should open up the Mobile Transfer after it has been downloaded and installed on their computers. Use two USB cables to connect the two Google Nexus phones to the computer and make sure they can be detected by the computer.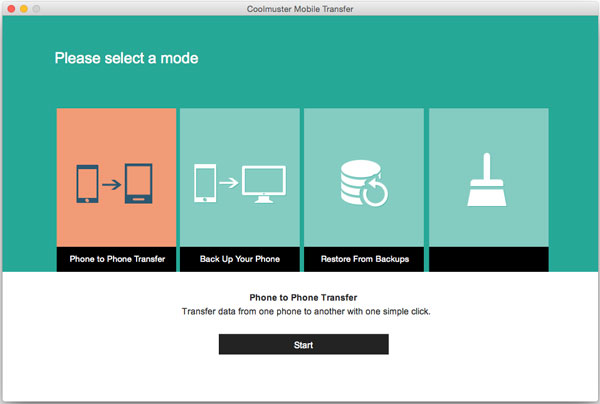 Step 2: Enable the phone to phone transfer mode
Choose the "Phone to Phone Transfer" mode from the primary window. Then, the two connected Nexus phones will be detected by the Mobile Transfer software and shown on the interface, separately on the left and right side.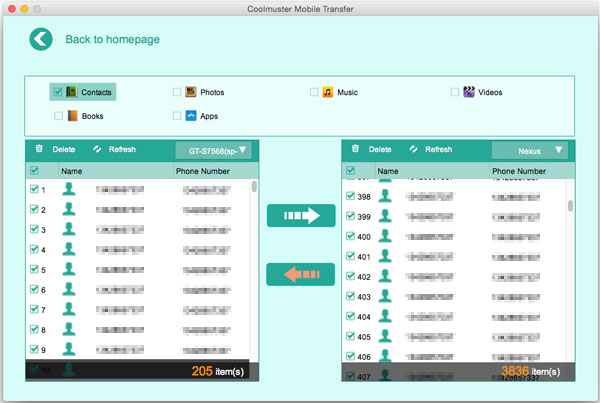 Step 3. Transfer contacts, SMS from Nexus 3/4/5 to Nexus 6
Choose the files you want to transfer. For this topic, you should only mark the file types like "Contacts" and "SMS". After that, click the left or right arrow in the middle of the program window to start the contacts and SMS transfer from Nexus 3/4/5 to Nexus 6.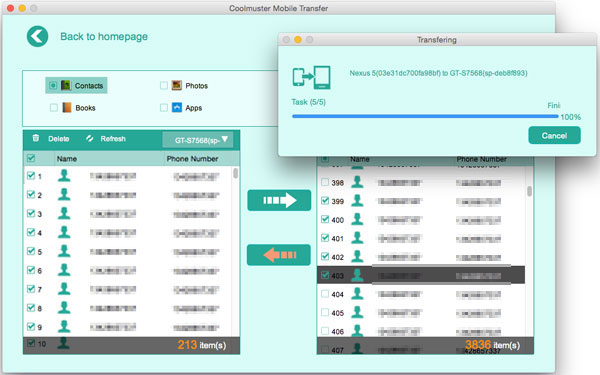 Actually, it is a piece of cake to transfer contacts and SMS messages from Google Nexus 3/4/5 to Nexus 6, by using Coolmuster Mobile Transfer. Just click the following button to explore it on your own.
Related Articles: