How to Transfer Content between Android and HTC?
Today, users have a wide array of smartphones to choose from thanks to established and upcoming brands. Android is an open operating system that has become popular over the years therefore making it easy for new and old brands to come up with better devices that have better features. If you have bought a new HTC smartphone with better features such as better screed display, high resolution camera for the front and back cameras, you will suddenly want to get rid of the old smartphone. Instead of throwing it away, you may decide to sell it. Before you list your smartphone on ebay, you can transfer all useful data and information to your new HTC smartphone and then you can use Android data eraser to clean your old Android phone.
Many people are worried about the safety and completeness of the data transfer, therefore, you'd better use the secure application like Coolmuster Mobile Transfer or Coolmuster Mobile Transfer for Mac to help you. It has a 1-click data transfer ability that allows the user to make quick and safe transfers between two devices. It is helpful in making transfers between devices running different operating systems such as Android and Android, and it helps in the transfer of different files such as contacts, photos, videos, apps, books and music. You don't have to be worried that your old phone will be sold with your information left behind. In addition to Android, Mobile Transfer is also compatible with iOS and Symbian OSes.
The process and screenshots in the step by step guide below will show you how to transfer data and information, including apps, contacts, photos, videos, songs and books from Android device to HTC phone, and vice versa. Windows and Mac users can both follow the tutorial, because the operations of using the software on the two platforms are almost the same.
Transfer Files from Android to HTC, and from HTC to Android Quickly
Step 1. Launch the Coolmuster Mobile Transfer
After downloading and installation, run the Coolmuster Mobile Transfer for Mac on your Mac computer. In the primary window, choose "Phone to Phone Transfer" mode and click "Start" to show the phone to phone transfer window.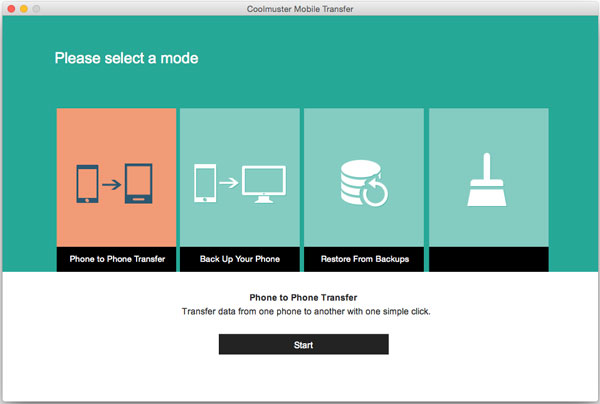 Step 2: Connect Android device and HTC on Mac
Use USB cables to connect both your Android device (like Samsung, LG, Sony, Motorola, etc.) and HTC phone to the Mac. When the program successfully detects the two devices, it will display them, as well as transferable data in the window.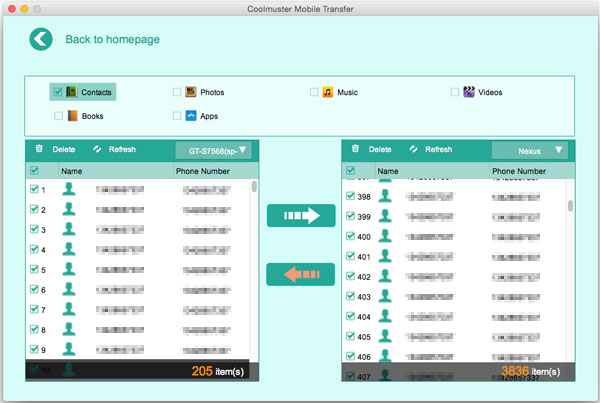 Step 3. Transfer content between Android and HTC
Make sure all the files that you would like to transfer are checked. Then, go to click the transferring arrow in the middle of the program window to move Music, Videos, Contacts, Photos, Apps and Books between Android and HTC phone.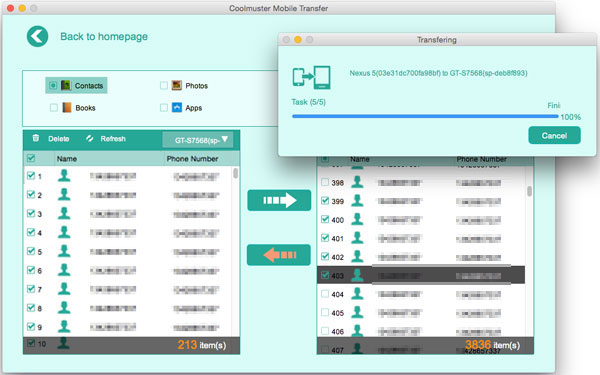 Download the Coolmuster Mobile Transfer for Mac to switch from Android device to HTC phone with one click!
Related Articles:
Transfer Contacts from Samsung Galaxy S5 to S4