How to Transfer Data from BlackBerry PlayBook to Android?
You have your new BlackBerry PlayBook up and running now and your PlayBook has some stuff you want on your Android device or Android smartphone or tablet has some apps and data that your PlayBook doesn't have. You would like to move some of these apps to you PlayBook and move some pictures from the PlayBook to the Android device. You'd also like to see if some of the apps you downloaded on the PlayBook work on the Android device as you have it set up to run Android apps. The PlayBook under the 2.0 or better OS lets your run Android apps. So, they should work on the Android handheld as well. There also some photos and other files you'd like to move from you Android phone/tablet to your PlayBook as well.
Now the problem is to get everything from point A to point B. Well we have a solution for you and it will not only allow you to move apps, videos, music, contacts, text messages and pictures between your PlayBook and Android device, but do so in a way that doesn't involve transferring the data to the Cloud where it could be hacked and compromised. What you need is only the BlackBerry to Android Transfer, which is a product that simply and quickly allows you to move information like text messages, contacts, call history, photos, videos, apps and more between two mobile devices, such as your BlackBerry and Android. It can scan each device and locates the files that you would want to transfer and archive or transfer across to the other handheld.
This means those pictures and videos you took at the beach or while on holiday can be transferred to be displayed on the larger screen of your PC or Android device so you can share them with your friends. Mobile Transfer also comes with Mac version of BlackBerry to Android Transfer that offers you the same function to sync data between different devices. Just click the button below to free download the right version of the program for free.
Moving Everything from BlackBerry PlayBook to New Android Handheld
Step 1. Backup BlackBerry on computer
Well, the data transferring process is as simple as 1-2-3. First of all, install BlackBerry Desktop Software and launch it on your computer. Connect your BlackBerry PlayBook to the same computer's USB ports via a USB cable and click "Backup Now" option to backup your BlackBerry device on your computer.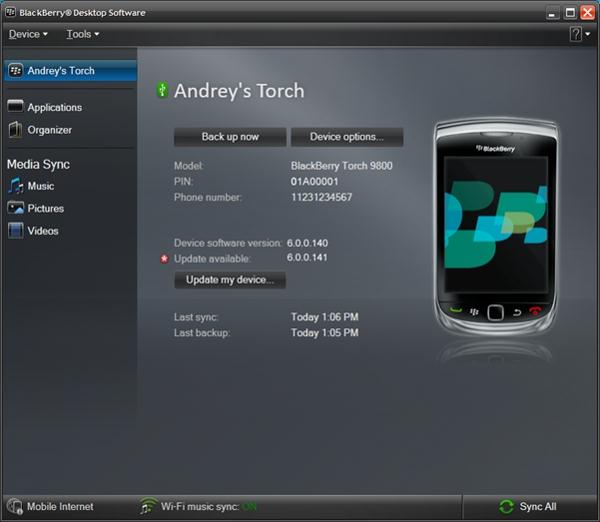 Step 2. Launch BlackBerry to Android transfer
Launch the installed BlackBerry to Android transfer program and choose "Restore from Backups". It will find the backup record for your BlackBerry. Now, you should connect your Android device to the computer. The program will automatically detect it and show it on the right.
Step 3. Transfer data from BlackBerry PlayBook to Android
Select the files you want to copy across and press the "Start Transfer" button. The selected data will begin to be copied from the BlackBerry backup file to Destination Android.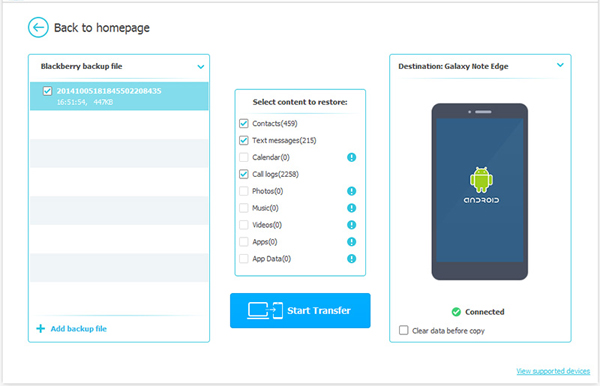 It's as simple as that. Now you see why BlackBerry to Android Transfer is the ideal product to move data between your Android Smartphone and your Blackberry Playbook. Just free download it and find out more.
Related Articles:
Transfer Contacts from Symbian to Android