How to Transfer Data from Huawei to iPhone 8/X?
Whether we can realize the data transfer from Huawei to iPhone 8 is based on the software solution that you use. Apart from the incompatibly issue between Android and iOS systems, there are some of the more commonly known and experienced include the followings:
- Transfer of data fails and has to be started over again
- Data is corrupted so it cannot be read in the format that appears on the new iPhone 8
- Data is out of sync so it is possible to interpret
- Text messages not in the correct order so it is difficult to respond in a timely manner
- Contacts, pictures and text messages lost and will need to be recovered
Read More: How to Transfer Data from BlackBerry to Android
When a user has problems with their mobile to mobile transfer, it is important that they look for a better solution. Huawei to iPhone Transfer can transfer all the data from your Huawei Ascend/Honor/Mate/P9/P8/P7 to iPhone 8 or iPhone X in just one click. It supports to transfer all file types, such as Contacts, SMS, Photos, Videos, Music, Apps, Documents, etc. between Android and iOS, Android and Symbian, iOS and Symbian, Android and BlackBerry, iOS and BlackBerry and more. In a word, this phone to phone transfer supports to transfer almost everything between any two mobile devices. (Click here to learn how to transfer data from Symbian to iPhone 8.)
In fact, the steps included in this process are so easy that virtually anyone can do it and it does not take a technical savvy to follow the guide to do it successfully. All the user has to do is follow the 3 steps provided, and all of the data that was on their old device will be transferred to their iphone 8, and can be accessed again right away.
Steps to Copy Files from Huawei P10/P9 to iPhone X/8
Step 1. Install Huawei to iPhone 8 transfer program
Install and launch the Huawei to iPhone Transfer on your computer. Choose "Phone to Phone Transfer" option from the primary interface of the program. Once this process is complete, use a USB cable to connect your Huawei and iPhone 8 to your desktop.
Step 2: Select the file types you need to transfer
All the transferable file types are listed in the middle of the two phones. Now, you will be given the capability to select the files that you want to transfer. Just check the options of the file types you need.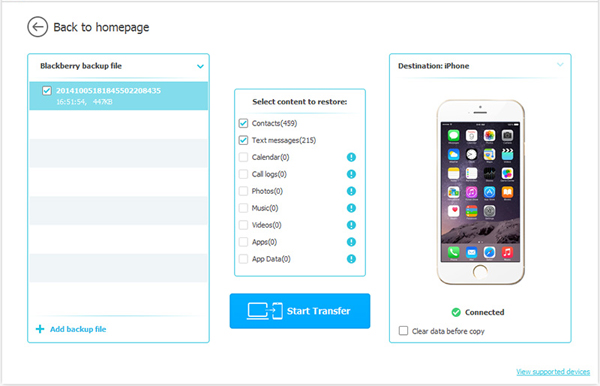 Step 3. Transfer data from Huawei to iPhone 8
After you selected all the data types you want to transfer, you can click "Start Transfer" button to initiate the data transfer from Huawei to iPhone 8. There will be a progress bar appears to show you how much data has been transferred.
Related Articles:
How to Copy Apps between Two Sony Devices