How to Transfer Data from iOS Devices to Google Nexus?
Thanks to innovation and improvement in technology, new and old mobile device makers have come up with new devices every month therefore leading to the drop in prices. This has led users to be able to own more than two devices that are either running the same or different operating systems. When you own an iOS device like iPad, iPhone or iPod and an Android device like Google Nexus at the same time, you may find it annoying to transfer data between the two devices, as they are under two different operating systems, iOS and Android. Different OS means data incompatibility. The reason for this is that every app is developed to read certain file extensions therefore won't open the file if it's not compatible with the file extension in use.
So, using a professional phone to phone data transfer program is a must for you to transfer files from an iOS device to Google Nexus smartphone. Coolmuster Mobile Transfer or Coolmuster Mobile Transfer for Mac is an amazing tool to help you transfer all kinds of data in your phone, including text messages, contacts, photos, videos, music, books, apps and more. And it supports different brands of devices which run the same operating system as well as different operating system. Android devices include Google Nexus, Samsung, HTC, Motorola, Sony, etc., while iOS devices include iPhone, iPad and iPod. Therefore, even if you are using two smartphones in different operating systems, you can successfully accomplish the data transfer with Mobile Transfer.
Next, let's take the Mac version of Coolmuster Mobile Transfer as an example to show you how to transfer data from iOS device to Google Nexus phone or tablet. If you do as following steps, you will be able to effortlessly perform the data transfer process by yourself. Windows users can take the similar operations by using the Windows version of Mobile Transfer.
Easy Way to Copy Files from iOS Devices to Google Nexus 10/9/7/6/5/4
Step 1. Enter "Phone to Phone Transfer" mode
Make the connection between both of your Google Nexus and iOS device and the computer with USB cables. Launch the Mobile Transfer after you download and install it, and enter the phone transferring window by clicking the "Phone to Phone Transfer" > "Start" buttons on the program interface.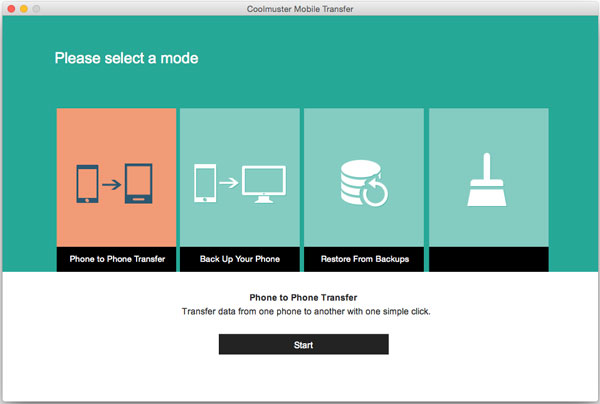 Step 2: Select the files you want to transfer
The Mobile Transfer will detect the two devices and show them in the phone transfer window side by side. On the top, all the transferable file categories are displayed, including SMS, contacts, books, apps, photos, music and videos. Just tick off the file categories you want to transfer between the two devices.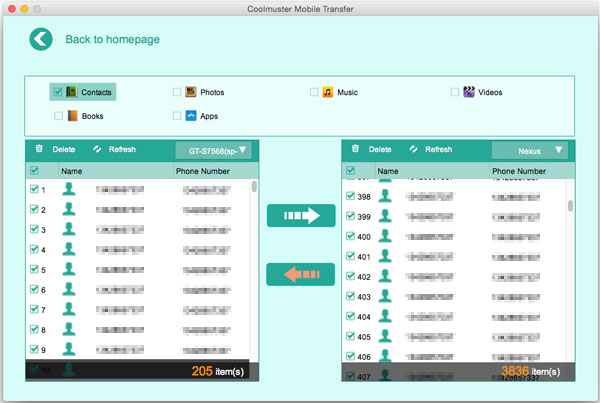 Step 3. Transfer data from iOS device to Google Nexus
After you choose the data categories, all contained files will be scanned out and shown under the two devices. Make a decision by marking the check boxes in front of the data you want to be transferred and then click the left or right arrow to start the data transfer from iOS device to Google Nexus.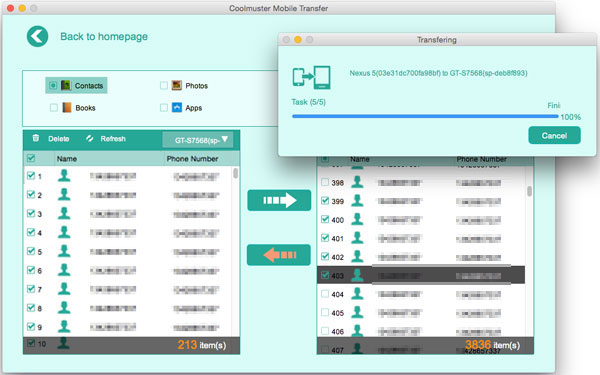 There is a progress bar shows you how are the transferring going. You must keep the two devices really connected with your computer before the transferring process finishes.
Related Articles:
Transfer Music Files from Android to Android