2 Ways to Transfer Data from Google Nexus 5 to Nexus 6
Just upgrade your old Nexus 4 or Nexus 5 to the new Google Nexus 6? If you are a faithful user of Android OS, you will never hesitate to get the new Nexus 6. Google Nexus 6 is produced by Motorola company, running with 3GB of memory and Android L operating system. Other hardware configuration of Nexus 6 include: 32GB of storage memory and equipped with a built-in barometer and NFC sensors. Nexus 6 uses a 5.96 inch screen, 1440 x 2560 (493 ppi) resolution, top-of-the-line Snapdragon 805 processor and 3220 mah battery capacity, as well as 2-megapixel front camera and a 13-megapixel rear camera.
Congratulations your have the brand new Google Nexus 6 at hand. But that means there is nothing in it and all your precious files are still there in your old Nexus 5 or Nexus 4. That is to say, you must think out a way to transfer data from Nexus 4 or Nexus 5 to the new Nexus 6 firstly. You may think it is really simple to transfer files between the two phones, just use USB cables to connect them. Well, it works for the media files like music, videos and photos, but when referring to contacts, SMS or apps, what can you do? In this case, we highly recommend you to try some useful third-party tools. One is Coolmuster Mobile Transfer and the other is Coolmuster Android Assistant. The following are the steps of using the two programs to transfer all files from Google Nexus 4 or Nexus 5 to Nexus 6.
Way 1: 1-Click to Transfer Data from Nexus 5 to Nexus 6 with Phone Transfer
Way 2: Back up Nexus 5 and Restore to Nexus 6 by Using Android Assistant
Way 1: 1-Click to Transfer Data from Nexus 5 to Nexus 6 with Phone Transfer
As the name implies, Coolmuster Mobile Transfer or Coolmuster Mobile Transfer for Mac is specially designed to transfer files from one phone to another phone. It enables you to copy files on Nexus 4 or Nexus 5 to Nexus 6 in just one click. It has the full ability to transfer everything, including SMS, apps, contacts, videos, music, call logs, photos, etc. from Nexus 5 to Nexus 6. In addition to Google Nexus, it also supports other phones and tablets running iOS, Symbian and Android OSes.
Click the following button to download the Mobile Transfer and check the steps below.
Step 1. Connect both Nexus 5 and Nexus 6 to the computer
After you finish downloading, installing the Phone Transfer, launch it on your computer and then use two USB cables to connect your Nexus 5 and 6 to the computer. The program will detect the connected devices and display them on your computer desktop. After that, choose Phone to Phone Transfer mode to enter the phone transferring window.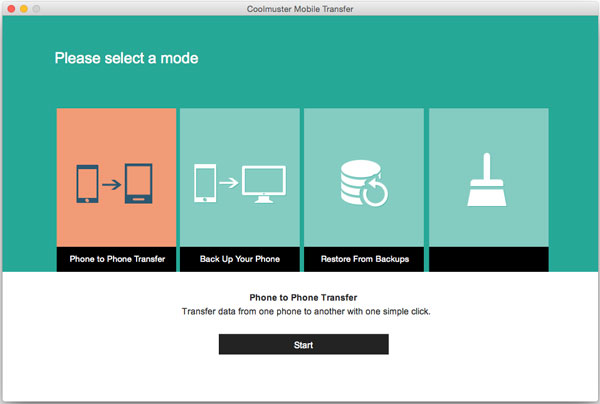 Step 2: Begin to move contents to Nexus 6 from Nexus 5/4
By default, everything would be marked for transferring. You can uncheck the files you don't want to transfer and click the button of Start Copy to launch the transferring process.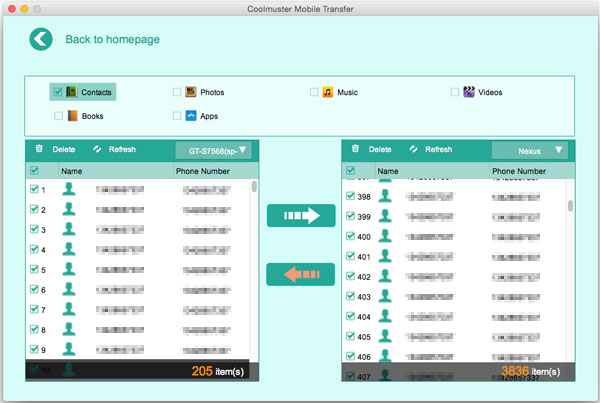 Related:
How to Move Content from iPhone to Nexus 6
Easy Way to Copy Text Messages from iPhone to Nexus
Transfer Contacts from iPhone 6/5S/5/4S/4 to Nexus
Way 2: Back up Nexus 5 and Restore to Nexus 6 by Using Android Assistant
If you prefer the other way to backup your Nexus 5 to computer first and then restore the backup file to Nexus 6, a phone management tool named Coolmuster Android Assistant or Android Assistant for Mac is needed. It requires you to backup content from Google Nexus 5 to computer and then restore to Nexus 6. That sounds complex but the operations are actually simple and time-saving. In the same way, please free download the program and read the guide as below.
Step 1. Connect Nexus 5 to computer via USB cable
To begin with, launch the Coolmuster Android Assistant on your computer. Connect your Nexus 5 to the same computer via a USB cable. Once recognized, the device will be shown in the primary interface, with its files categozied on the top menu.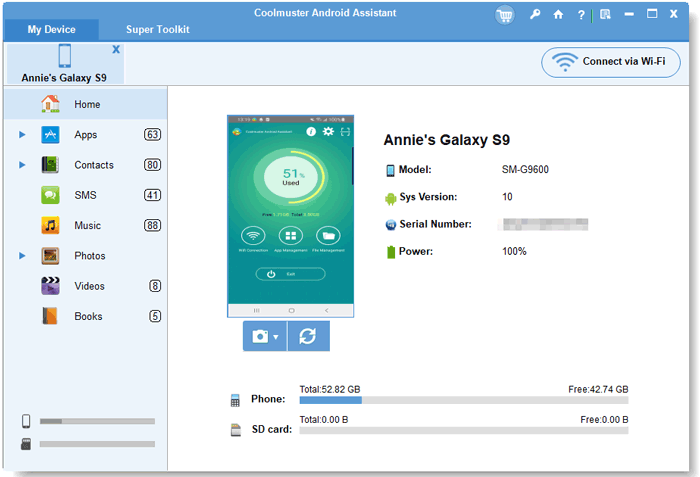 Step 2. Backup data from Nexus 5 to the computer
Go to the top menu to open each category to preview the files you want to backup. Be sure all the contents you want are checked and then you can click "Backup" button to save them on the computer.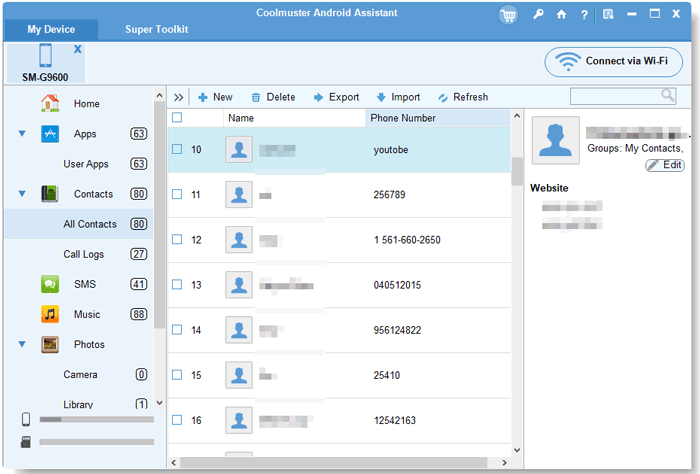 Step 3. Restore Nexus 5 backup files to Nexus 6
Disconnect the Nexus 5 after the backup process. Then, connect your new Nexus 6 to the same computer and the program will also detect it. Now, you can choose "Restore" to bring up a window where all backups you have made with this software are listed. Select the ones for your Nexus 5 and click Restore to sync them to your Nexus 6.
Related Articles:
How to Copy Photos from Android to iPad
Transfer Contacts between Android and iPhone
Add a comment