How to Transfer Data from Your Old iPad to A New iPad Air?
If you are hoping to pick up the new iPad Air 2, and are wondering how to transfer important data from an old iPad, such as iPad 2, the New iPad, iPad 4 or iPad mini, to a shiny new one, you need a method that it is quick and easy. In fact, the last thing that you want is to get stuck for hours syncing mounds of data, when you could be playing with your new toy. Once you have bought a new Apple iOS device, you need to transfer data to in the form of photos, music, games or apps. This is why Apple released the iCloud, which is designed to facilitate the easy transition of data between different iOS devices.
However, the sync tool that it offers is not always the help that it wants to be, when it comes to the transfer of data from an old iPad to an iPad Air. It actually creates a whole new copy of each file, which can just end in a glut of unwanted and needlessly replicated data – that is, if you do not take advantage of one of the superb specialist syncing tools available online. The iPad to iPad Transfer tool is one such resource, and it allows for the streamlined and risk free transfer of music, videos, apps, photos, contacts, and text messages between two iPads.
How do I use Coolmuster Phone Transfer to organize my data?
The iPad to iPad Transfer program is the only tool that you will need to achieve this. It will not only allow you to copy files between two iPads, it even transfers entire databases, such as the music library from iTunes. With this tool, you can copy your whole files like photos, videos, music, contacts, SMS, calendars, notes, etc. from one Apple device to another in a matter of minutes. The iPad to iPad Transfer tool is simple to operate, and employs top of the line transfer, sync, and copy processes to make sure that important data is never lost or damaged during the transfer. If you want to transfer data from your old iPad to your iPad Air, this is the easiest way to do it.
Such handy and safe iPad to iPad Transfer tool is also compatible with iPhone, iPod, Android and Symbian devices. This is a step by step guide to help completing the data transfer process from an old iPad to the new iPad Air 2.
Syncing Data from Old iPad mini/4 to New iPad Air 2
Step 1: Launch iPad to iPad Data transfer tool on your PC
To begin, download, install and launch the iPad to iPad Transfer tool on your computer, choose "Phone to Phone Transfer" and click START to open the phone transfer window.
Note: Install iTunes on your computer to make sure the program can work properly.
Step 2: Connect your two iPads to computer via USB cables
Now, connect both of the relevant devices to your computer via USB. Once the devices have been picked up by the PC, a pop up window should appear. You can see the two iPads are located at the places of "Source" and "Destination" and you can click "Flip" button if you need to switch them.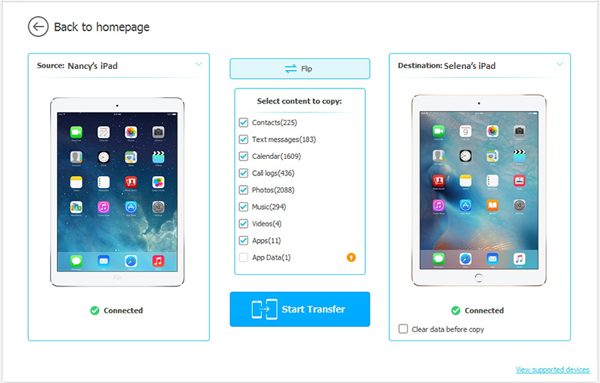 Step 3: Start to copy data from old iPad to iPad Air
The data on the "source" (or old iPad) that is able to be synced or transferred is listed clearly in the middle of the window. This should include music, photos, contacts, videos, and other files. You need to select all of the ones that you wish to transfer across to the new iPad. The last step is to click the "Start Transfer" button, and wait until the process is complete.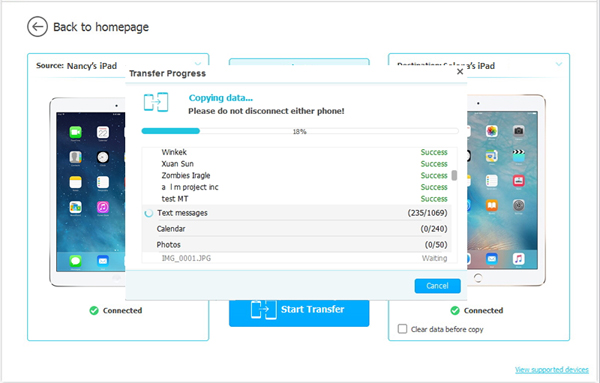 This tool is so useful, because it bypasses the need to follow a rather complex set of steps associated with the traditional Apple syncing system. With the Coolmuster Phone Transfer tool, however, this task is made simple and easy. It can be achieved in just 3 steps, and the process can be kicked off within a matter of minutes, so that you can spend more time enjoying your new iPad than setting it up. Just click the following button to try it out on your own.
Related Articles:
Copy Contacts between Samsung and iPhone