How to Transfer Data from Symbian to iPhone 6/6 Plus?
That was unforgettable time when everyone had a Nokia phone at hand and it really has brought us a lot of convenience and memorable time. Nevertheless, Symbian Nokia phone no longer dominate the mobile phone market and instead, we can see people use iPhone everywhere. Because of the continuous development of smartphone, iPhone becomes the most popular smart phone and provides us attractive high-performance. More and more people are switching from a Symbian Nokia phone to iPhone, such as the newest iPhone 6/6 Plus. However, here comes a problem, how to import Symbian phone files like photos, videos and music to the new iPhone? Still add the phone contacts from one phone to another one by one manually? You must feel impatient about the clumsy and time-consuming method, or you won't be here.
Is there any way to transfer all Symbian phone data to iPhone at once directly without complex operations? Sure! Symbian to iPhone Transfer provides you the most convenient way to achieve the data transfer goal. It is a professional helper that can make a smooth data transfer between Symbian Nokia and iPhone in 3 steps, along with several simple mouse clicks. It is easy to use and can supports for over 2000+ phones, as well as different operating systems like iOS, Android, Symbian and BlackBerry. Therefore, if you prefer an easy and comfortable way, we strongly suggest you to use the Phone Transfer.
Symbian to iPhone Transfer is a powerful cross-platform transfer to switch data like photos, videos, music, (contacts, text messages,call history, apps and more will be supported soon) from Symbian Nokia to iPhone X, 8/8P, 7, 6, iPhone 6 Plus, iPhone 5S, iPhone 5C, or from iPhone to Symbian. Now, download the free trial version to have a try.
Solution for Copying Content from Symbian Nokia to iPhone 6/5S/5C
Step 1: After you open the installed Phone Transfer tool, you will see a pop-up window asking you to choose a mode to continue. Just select the mode of "Phone to Phone Transfer" to enter the phone data transfer window.
Note: You need to install iTunes on your computer before you start to perform the data transfer for iPhone.
Step 2: Connect your Symbian phone and iPhone to the same computer by using two USB cables. Both the two phones will be detected by the program automatically and displayed as "Source" and "Destination". You should make sure your iPhone is "Destination" phone. If not, click on the "Flip" button to change it.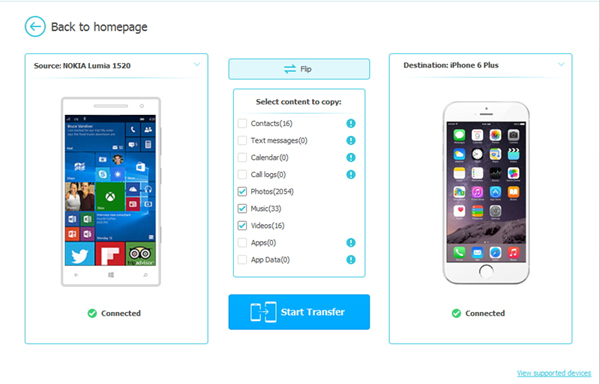 Step 3: As I mentioned above, music, videos, photos, (contacts, SMS, call logs, and apps will be supported soon) etc. can be transferred between the two phones with the Phone Transfer program. So, you need to choose the data you want and click on "Start Transfer" to begin the data transferring from Symbian Nokia to iPhone.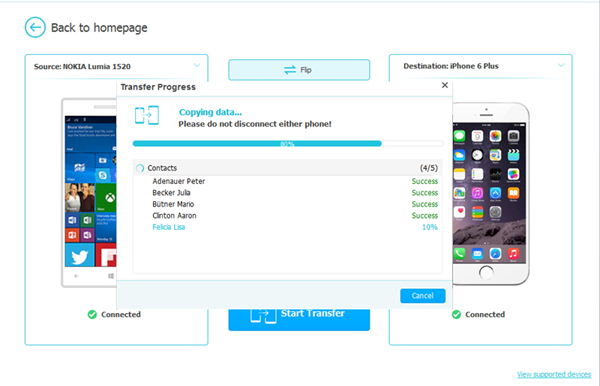 The whole data transfer can be finished in no time. Please make sure keep both of the two devices connected well during the transfer process.
Related Articles:
Copy Contacts between Samsung and iPhone