Transfer Files Between Google Nexus and Pixel/Pixel XL
Google Pixel is a line of consumer electronic devices produced by Google, which is running either the Chrome OS or Android operating system. It is worth trying the Google Pixel or Pixel XL because they own more native features of Google. Thus, if you are a Google fan and have the old Google Nexus phone, I think you must be eager to purchase a new Google Pixel and sync the data from the old Google Nexus phone to the new Pixel. You must be feel confusing about the transfer.
Don't worry. Just follow the methods in the below:
1. If you have ever backed up your Google Nexus to computer, you can restore it to Pixel easily.
2. If you have an external SD card in Nexus and only want to the files on the SD card, you can insert the card to new phone directly.
3. Do you have a Quick Switch Adapter? If yes, it is possible to copy data directly.
If all of your answers to the questions above are NOs, do not panic. Keep on reading the guide in the below.
One Click to Copy Data from Nexus to Pixel with Mobile Transfer
If you haven't a backup for your Google Nexus and don't have an external SD card, or not only want to transfer SD card files, but also want to transfer data in internal memory, Coolmuster Mobile Transfer (Windows) or Mobile Transfer for Mac is a simple and user-friendly third party software that can help you. It allows you to simply transfer all your important data from your Google Nexus to Google Pixel effortlessly in just a few seconds:
Supported file types: Contacts, SMS, Photos, Videos, Music, Apps, Documents, etc.
Supported devices: Google phones, Samsung, HTC, LG, Sony, Huawei, ZTE, Xiaomi, iPhone, iPad, Nokia, etc.
In fact, that's not all, the program can also allow you to selectively transfer their valuable data after you previewing it clearly. If you're shifting to the new Google Pixel and are worried about losing your valuable data on your old Google Nexus phone, then let us tell you, you are worrying in vain. Follow the steps in the below to see how to transfer files between Nexus and Pixel.
Are you interested in:
Data Transfer between Samsung and Nexus
Data Transfer between Sony and Motorola
Step 1. Launch Nexus to Pixel transfer program
First of all, download and Install the program on your computer. Then launch it and you will see the following interface. Just choose the "Phone to Phone Transfer" mode and click "Start" button to go to the next step.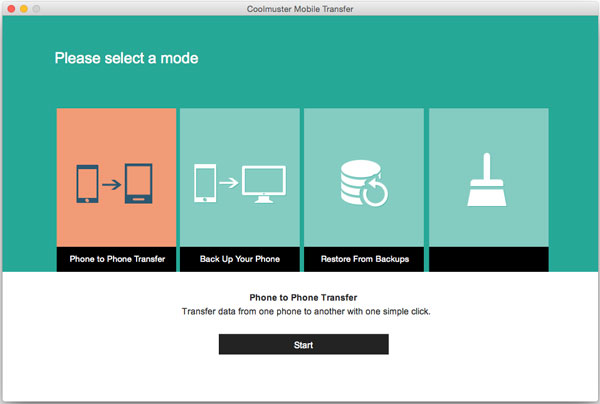 Step 2: Connect Google Nexus and Pixel phones to computer
Connect the two phones to the computer with two USB cables. Once both USB cables have been connected to the computer, the user will see a screen that displays the two phones side by side, with all the transferable file types on the top menu.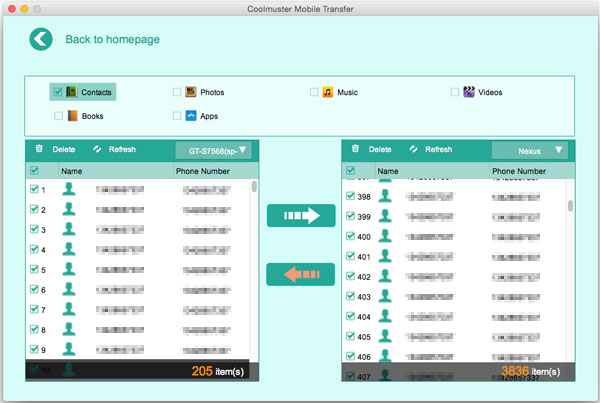 Step 3. Transfer files between Nexus and Pixel
Choose the specific file or files that need to be transferred (i.e. photos, text messages, apps). and start the transfer from Nexus to Pixel, or from Pixel to Nexus by clicking on the right or left arrow.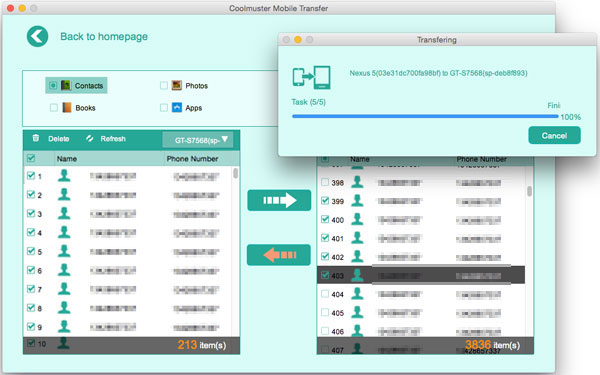 To know more about the Coolmuster Mobile Transfer, click the following button to download it on your computer.
Related Articles:
How to Copy Apps between Two Sony Devices