Transfer Media from Windows Phone to Google Nexus
Some people keep lots of pictures, videos and music on their Windows phones. The data that they keep is normally used over and over again so they want to store them permanently. But nowadays, phone users, especially younger users, like to switch phones frequently. For example, they bought the Windows phones just a half year ago. But they are quickly interested in a new Android phone, such as Google Nexus 6P. Then, how to transfer your precious and favorite media files from your Windows phone to the new Google Nexus device?
Windows Phone to Android Transfer is a third-party tool that can be used to make these kinds of transfers. With its help, you can transfer not only media files like photos, videos and music files, but also text files, including contacts, text messages and many more, from Windows phones to Google Nexus 6/6P/5/5X/5. Mobile Transfer is fully compatible with almost all Android, iOS and Symbian (Windows) devices. Because this tool has all of the transfer features required to complete this process successfully, it can be done in 3 easy steps without experiencing problems.
Media Transfer from iPhone to Google Nexus
Data Transfer from Old Android to Galaxy S8
As stated in the content above, media files transfer from Windows phone to Google Nexus phone by using this Windows Phone to Android Transfer can be done in 3 easy steps, and they are as follows:
How to Switch Media Data from Windows Phone to Google Nexus?
Step 1. Connect Windows phone and Google Nexus to computer
Download the Mobile Transfer from the links above so that it can be used to initiate and complete the transfer. Once the download is complete and launched for use, the user will need to connect 2 USB cables to each device (Windows phone and the Google Nexus phone) and their desktop or laptop computers.
Step 2. Enter Phone to Phone Transfer window
Next, you should choose the Phone to Phone Transfer option from the main interface. You will see a window with a menu that shows the files that the user can transfer (contacts, videos, music, SMS, apps, etc).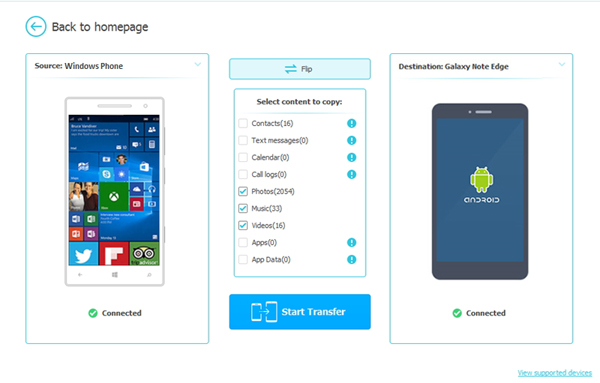 Step 3. Transfer media files from Windows phone to Google Nexus
Tick off the Photos, Videos, Music categories and initiate the transfer process by clicking on the "Start Transfer" button in the middle of the interface.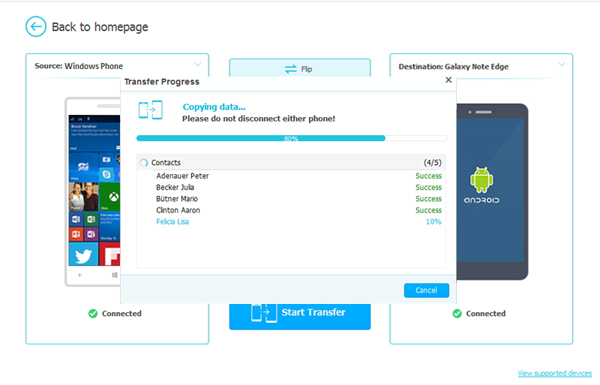 Pretty good job! With a few mouse clicks, you can store media contents in your Google Nexus 6/6P/5/5X.
Related Articles:
How to Transfer Contacts from One iPhone to Another
How to Transfer Content/Data from Samsung to Samsung
Add a comment