How to Transfer Text Messages between Nokia and Android?
Nokia Lumia 720 adopted a 4.3-inch and 800 x 480 resolution ultrasensitive touch screen, with the 1 GHZ dual-core processor and 512 MB of RAM. It comes wit the certification of Carl Zeiss lenses F1.9 aperture, pre - 1.3 million pixels wide Angle camera. Lumia 720 is the first one-piece product from Nokia that support microSD and unibody. But more and more young people prefer to use an Android phone instead of the Symbian Android. Then, data transferring is becoming a hot search because losing important data when switch phones is indeed a regrettable thing.
Method 1: Transfer Messages between Nokia and Android with Phone Transfer
Take SMS messages for example, how can we copy all text messages between a Nokia phone and an Android phone in an easy way so that we can access and view the text messages freely on different phone? Here is a way out! Just have a try with Nokia to Android Transfer - Phone Transfer, which is very qualified to transfer data, namely text messages, contacts, photos, videos, music, apps, call logs and more, between any two iOS, Android, Nokia phones in an easy way. Only with one click, your short messages will be moved from the Nokia phone to Android quickly.
Below is a review from Elisabeth:
"Nokia to Android Transfer is the best Phone to Phone software ever I have seen! Once I transfer my Nokia contacts to my Samsung Galaxy S4, I was blind to solve it at a time. Fortunately, my friend introduced this software to me, so I download it to have a try. Finally, as you can see, I got not only contacts, but also SMS, pictures and more transferred."
Before reading the below steps, you should download the free trial version of the Nokia to Android Transfer first on your computer to have a try by clicking the following button.
Below are the easy steps to Sync SMS Messages from Nokia to Android Phone
Step 1. Open the Nokia to Android Transfer Program
Install and launch the app on your computer. A pop-up window like the following picture will come up to you. In the primary interface, you should click Phone to Phone Transfer mode and go to the next step directly.
Step 2: Connect your Nokia and Android to computer
Use two USB cables to connect both of your Nokia and Android phones to the computer. After auto detected by the software, the two phones will be shown as "Source" and "Destination". You can click "Flip" button to change the phone's location.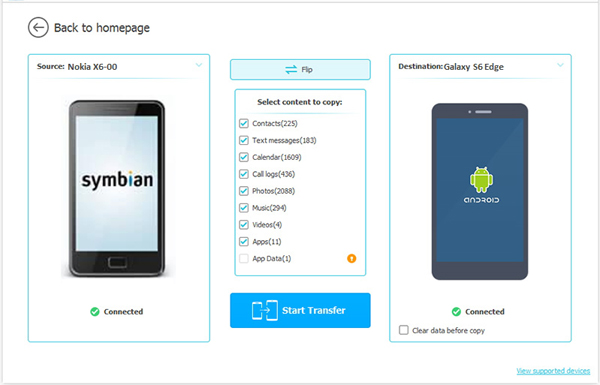 Step 3. Start to Copy SMS between Nokia and Android
Remove those you don't want to copy and tick the "Text Messages" only. Then go to click "Start Transfer" to start the SMS transferring between Android phone and Nokia. Do not disconnect either of your phones during the transferring process.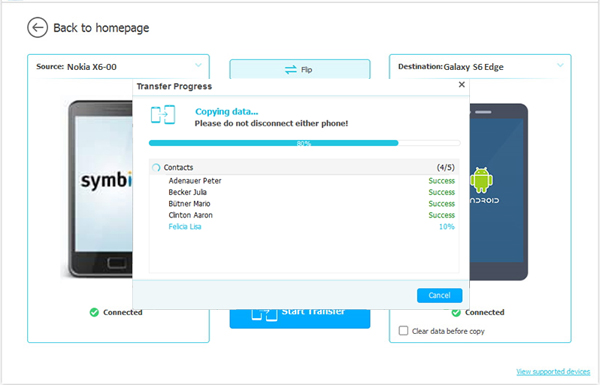 Tips: Almost all Android devices can be supported by this Phone to Phone Transfer, including Samsung, HTC, LG, Motorola, Sony, Google, ZTE, Huawei and so on.
Method 2: Transfer SMS from Nokia Symbian to Android with Nokia PC Suite
Step 1: Before we start, you should connect your Nokia phone with the PC through Nokia PC Suite. Use Nokia PC Suite to backup your Nokia phone data and save the backup file as a .nbu file in your my documents folder.
Step 2: Download and install NBU Explorer software on your PC, which allows you to open the .nbu backup file for your Nokia phone. Launch it and click on the File > Open options. Then, click on the Browse and select to open the backup.nbu file.
Step 3: Go to click the options of Messages > Export Messages > Save as type and choose .xml file extension as output format. Save it at a location as you want.
Step 4: Download and install XML2Android.exe, which can help you to convert your data into XML file, which can be accpeted from SMS backup and restore app in your Android phone.
Step 5: You can save .xml exported file and download XML2Android in the same folder. Open Start > Run > type "CMD" command and enter. Change your directory on saved files location.
Step 6: Perform XML2Android (Example: my_sms_Backup.xml), and then it will create a file with the name of androidSMS.xml. Now, you can move the xml file to the target Android phone.
Step 7: Finally, you should go to Google Play Store to find the SMS Backu & Restore app and install it on your Android phone. Select Import SMS file and you will be successfully get your messages on your Android phone.