2 Ways to Transfer Music from Windows Phone to iPhone
With the rapid upgrade of smart phones, you may have just purchased a new iPhone X or iPhone 8 and plan to abandon your old Windows phone. Now you need to transfer all important files, such as contacts and music, from your Windows phone to your new iPhone. Manually transferring music from Windows phone to iPhone is a typical old-fashioned way of the past. With the development of technology, life becomes faster, and some excellent software can save you a lot of time.
In this article, we will recommend good word-of-mouth software that allows you to easily transfer a variety of data from your Windows phone to your iPhone.
Part 1. One-click to Transfer Music from Windows Phone to iPhone
Part 2. How to Transfer Data from WinPhone to iPhone Manually
Part 1. One-click to Transfer Music from Windows Phone to iPhone
There are lots of phone data transferring software available that can help you complete the music transfer from Windows phone to iPhone directly but Phone Transfer is regarded as the best one owning to its efficiency and user friendly features. By using this program, the process of music transfer can be finished in a few minutes, which can be quite faster than doing this manually. You can use it to transfer data from one device to another, including Android, iOS, Windows, Symbian and BlackBerry.
Take a look at the Windows phone, iPhone and file types that can be supported by Phone Transfer:
Windows Phone: Lumia 900/710/610/510, Lumia 822/820/810/720/625/620, Lumia 930/730/535/435/430/ and others powered by WinPhone 10 or 8
iPhone: iPhone X, iPhone 8/8 Plus, iPhone 7/7 Plus, iPhone 6S/ 6S Plus, iPhone SE, iPhone 6/6 Plus, iPhone 5S.
File Type: Contacts, Music, Videos, Photos.
Download the trial version of the Windows Phone to iPhone Transfer - Phone Transfer to have a try. Just follow the tutorial below carefully to transfer songs from WinPhone to iPhone.
Step 1. Backup Data from Windows Phone to OneDrive
First of all, please back up your content from your Windows Phone to your OneDrive account, then use the Windows Phone to iPhone Transfer to restore the backup files to your iPhone. Onedrive offers to automatically back up all the data you added.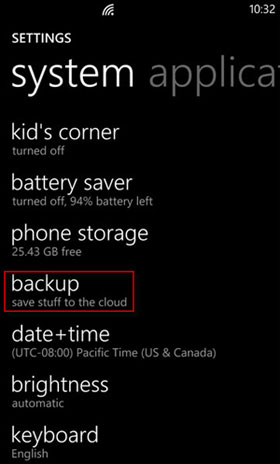 Read More:
Move Contacts between iPhone and Google Nexus
How to Port Android Apps to iPhone
Step 2. Run Windows Phone to iPhone transfer tool
Download, install and launch the Windows Phone to iPhone Transfer tool on your computer. When its primary window appears, you can see there are 4 different options are displayed.
Step 3. Connect your iPhone to computer
Connect your iPhone to the computer via a USB cable. Go to "Restore from Backups" and select the OneDrive from the options, then sign in your OneDrive account to authorize the permission to the program.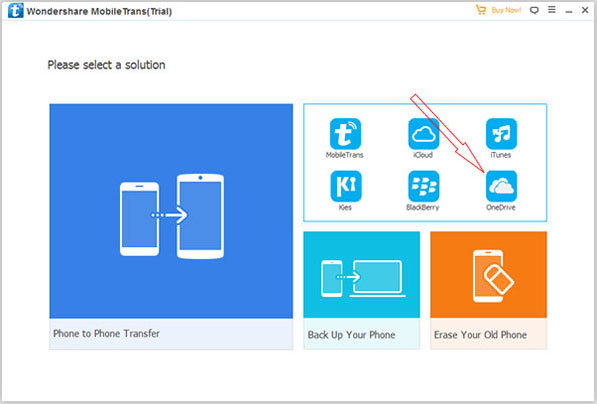 Step 4. Transfer music from Windows phone to iPhone
After you sign in your OneDrive account, the program will scan the backup on OneDrive and empower you with the ability to select the file types you want to restore to iPhone 8. After the selection on "Music", click the "Start Transfer" button to begin the process.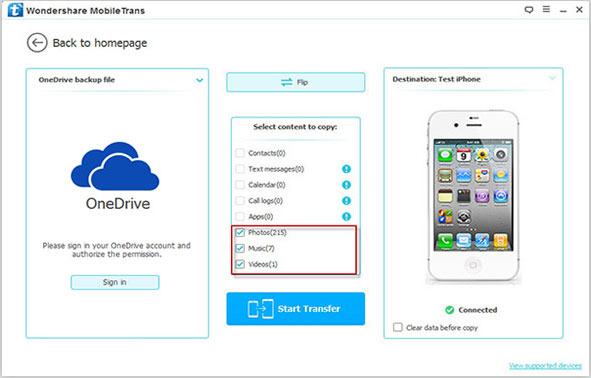 Plus: You can also use this program to transfer contacts from Symbian Nokia to Android.
Part 2. How to Transfer Data from WinPhone to iPhone Manually
OneDrive is a cloud service provided by Microsoft that allows Windows mobile users to upload music or other files from the Windows or Windows phone to the cloud. Then you can download these backed up music from OneDrive to iPhone. This approach seems simpler than the first method, but it requires you to connect your Windows phone to the Internet to sync music and other files to the cloud, and your iPhone needs to be connected to the Internet again to download music and other data on OneDrive.
Steps to transfer data from Winphone to iPhone using OneDrive:
1. Onedrive is installed by default on Windows phones. But if you find that it is not on your phone, you can download it from the Windows App Store. Click Settings on the windows phone, then click Microsoft Outlook. Enter your login information and click "Sign in."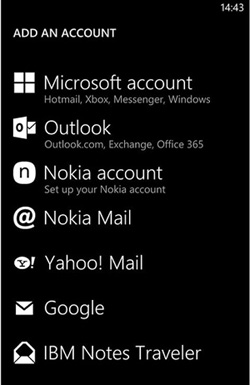 2. Turn on your iPhone and go to click Setting > Mail, Contacts, Calendar > Add Account and choose Outlook.com. Enter your account information in the box and tap on the Next button.
3. Back up your music files on OneDrive. Open OneDrive on your Windows phone and select the music files you want to transfer to iPhone. Tap OK button to back them up on the OneDrive.
4. Turn to your iPhone again, and go to App Store to search for OneDrive app. Install it on your iPhone. Once installed successfully, you can launch it and enter the same account information you have used in your Windows phone. After that, you can tap on the "Go" button and then "Sign in" option. Finally, click on OK button.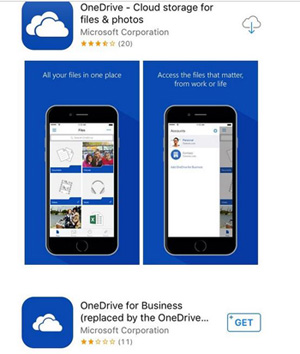 5. After you have logged in to the OneDrive account on your iPhone successfully, all the music files you have backed up on OneDrive will be there in your iPhone and you can download those music files on your iPhone now.