How to Transfer Contacts from Nokia to Motorola Phone?
Connecting with family and friends has become very easy and today, one case send text messages, chat with friends via messaging apps, take photos and videos when on vacation and also listen to their favorite music while working. All the above have not been possible due to magic but due to improved technology and innovation leading to the production of smartphones. Today, users have the ability of selecting different brands of smartphones that come with different functionalities. When one has two phones running different operating systems like Symbian and Android, and they want to transfer contacts, they will have to do it manually. That is adding each contact one by one therefore making it a tedious task.
To improve data and information transfer, such as contacts transfer, between Nokia and Android phone like Motorola, you can opt to use the Nokia to Motorola Transfer, which is a phone to phone transferring application that helps users to transfer data and information, such as contacts, photos, videos, music, apps and books between two devices that are running the same operating systems and those running different operating systems, such as Android, iOS and Symbian. Mobile Transfer also provides data backup & restore functionality to you to make a backup of your phone data and restore the backup files back to your phone if you get your original phone data lost.
Below is how to use Nokia to Motorola Transfer to transfer contacts from Nokia symbian phone to Motorola Android phone on computer. Before the steps, you need to choose the right version of the transferring software to download and install it on your computer. There is a free trial version for you to download and have a try.
The Process of Transferring Contacts from Nokia to Motorola Droid/Atrix/Moto
Step 1. Get Mobile Transfer for Mac installed on your computer
Once you have installed the application, you need to launch it. Take the USB cables of your Nokia and Motorola phones, connect them to the two phones and finally connect the cables to the computer. The application should detect both devices.
Step 2: Select the Phone to Phone transfer
From the application window, select Phone to Phone transfer option. It will switch to a new window where both devices will be displayed as well as different categories of data. Since you are transferring Nokia contact to Motorola, select contacts category only.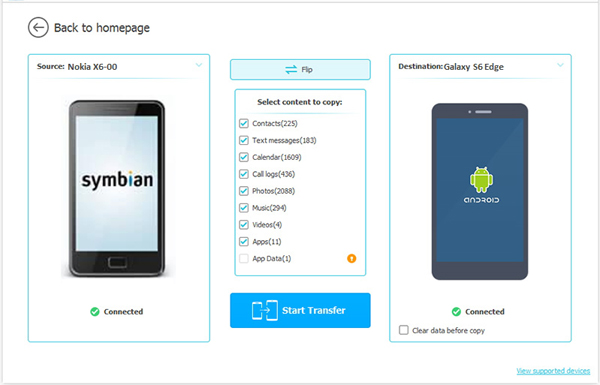 Step 3. Start the process of transferring Nokia contacts to Moto
To make the contacts transfer, click on the Start Transfer button and complete the action by selecting OK. Once the transfer has been made successful, you can verify the transferred contacts in your Motorola phone.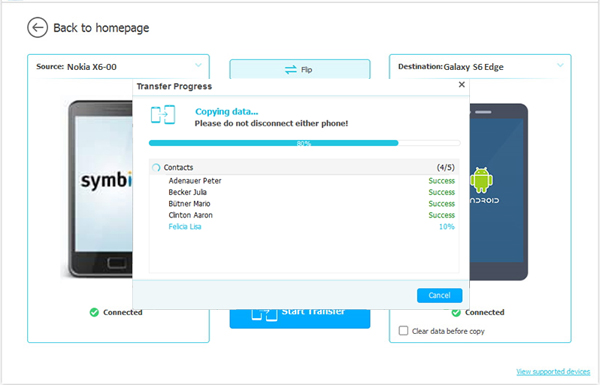 Don't hesitate and give it a shot right now!
Related Articles:
Transfer Text Messages from iOS 7 to iOS 8