How to Transfer Phone List from Nokia to Android Phone?
Symbian and Android are two well-known phone systems. But nowadays, more and more people plan to change Nokia to Android OS due to the signs of dwindling sentiment of Symbian of Nokia. It is pleasant to change from your old Nokia to your new Android phone. However, there is nothing worse than getting a new phone but have no idea on how to transfer phone list from the old phone to the new gadget. As we all know, phone contacts play an indispensable part in our daily life. How to move more than 1000 contacts including contact information from Nokia to Android without wasting time on manual inputting one by one? Now, you don't need to bother at all, all you need is little concentration while reading this article.
Here we are going to show a simple yet efficient solution to help you achieve the phone list transfer with the help of Nokia to Android Transfer. It is able to transfer contacts from Nokia phone to Android with full contact information preserved, including phone numbers, names, company name, address, email and so on. Apart from contacts, it can even transfer text messages, videos, music, photos, call logs and more from Nokia to Android, or from Android to Nokia just in a few clicks. Various Android devices are supported, including Samsung, HTC, LG, Motorola, Sony, Google, Huawei, ZTE and so on.
Read the below detailed user guide that shows you how to copy phone list from Nokia to Android in 3 simple steps with the help of Nokia to Android Transfer. Download the right version of the program on your computer for free.
Easy Steps to Move Phone List from Symbian Nokia to Android
Step 1. Launch the program and connect both phones to computer
To begin with, install and run the Nokia to Android Transfer program on your computer. Choose "Phone to Phone Transfer" and connect your Nokia and Android phones to the computer with two USB cables. Once connected, the program will detect your phones and pop up you with a program window like the following picture.
Note: The two phones will be displayed as "Source" and "Destination". If you need, you can click "Flip" to change the places.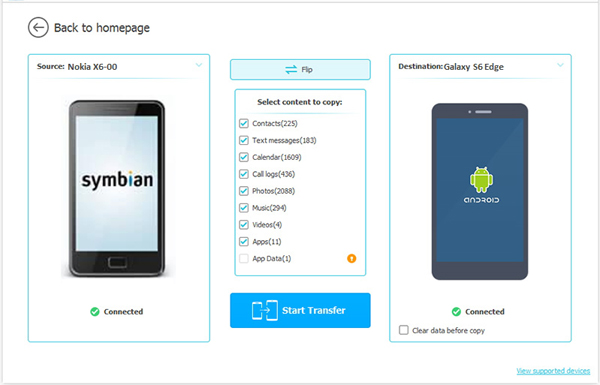 Step 2: Start to transfer phone list from Nokia to Android
Choose the data on your source Nokia that you want to transfer to your Android by checking the box in front of the file types. Here, you should choose "Contacts" only. After that, you can click "Start Transfer" button and wait until the contact transferring process is complete.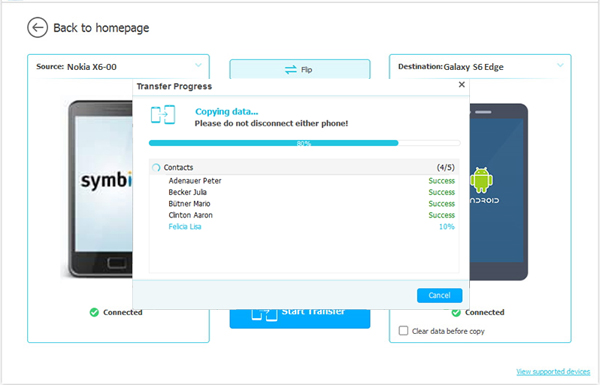 After the quick transfer, you can see all transferred contact phone list from the Nokia to your Android.
Related Articles:
Copy Contacts between Samsung and iPhone