Transfer Photos/Videos/Music/Apps between HTC and Sony
What problems can we encounter when transferring data between HTC and Sony?
Even though the demand of transferring files from one phone to another is becoming more and more common, some users still have problems to do this transfer. For example, transferring speed is too slow, operations are too complex or something wrong leads to a failed transfer. Therefore, before an HTC device user begins to transfer their favorite data to their new Sony phones, or vice versa, it is important that they do their homework first. By researching the best processes for making these transfers prior to getting started, the user can save a significant amount of time in trouble shooting problems that they encounter along the way. So, for those of you who may be interested what type of problems that can occur, you can review a few of the most commonly known and addressed that have been provided below.
Click here to learn: How to Transfer Data from Old LG to New LG G5?
There are many transferring programs available on the market today. But not every one does what it says. For example, a software application may start a process well, but later on may cause some certain loose ends. Meaning there are problems left that will need to be fixed. Therefore, we kindly introduce the Coolmuster Mobile Transfer (Windows) or Coolmuster Mobile Transfer for Mac, to save you from endless trial and error. With its help, you can effortlessly transfer everything on your phone, such as contacts, text messages, apps, photos, videos, music and many more to another phone seamlessly, no matter they are Android, iOS or Symbian phones. It is also able to backup your phone data on computer, and restore the backup record back to your phone with one click. Mobile Transfer is really a full-featured tool to solve all problems related to mobile devices.
As stated previously, copying data from a mobile phone to another is a simple process from some software products like Coolmuster Mobile Transfer. It is a 3 step process that can be accessed via the program. Now, we will set HTC and Sony phones as example to tell you how to transfer photos, videos, music, apps and more between HTC One M8/M9 and Sony Xperia Z5/Z4/Z3 by using this phone to phone transfer software. That said, the 3 steps are listed below.
You might be interested in: How to Play Android Music on iPod?
How to Transfer HTC Photos/Movies/Songs/Apps to Sony Xperia?
Step 1. Connect your HTC and Sony phones to computer
Launch the Coolmuster Mobile Transfer after it has been downloaded and installed. Find two USB cables to connect your HTC phone and Sony phone with the computer and make sure the two phones can be detected by the computer.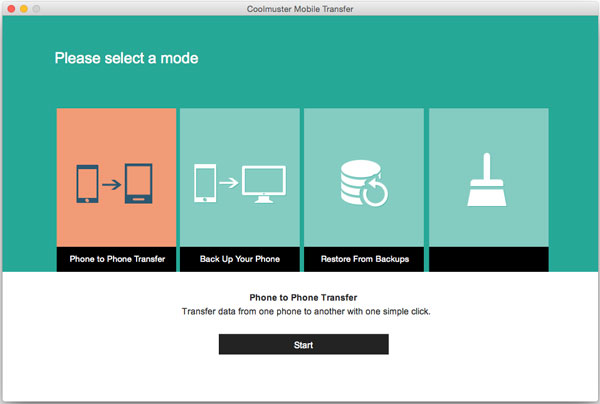 Step 2: Enter Phone to Phone Transfer mode
Mobile Transfer will detect and scan the two phones automatically. You can see there are three different modes available on the main window. Choose the first "Phone to Phone Transfer" to enter the phone transferring window.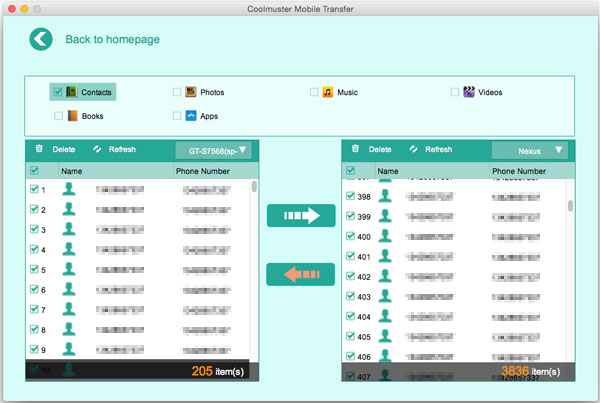 Step 3. Transfer photos, videos and apps between HTC and Sony
The last step is to select what you want to transfer. Here, you should check and tick off the Photos, Videos, Music and Apps options, and then start the phone to phone transfer process by clicking on the appropriate arrow.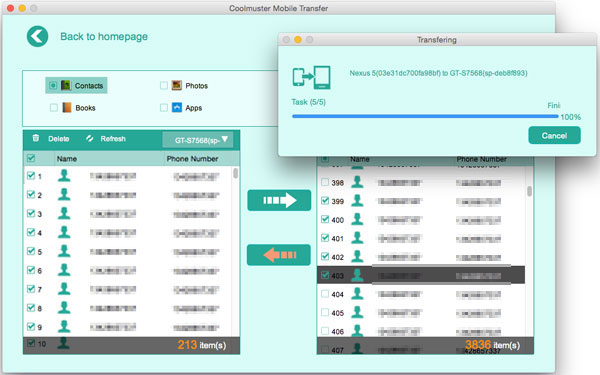 Ok, that's all about how to transfer media files, as well as applications between HTC and Sony phones.
Related Articles:
Transfer Contacts between Nokia and Sony Ericsson