Transfer Photos, Videos, Music from HTC to iPhone X/8/8 Plus/7/7 Plus

Foreword: Before we get started with transferring photos, videos and music files from HTC to iPhone, first of all, we also need to understand the instances when you should have the media transfer, the challenges you may encounter and the program that will allow for a successful transfer.
Files transfer does not happen unconsciously, in most cases, it is planned and there must be good reasons for the transfer. For example, When you fear to lose the precious photos you have taken with your families and best friends, the iPhone may act as a backup and this means you will still have the photos even if you lost one of the gadgets. You may also transfer the media files when you want to dispose of the HTC phone and continue keeping these files.
However, there may be a lot of hitches when transferring the app especially when the iPhone and the HTC phone fail to connect either because of the settings or because of the distance. In that case, you'd better draw support from a third-party program called HTC to iPhone Transfer, which provides you with easy data switching from one phone to another. You can use it to selectively transfer all the media files like photos, videos and music, as well as other types of data like contacts, text messages, apps, etc. from HTC One M8/M9/Desire HD/Hero/Wildfire to iPhone X/8/8 Plus/7/7 Plus.
Are you interested in:
Copy Photos/Videos/Music between Two Motorola Phones
Copy Photos/Videos/Music from Sony to Samsung
Download the Mobile Transfer via the buttons below and the following steps will allow for a successful transfer of photos, videos and music from HTC to iPhone. It also allows you to backup all your phone data to other external devices like the computer and later restore them to your preferred phone.
How to Transfer Photos/Videos/Music to iPhone from HTC One M8/M9?
Step 1. Open transfer software and connect phones
Install the earlier download of HTC to Samsung Transfer. Launch it and connect the iPhone and HTC phone to the computer using USB cables. The program will automatically detect the two phones once they have been connected successfully.
Step 2: Click on Phone to Phone Transfer
Choose the phone to phone transfer from the main interface. Since all the transferable files are displayed, choose the option of "Photos", "Videos", "Music" and make other types of data unchecked.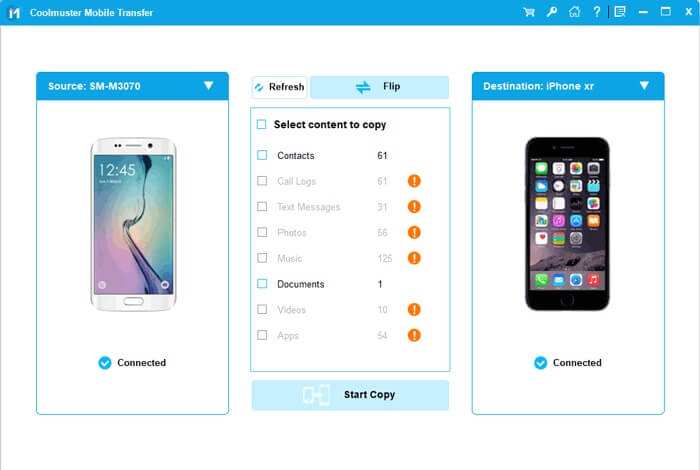 Step 3. Begin the media transfer from HTC to iPhone
After you have selected all the pictures, videos and songs you want to transfer, you can start the process by clicking on the button of Start Transfer. Then, the transferring process will begin immediately.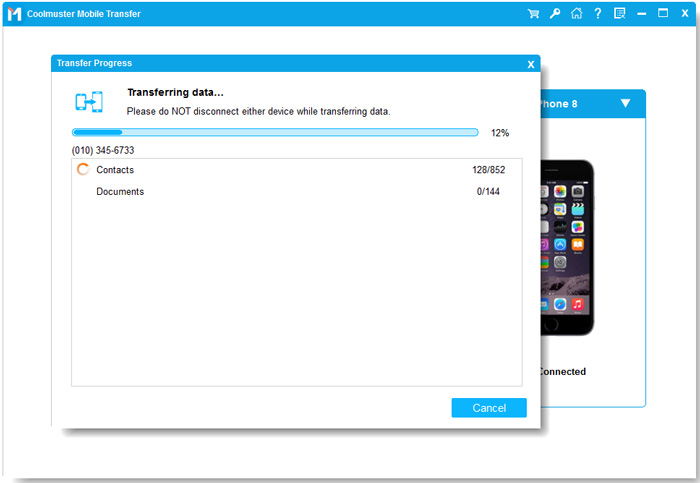 A display will show you the progress of the apps transfer and do not disconnect the two phones during the transfer.
Related Articles:
How to Copy Apps between Two Sony Devices
Copy Data between two HTC One/Desire HD/Wildfire
Add a comment