How to Transfer Apps from Samsung to Google Nexus?
Most people love to buy new phones. We change phones faster than we change clothes these days, replacing older models with shiny new ones as quickly as we can. Phones come and phones go, with devices becoming obsolete barely a few months after their launch. Making sure all your data reaches your new phone safe and sound is always a critical part of replacing an old model. With apps, you may encounter the following issues –
Problem 1. Apps cannot always be transferred using in-built phone features like Bluetooth.
Problem 2. Important data like saved accounts, stored media, saved passwords, etc may be lost during transfer.
Problem 3. Third-party transfer apps do not always function properly and may not be ideal for apps that need to be kept secure (e.g. banking apps).
This article will introduce you one of the best tool - Coolmuster Mobile Transfer (Windows) or Coolmuster Mobile Transfer for Mac, which can realize the apps transfer between Samsung and Google Nexus easily and safely. It is all easy to do, with just a few simple clicks and so even if your phone doesn't work as it should, you would never have to worry about losing out on your precious data. Plus, when you've bought a new phone, it can get a lot easier to transfer the data from your old phone to your new one too. Everything on your old phone, such as contacts, text messages, call log, notes, calendar, photos and videos, eBooks and mobile apps can be transferred to your new phone so that you don't need to copy them one by one manually. Mobile Transfer is compatible with devices running with Android, iOS or Symbian system.
It is ideal for Samsung to Nexus transfer and it also offers backup & restore feature for you to backup and recover your phone. Coolmuster Mobile Transfer is reliable and guarantees quick and secure shifting. All your apps will reach your Google Nexus 7/6/5/4 from Samsung Galaxy S7/S6/S5/S4, Galaxy Note 5/4/3 phone in perfect condition, just the way you left them!
Follow Us to Copy Samsung Galaxy Applications to Nexus Phone
Step 1. Launch the Samsung to Nexus transfer tool
Download the Mobile Transfer and install it to your laptop or computer. It can work with both Windows and Mac, here we set Mac version as example. Launch it and you will see its screen like the picture as below.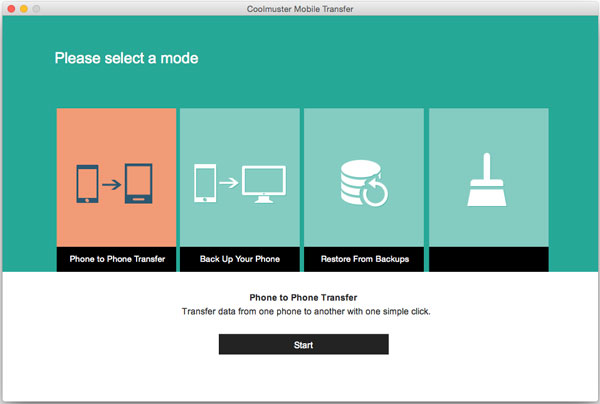 Step 2: Connect your two phones to Mac
Using the USB cables, attach both of your phones to the computer that you just installed Coolmuster Mobile Transfer to. On the interface, select the Phone to Phone Transfer mode and the program will display both of your devices after detecting them.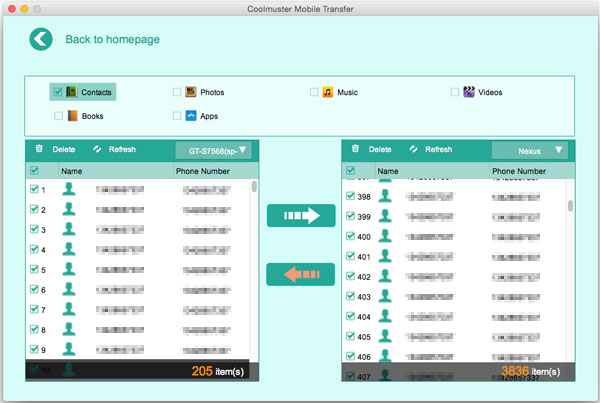 Step 3. Transfer Samsung apps to Nexus phone
Notice that the menu above the two devices shows the items to be transferred to the destination device. Check or uncheck the boxes as per your requirement. Click the direction key in the middle when you are done.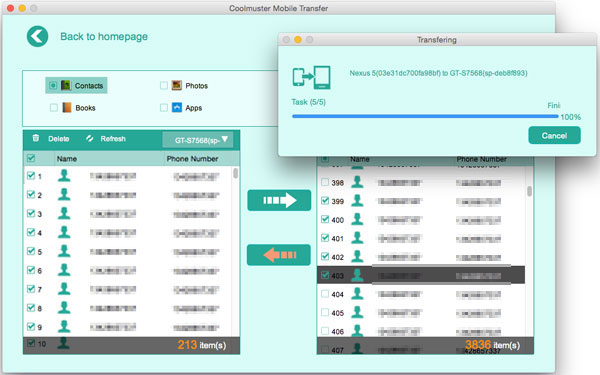 Mobile Transfer will begin the apps transferring process. A menu will appear showing the progress of the transfer. Once the process is complete, you can enjoy apps with your new Nexus phone freely.
Related Articles:
How to Copy Apps between Two Sony Devices