How to Transfer Text Messages from iOS 7 to iOS 8?
Nowadays, we can see lots of questions appear online, asking about how to transfer SMS between iPhone, iPad and iPod running different iOS versions: "Is it possible to transfer text messages from iPhone running iOS 7 to another iPhone running iOS 8?" "How do I export messages between two iOS devices, one is running iOS 6 and the other running iOS 7?" "How do I save text messages from iPhone 5S to iPhone 6 Plus that are running with different OSes?" No matter you just get a new iPhone running iOS 8, or just upgrade one of your iPhone to iOS 8, you must be doubt on how to transfer text messages from the old iPhone with iOS 6 or 7 to it. Today, we write the article to show the best approach to transfer texts from iOS 6/iOS 7 to iOS 8.
The way I want to recommend to you is using iOS SMS Transfer, which is an outstanding data transfer tool for not only iOS users, but also Android and Symbian. It is an ideal mobile phone transfer to help you transfer all text messages, contacts, photos, music, videos, apps and more between iPhone 6/6 Plus/5S/5C/5/4S, iPad or iPod that runs iOS 6, iOS 7 or iOS 8. With such a reliable tool, the SMS transfer process from iOS 6/iOS 7 to iOS 8 can be as easy as pie that you need only three simple steps.
Note: iOS SMS Transfer supports iPhones, iPads and iPods running iOS 8, iOS 7, iOS 6 and iOS 5. You are lucky that the transfer tool comes with free trial version for Windows and Mac. You can click the following button to get the free trial version installed on your PC or Mac. The operations on Windows and Mac are similar.
3 Steps to Move iPhone SMS Messages from iOS 6/7 to iOS 8
Step 1. Install the Phone Transfer tool and launch it
Install the iOS SMS Transfer tool on your Windows PC. Run it and its primary window will pop up like the picture as below. You should choose "Phone to Phone Transfer" mode to go on. Please note you should install iTunes on your computer so as to let the transfer tool run properly. Otherwise, it will remind you of installing it the first time you run it.
Step 2. Connect two iPhones to the PC
Use two USB cables to connect the two iPhones to the same computer. iOS SMS Transfer will find your iPhones and show them in the primary window. As you can see, there is a "Flip" button between the two phones. By clicking on it, you can switch the positions of the two iPhones and then the transferring order will change too. To transfer SMS from iOS 7 to iOS 8, you should place iPhone with iOS 7 on the "Source" place.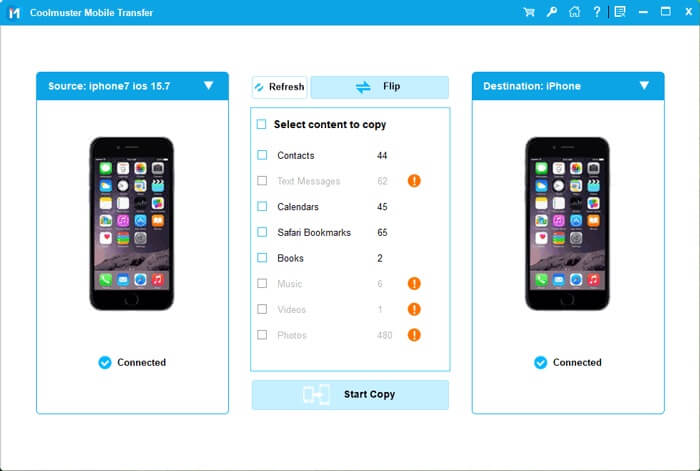 Step 3: Transfer SMS from iOS 7 to iOS 8
If you just don't need to transfer files except SMS, you need to uncheck the other files. Have a click on the big "Start Transfer" button and then the SMS transferring process would begin and finish in no time.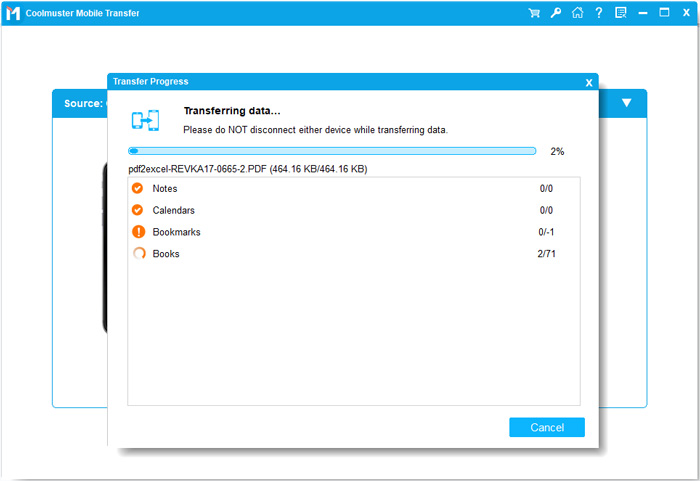 Well done! You have smoothly finished the SMS transfer from iPhone running iOS 7 to another iPhone running iOS 8. How convenient and easy it will be. Now, please free download the demo version of the Mobile Transfer to try by yourself.
Related Articles:
Copy Text Messages between BlackBerry and Android