How to Transfer Text Messages from Sony Xperia to iPhone 6S/6/5S?
As phone technology improves, the frequency of replacing mobile phones becomes higher and higher. Apple iPhone and Android Sony Xperia phones are both playing important roles in the mobile market due to their own irreplaceable features. Some people use both the two devices at the same time for personal reasons and some people are just planning to switch from an old Sony Xperia to a brand-new iPhone, such as iPhone 6 or iPhone 6 Plus. However, you must have stored a lot of important files, such as text messages, on your old phone can upset to see that it is impossible to extract the text messages from Sony Xperia to iPhone owning to the different operating systems they are using.
Actually, it is a frequently asked question you can see on the Android or Apple forum. How to transfer data is the most common question asked by the guys who has made a switch from one phone to another. Now, there is an awesome phone to phone data transfer tool is coming to help you transfer your precious data from Sony Xperia to iPhone - Sony to iPhone Transfer. It comes with ultra strong compatibility that no matter what you want to transfer and what kind of phone you are using. Just with two USB cables and a computer, you can finish the SMS transfer from Sony Xperia to iPhone without any hassle and you will also be surprised at the transferring quality.
Sony to iPhone Transfer works for iPhone, Symbian Nokia, Samsung, HTC, LG, Sony, Motorola, and more devices that run on Android, iOS and Symbian OSes. With it, you can copy your valuable text messages, contacts, photos, videos, music, apps, call logs, etc. between any two phones. Now, let's use the transfer tool to copy text messages from Sony Xperia to iPhone 6S, iPhone 6S Plus, iPhone 6, iPhone 6 Plus, iPhone 5S, iPhone 5C, iPhone 5, iPhone 4S without doubt. Download Phone Transfer for free to get ready please.
Extra Bonus:
How to Choose between Samsung Galaxy S7 or iPhone 6S
Easy Way to Save Old Files to the Newest LG G5
Simple Steps to Copy Sony Xperia SMS Messages to iPhone 6S/6 Plus/5S
Step 1. Install and launch Sony to iPhone SMS transfer tool
At first, you should install the downloaded Sony to iPhone SMS Transfer on your computer. Double-click the icon on the computer desktop to launch it and then you will see a user-friendly program interface like the below picture.
Note: To transfer SMS between iPhone and Sony phone, you need to install iTunes on your computer beforehand.
Step 2: Connect Sony phone and iPhone to computer
Link your two phones to the computer via USB cables at the same time so that the Sony to iPhone data transfer tool will detect the two phones as soon as possible. After that, the two phones will be displayed at the places of "Source" and "Destination". Besides, you can click "Flip" button to switch their positions.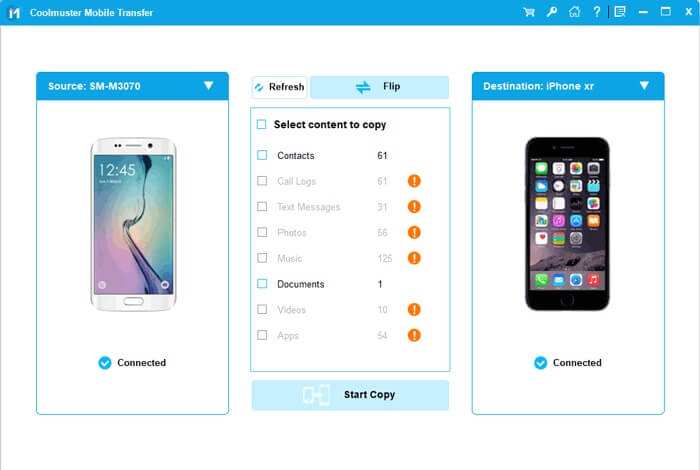 Step 3. Start to Copy SMS from Sony Xperia to iPhone
You ought to delete the marks before other file types except "Text Messages" if you only want to transfer SMS messages. Then, click "Start Copy" to start the SMS transferring from Sony mobile to iPhone.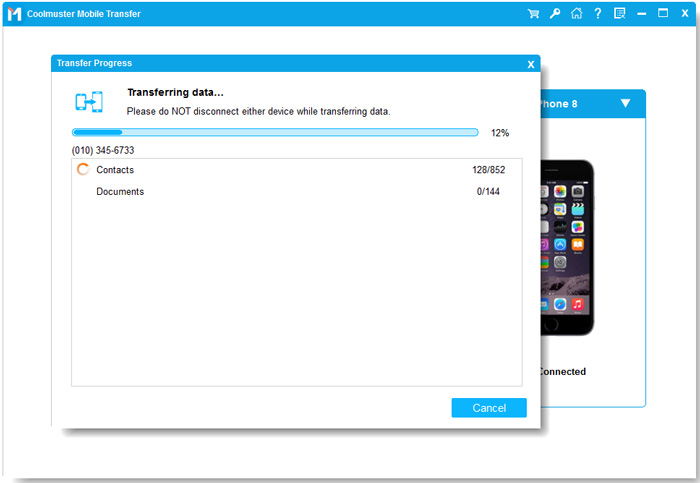 Make sure the two phones are connected well with the computer until the transferring process is over. Such powerful Phone Transfer can be used for all iPhone models, Android and Symbian phones.
Related Articles:
Contacts Transfer between Sony Ericsson and Galaxy S5/S4/S3