Transfer SMS to iOS 9 from Old Phones (iOS, Android, Symbian)
Having two smartphones will require you to share data and information between the two devices. Why? For one thing, smartphones are man made which means that they are susceptible to damage due to hardware or software issues. The screen may crack, the speaker may damage or the battery may become defective. In order not lose your important files in your old phone running in iOS, Android, Symbian, you can simply transfer them to your new phone like iPhone in iOS 9. However, data transfer between two phones is not that simple, especially when the two devices are running with different OS.
If you are planning to transfer text messages from your old phone running iOS, Symbian or Android to your new iPhone in iOS 9 but don't know how, you are suggested to try the Coolmuster Mobile Transfer or Coolmuster Mobile Transfer for Mac. The program features with 1-click data transfer ability that allows users to transfer different types of selected data and information like contacts, SMS, photos, videos, music, apps and books between two phones with a single click. The application bypasses any incompatibility issues brought about by different operating systems, such as Android, iOS and Symbian.
Mobile Transfer even enables you to back up your important data from old phone to computer and restore them back whenever you need. Having a backup assures the phone user that a copy of their data exists somewhere therefore in case the device becomes damaged, one can restore their data to the original or a new device easily. This program is easy to use, you can easily handle it even you don't have much skills about phone. Below, let's get started with the SMS transfer from old phone to iOS 9.
How to Export SMS from Old Phone (Android, iOS, Symbian) to iOS 9?
Step 1. Launch Mobile Transfer on computer
After you download and install the Coolmuster Mobile Transfer for Mac on your computer, launch it right away. Choose the first mode "Phone to Phone Transfer" and the program will ask you to connect your devices.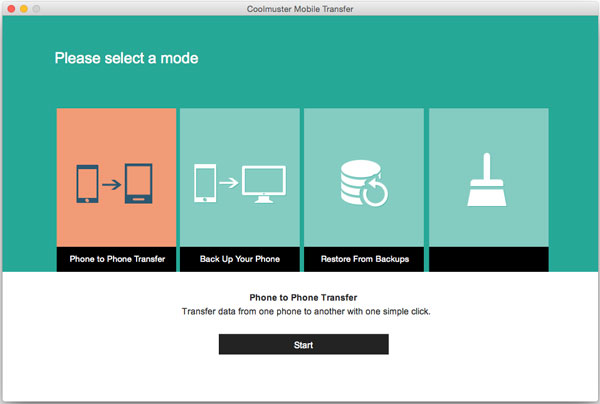 Step 2: Connect your two phones to the Mac
Connect your old phone and the iOS 9 based Apple device with your computer via 2 USB cables. And then you can see them displayed side by side. Above them, there are all transferable data types showing here.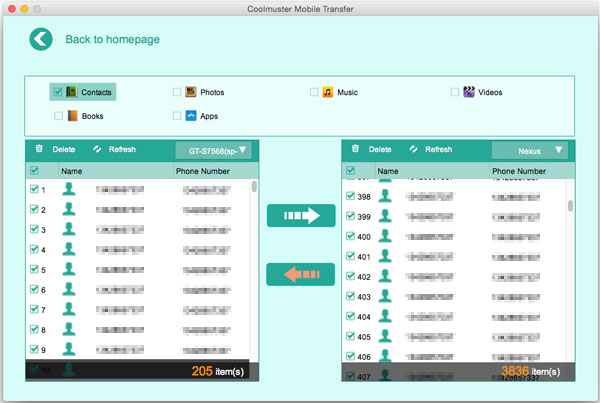 Step 3. Transfer SMS to iOS 9 from old phones
Besides the text messages, you are also able to copy contacts, videos, photos, music, apps and more to the iOS 9. All what you need to do is selecting the files you want to transfer and click the left or right arrow to begin the transfer process.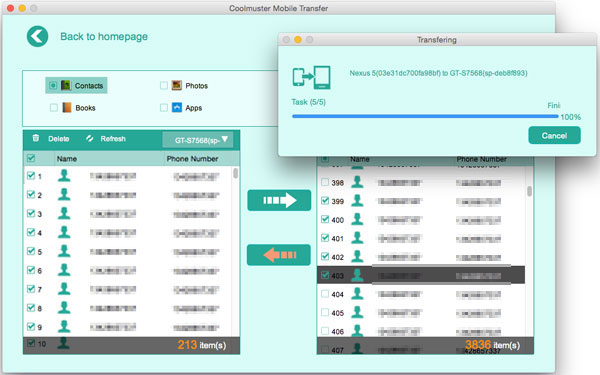 After a short waiting time, all text messages will be exported to your new iOS 9 based device. Try Mobile Transfer to do phone to phone data transfer!
Related Articles:
Transfer Contacts between Nokia and HTC