How to Transfer Text Messages from Nokia to Sony Xperia?
Today, you will find that your photos, documents, music, videos, apps and ebooks are spread from one device to another.The devices are probably running different operating systems such as Android, Symbian, Windows Mobile and iOS among others. Having different devices with different operating systems can be quite hectic especially when it comes to sharing data and information between the devices, such as text messages. Maybe you will be required to take a lot of time transferring data between the devices. Majority of people will copy data from a device to the computer, disconnect the device, connect the other device and then start copying to the new device. This can be time consuming.
If you are looking to make the process of transferring text messages between a Nokia and a Sony device, then you need to use a third party application like Nokia to Sony Transfer. It is an application developed to help users make data and information transfer between devices running different operating systems. With the help of it, you can transfer different content such as text messages, contacts, music, videos, documents and photos between two phones, no matter they are in Android, iOS or Symbian system. Using Nokia to Sony Transfer will not require you to utilize another third party application in order to improve the functionality of the application.
If you have purchased a new device and are looking to sell the old one, you will need to have a back up of your data and information before formatting the old device. Nokia to Sony Transfer also provides you with the backup ability that you can transfer contacts, photos, videos, music, documents and more to computer for backup. The following is the guide to show you how to transfer text messages from Nokia to Sony phone by using the program.
Guide for Transferring SMS Messages between Nokia and Sony Xperia Z5/Z4/Z3
Step 1. Begin with "Phone to Phone Transfer"
Once you have installed the downloaded Nokia to Sony Transfer program, launch it on your computer and from the four available options on the program window, choose "Phone to Phone Transfer" to continue.
Step 2: Connect Nokia and Sony phones to computer
Connect the two devices to the computer using their respective USB cables. Once connected, the software will detect the two phones. A new window will appear displaying both devices on the left and right with various categories above them. The categories include SMS, contacts, books, apps, photos, music and videos.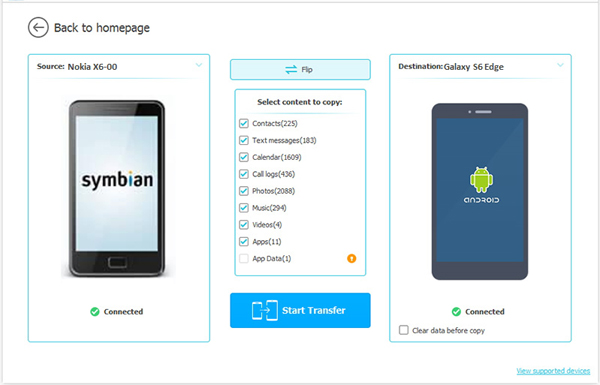 Step 3. Start transferring SMS from Nokia to Sony
Select the respective category you need to transfer by checking it. To transfer the text messages content, choose "Messages" and click on the Start Transfer button and verify the action by clicking OK.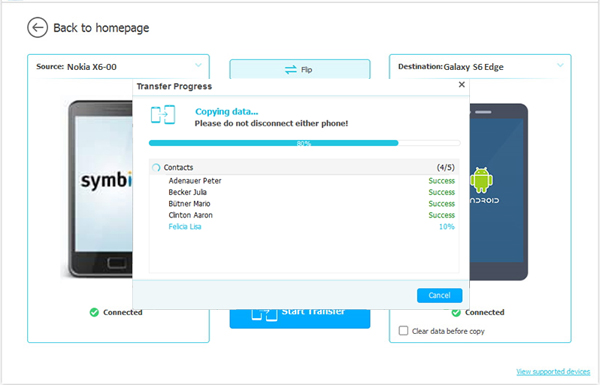 Download the Nokia to Sony Transfer to transfer more from your old Nokia phone to new Sony phone with one click!