Transfer Text Messages from Samsung to Google Nexus
An easy way of fetching data!
Smart phones are all the rage these days. Everyone is obsessed with researching brands, checking specifications and features, comparing models and buying new phones – and why shouldn't they be? The world of smart phones is highly interesting, getting updated every second with newer and better technology taking center stage every day. If you are looking to get your precious messages from your old Motorola phone to your new Samsung phone, the process can be a lengthy one. You really wouldn't want to copy each message individually. Nor would you want to send each message that you want saved to your new Samsung phone - that can use up your SMS plan as well. You need a much easier way out.
With intuitive interface built in, Samsung to Nexus Transfer will give you a good impression for the first time. The usage of the software is simple, too. Just connect your Samsung and Google Nexus phones to the computer, click by following the prompt with your mouse, and then the text messages will be copied and pasted to the target phone in minutes. By the way, Mobile Transfer can not only copy message contents, but also preserve phone numbers, contacts' name, sent and received time. In addition to SMS, it also can transfer contacts, videos, music, photos, apps, call log, notes, and more between two phones. It supports various mobile platforms and most mobile phone models, namely Android and Android, Android and iOS, as well as Android and Symbian.
Learn more:
* How to Transfer SMS from Sony Xperia to iPhone?
* How to Transfer SMS from Motorola to Motorola?
This app is user-friendly and can be used by anyone with these simple guidelines. Even if you are the farthest from "tech-savvy" that you can be, you can get the job done with no trouble at all! We will show how to transfer messages from Samsung Galaxy S6/S5/S4/S3/Note 5/4/3 to Google Nexus 7/6/5/4/3 with the software step by step.
How to Transfer Samsung Galaxy Text Messages to Nexus 7/6/5?
Step 1. Connect Samsung and Nexus phones to computer
Launch Samsung to Nexus Transfer on your computer after you downloaded and installed it. Use two USB cables to link your Samsung phone and Google Nexus phone to the same computer. Mobile Transfer will detect the two phones soon.
Step 2: Select SMS to transfer
Enter the phone transferring mode by clicking on the first mode - "Phone to Phone Transfer". Then, you will see the two phones are placed side by side and get a list of all the transferable files for each phone. Mark Text Message in the menu.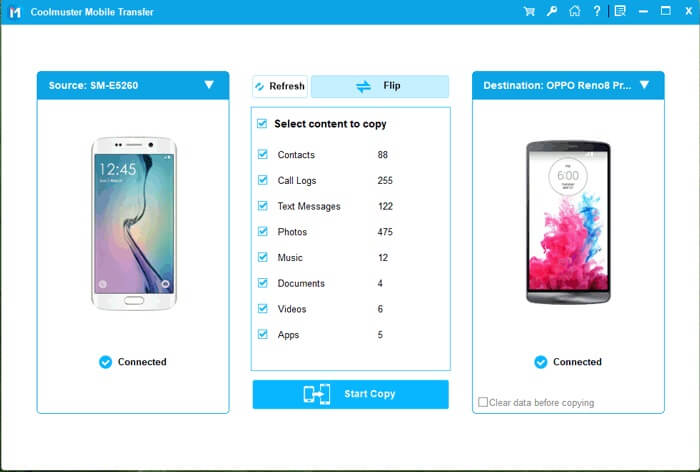 Step 3. Transfer Samsung SMS to Nexus
Click on the Start Transfer button to begin the SMS transfer. Transfer program will start to read, copy and paste all the text messages on your Samsung phone to Nexus phone. The process could take some time. Please wait patiently and do not disconnect either phone during the process.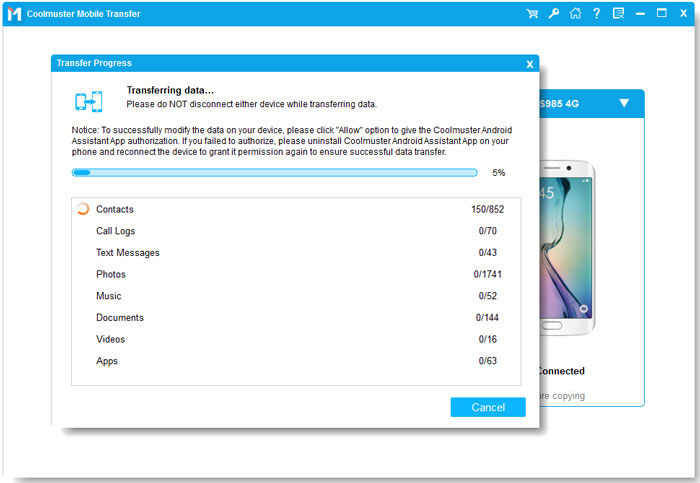 Bingo! Your messages have been cloned. Just go to your Nexus phone and you can read the messages in details.
Related Articles:
Transfer Text Messages from Nokia to Sony Xperia