The Easiest Way to Transfer Data to Your New Galaxy S7
The new Samsung Galaxy S7 is just around the corner and as a fan of the Galaxy phone series from Samsung, you possibly plan to buy the new Galaxy. If the Galaxy S6 was all about new features, the Galaxy S7 is about new technology. And you're sure to love it. For one, you can even choose a dual SIM option in the Galaxy S7. Now, first of all let's might as well learn more about the new Samsung Galaxy S7.
New Features on Samsung Galaxy S7:
> The phone will come with a mammoth 4 GB Ram and a Snapdragon 820 processor.
> The Galaxy S7 will be one of the first devices to have the newest version of Android - Android 6.0 Marshmallow.
> It features on an Andreno 530 chipset and a Super AMOLED screen with as many as 16 M colors.
> You will have a 12 MP Primary Camera and Corning Gorilla Glass.
> There are a host of sensors included that can measure your body metrics well, from the fingerprint sensor to the heart rate sensor and barometer.
To name just a few. While the Samsung Galaxy S7 does pack in the punch, you might have a few questions up your sleeve. What if you want to transfer all your files from the Galaxy S6 to Galaxy S7? It can take hours for the transfer to complete and you may not be able to transfer everything easily. For instance, the contacts that you have stored in Galaxy S6 may not be as easy to transfer to Galaxy S7. This is where Coolmuster Mobile Transfer (for Windows) or Coolmuster Mobile Transfer for Mac will help to update Samsung Galaxy S6 to Samsung Galaxy S7.
With this software, you can transfer almost everything, from videos, photos to contacts and even apps. They can be transferred easily between the S6 and S7 and all you need to do is to click a few times. The software helps you to transfer all that you need to, between any two phones or devices, whether it be Android, Windows or iOS. You are free to use this software to transfer files between Android devices and iOS devices, or share files between Android devices. Now, why not click the below icon to get the right version of this software?
Extra Bonus: Here to Learn How to Move Messages from Samsung Galaxy S4 to S5
How to Transfer Files from Samsung S6 to Samsung Galaxy S7?
You can transfer all data from the Galaxy S6 to the Galaxy S7 in just three easy steps. Here is what you need to do.
Step 1- Install the Coolmuster Mobile Transfer on your PC or Mac. Now, you will need two USB cables. Plug in the two mobile phones to your computer with the two USB cables. The Coolmuster software will now detect the two phones automatically.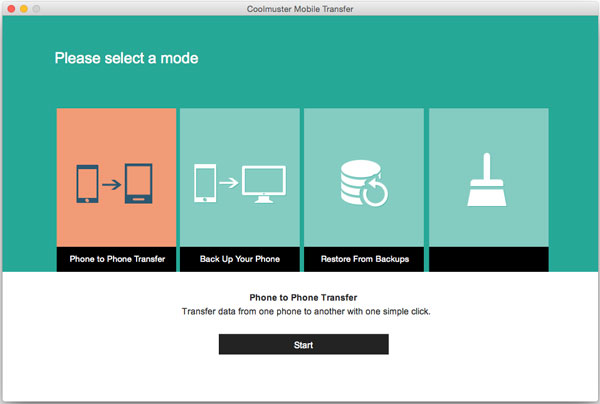 Step 2- Just select Phone to Phone Transfer and you will get to see all the files in both of your devices. This includes everything from Contacts to Photos to Music to even Apps and eBooks. Just select all that you would want to copy from one phone to another.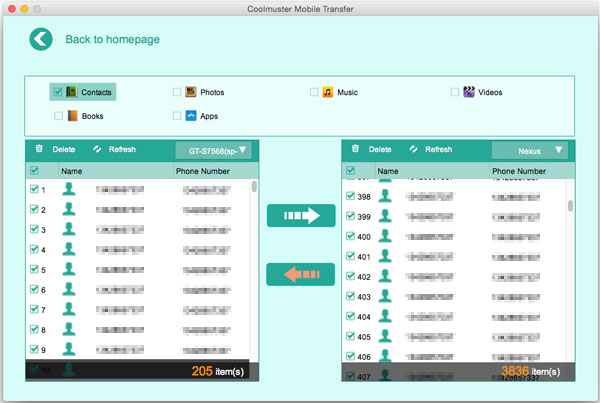 Step 3- After you've selected all that you want to copy, just click on the left or right arrow to begin the transfer. Within a little while, the transfer would be completed. Remember, you have to choose OK when the promo dialogue box pops up to allow the transfer to start.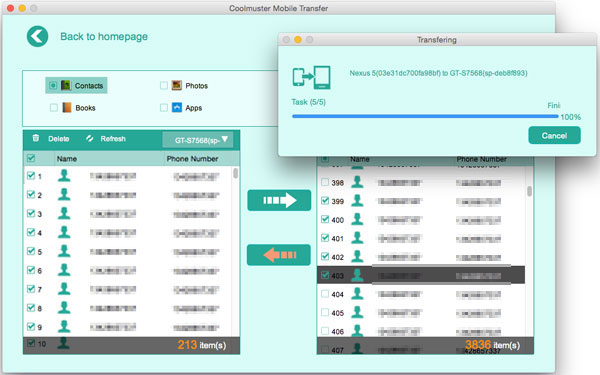 You can even view the progress of the transfer and how much is left with the progress bar on the screen that shows just how much data has been transferred. This is all that you need to do to transfer all your precious data and update Samsung Galaxy S6 to Samsung Galaxy S7. It's easy, it's fast and it's foolproof. Just get this software by clicking the below icon!
Related Articles:
Transfer Media files from Android to iPhone
How to Erase Text Messages from HTC Hero
Add a comment