Want to View Motorola Photos on Samsung? Solution is Here!
With the evolution of the smart phone and its numerous apps, the options to own one has grown manifold. We are now spoilt for choices since it's a problem of plenty. In such a scenario you would want to transfer your photos from your Motorola phone to your new recently bought Samsung smart phone. Now you have basically 2 options to transfer photos or data.
- Copy and paste data from one device to the other
- Use Samsung's Smart Switch app
Problems with the above two methods:
The manual approach is the most lengthy and tedious one. It also implies that the user be absolutely patient and have enough time too. The glitch with the second method is mainly to do with compatibility. The Samsung Smart Switch is compatible with the following extensions only: Motorola DROID RAZR, RAZR Mini, RAZR Maxx and ATRIX III. Anything beyond this will be rejected. It is during these times do we wish for software or a system which will ease our efforts. The Coolmuster Mobile Transfer is the answer to our prayers. Its revolutionary mobile transfer technology helps you transfer data between devices in a jiffy.
How can Coolmuster Mobile Transfer help?
With the ever dependable Coolmuster Mobile Transfer or Coolmuster Mobile Transfer for Mac, you can transfer almost everything without the fear of any data loss. Transferring your contacts, photos, videos, apps, ebooks, etc. and forget compatibility issues. Mobile Transfer takes care of everything. The best part about transferring through this program is the near nil loss in quality. You can backup all the data that you want without any worries - so that you can retrieve it when required. So, if you want to backup Motorola photos on computer before the transfer, Mobile Transfer can help you. Mobile Transfer supports more than 2000+ devices from Apple, Android, Symbian et al and you will not need any third party program to run it.
* How to Copy Music from Android to Android?
* How to Copy Photos from Android to iPad?
How can you carry out the transfer? Well, the transfer process is equally simple. With only 3 simple steps, you can finish the photos transfer between Motorola DROID RAZR, RAZR Mini, RAZR Maxx, ATRIX III and Samsung Galaxy S7/S6/S5/S4, Galaxy Note 5/4/3, Galaxy Nexus successfully.
How to Copy Pictures/Photos from Motorola to Samsung?
Step 1. Connect both phones to your computer
Download Coolmuster Mobile Transfer in your PC or Mac and then connect both the Motorola and Samsung phones to the system. You will be prompted to select from three options and you should select 'Phone to Phone transfer' to continue.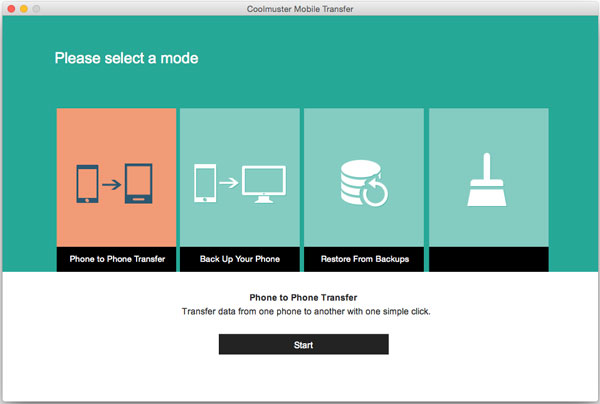 Step 2. Enter phone to phone transfer window
A new window pops up, providing you with all the files that needs to be transferred. You can either select all or choose the ones you wish to transfer. Here, we can choose 'Photos' folder only.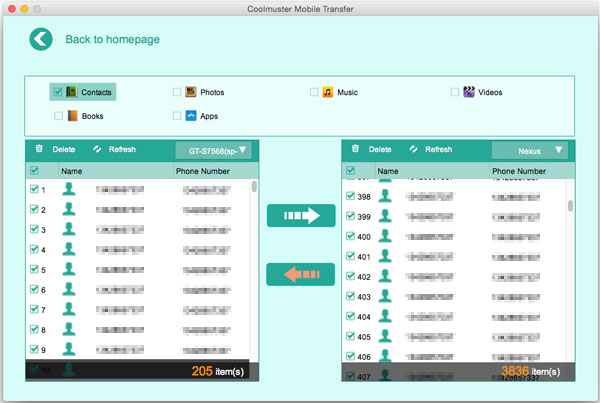 Step 3. Transfer and view Motorola photos on Samsung
Once the selection is done, click the right arrow or left arrow. Transfer starts automatically. You will have to confirm again by clicking OK when a dialogue pops up and the transfer bar indicates the progress.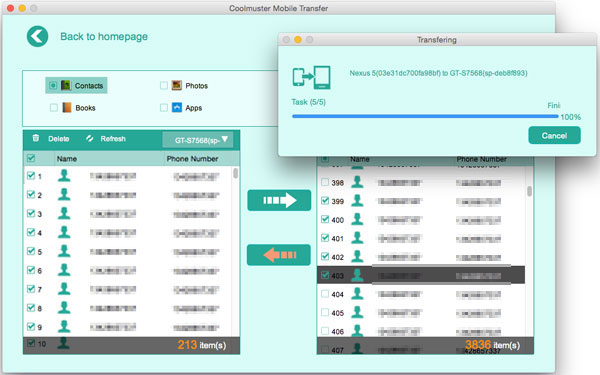 In case of any data loss, simply connect your phone to the program and press 'Back up to Computer' to backup your phone and next time, you can press 'Restore to Phone' to recover the files back to your phone.
Related Articles:
Data Transfer between Two LG Phones