LG G5 vs Samsung Galaxy S7/S7 Edge - Which Wins?
If you want to change your Samsung phone to another OS-driven phone, you may hesitating between Samsung Galaxy S7 and iPhone 6S, or between Samsung and Google phone. But if you are a huge fan of Android, you may consider updating to the newest Samsung Galaxy S7 or to the LG G5. So, how do you choose between LG G5 vs Samsung Galaxy S7/S7 Edge? LG G5 and Samsung Galaxy S7 are both Android 6.0 smartphones. The Samsung Galaxy S7 is slightly smaller at 5.61 inches by 2.74 inches versus the G5 which is 5.88 inches by 2.91 inches. Though, the thickness of the Samsung is slightly lesser at .31 inches as compared to the .29 inches of the LG phone. The weights are almost identical with Samsung weighing 5.36 ounces as compared to 5.61 ounces of LG. Now, let's see more features of these two devices:
Samsung S7 Features:
The major difference however, is that the Samsung phone's main body is made of glass with aluminum accents whereas the LG phone is of metal and is seamless with no antenna lines. However, Samsung is more rugged and is both water as well as dust resistant and it is IP 68 certified as well. Samsung uses Super AMOLED technology versus the IPS LCD technology of LG and it has a density of 576 ppi as compared to the 554 ppi of LG. Samsung uses Exynos 8 Octa 8890 and a built in storage of 64 GB.
LG G5 Features:
LG does better when it comes to the camera. It is 16 megapixels as compared to the 12 megapixels of Samsung and has an aperture size of .1 more than the Samsung's F1.7. The LG phone offers face detection, voice activation as well as shutter speed control which is missing in the Samsung phone. It also offers different shooting modes like the burst mode, high dynamic range mode and Panorama. The camcorder in addition to Video Calling also offers time lapse videos and video sharing. The secondary camera is 135 degrees. The front facing camera too is 8 megapixels for LG as compared to the 5 megapixels of Samsung. LG G5 uses the Qualcomm Snapdragon 820 MSM8996 and has a built in storage of 32 GB though it offers maximum user storage of 23 GB.
Apart from the main features mentioned in the above, LG has FM radio which is lacking in the Samsung phone though Samsung does offer a gyroscope hall and Barometer which is lacking in the LG phone and it also allows for M4 and T3 hearing aid compatibility. Samsung has an Always on feature so features like the clock or calendar or notifications can be shown even in low power mode.
How Can a Data Transferring Software Help?
However, when you get the new LG G5 or the Samsung Galaxy S7 phone there is a lot you will need to do. There will be photos, music, contacts, SMS as well as apps you will need to transfer onto the new phone. This could be quite a tedious task. It could take hours for you to transfer the data. Plus, you wouldn't be able to transfer important apps between the two devices and it's not a great thing to have to download the app again on your new phone. This is where Coolmuster Mobile Transfer (for Windows) or Coolmuster Mobile Transfer for Mac can help you, which allows you to freely sync files between your old phone and new one, whether it be between Android phones and between Android phone and iPhone.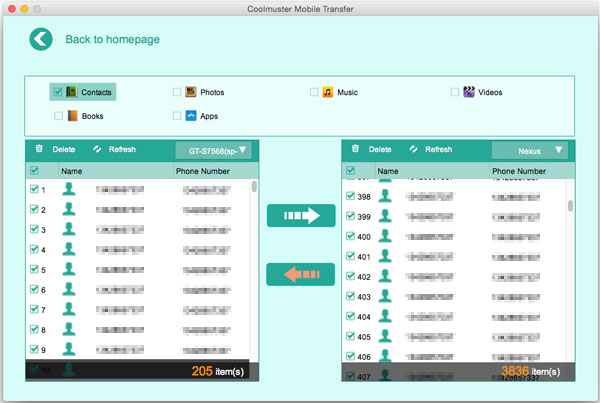 When Would You Need a Data Managing Software?
There is the Coolmuster Android Assistant that can help you with all this. The software helps you to export all this and more from your android phone to a tablet or your computer. It also helps in restoration from backed up files. It also can be used to connect the Android device via USB cable or Wi-Fi. The perfect assistant also helps in sending messages to groups, unduplicating contacts and so much more. It can also be used to download and install apps as well as to export them to Android SD cards. Therefore, not only should you consider the phone you need to procure but the app which will make transferring of all the data almost seamless as well!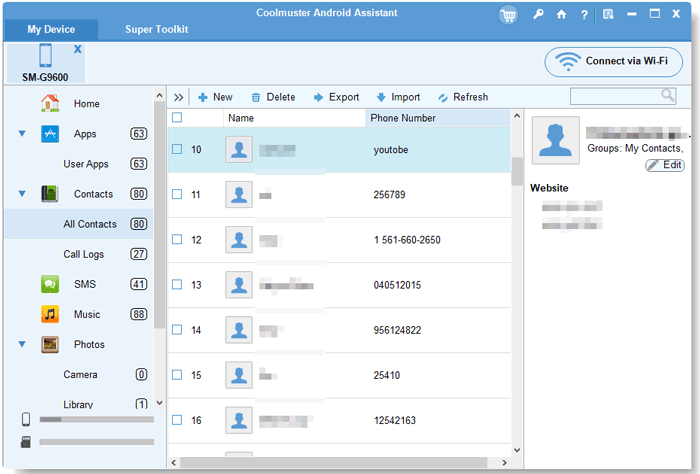 Add a comment