How to Transfer Data from ZTE to iPhone?
With so many different types of mobile phones on the market today, the choices can easily be overwhelming. However, as each manufacturer releases its latest versions of iPhones and Android devices, users are always looking for the best with the most awesome features. When this occurs, the data that is contained on the old phone will need to be transferred from the current device to the new one. This is one of the primary reasons why people want to switch from ZTE to iPhone, and the demand for phone to phone transfer is increasing over time.
Read More:
Transfer Photos from ZTE to Samsung Galaxy S8
Transfer Text Messages from ZTE to iPhone
If you want to transfer data from your ZTE phone to iPhone, you would have to go through a lengthy guide, with the help of ZTE to iPhone Transfer. It is an all-in-one mobile transfer process that has been made easy for anyone who has a mobile device. With this application, you can transfer contacts, SMS, photos, videos, music, apps and more from ZTE Nubia/Adamant/Avid/Valet to iPhone 8/7 Plus/6/6S/5/5S. The user does not have to be worry about issues that causes problems like the data being out of sync or corrupted.
These transfers are also done with an easy 3 step process that virtually anyone complete just by following the easy to read and understand instructions. To better protect your phone data, we kindly suggest you transfer ZTE data to computer and copy iPhone data to computer for backup. The following guide shows you how to use Mobile Transfer to transfer data from ZTE to iPhone in 1-2-3 step.
Easy Way to Copy Files from ZTE to iPhone 8/7/7 Plus/6S/6
Step 1. Connecting ZTE and iPhone to computer
Download the Mobile Transfer and install it on a laptop or desktop computer, and then connect both devices to the computer via 2 USB cables.
Step 2: Select the Phone to Phone Transfer option
When the cables have been connected, choose "Phone to Phone Transfer" mode and the user will be able to view the files that they need to transfer. Based on the need or preferences, all files can be transferred at the same time or the user can select specific files to transfer (i.e. all contacts, all photos and all videos only).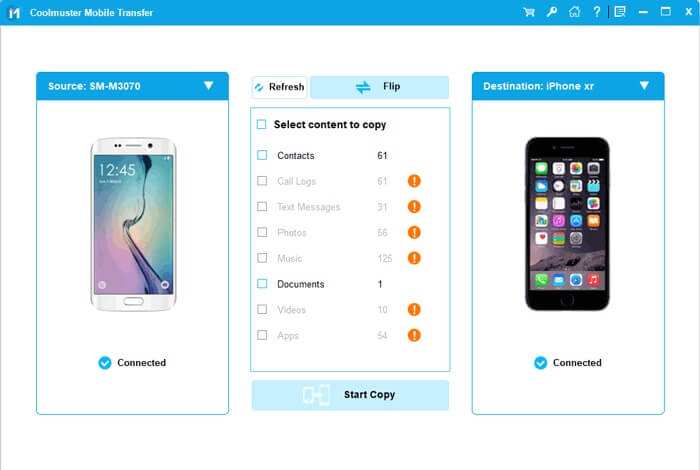 Step 3. Begin ZTE to iPhone data transfer process
After the user has made his selections, the next step in the process is to initiate the transfer by clicking on the Start Transfer button in the middle.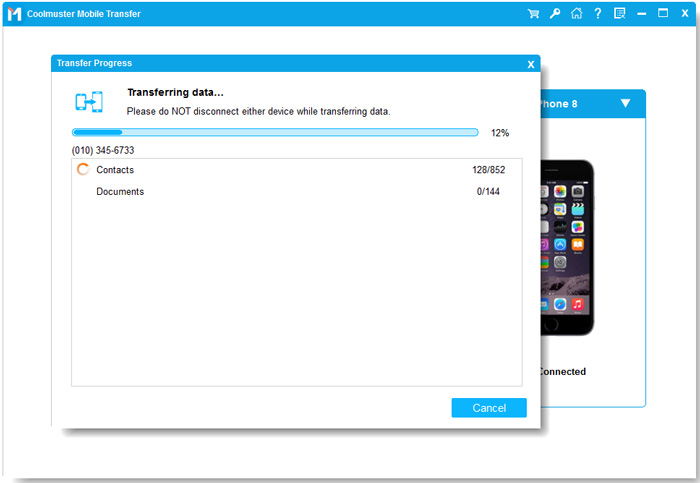 The Mobile Transfer should do the rest. That's all about how to transfer data from ZTE to iPhone by using this tool.
Related Articles:
How to Copy Apps between Two Sony Devices
Copy Data between two HTC One/Desire HD/Wildfire
Add a comment