Can We Get Microsoft Windows 10 for Free?
If you're still one of those people who are using Windows 8 or even down Windows 7, you might want to try upgrading to Windows 10 to enjoy some charming features in the new-released operating system. Earlier this January 2015, Microsoft announced that it would give out free upgrades to people who were using lower versions of Windows to encourage users to embrace the new version of Windows. For more than six years, Windows 7 has dominated the market for Windows users. Then Windows 8 came in and introduced plenty of features which are an unveiling for Microsoft. But now, Microsoft came back and developed a new operating system – the Windows 10.
Windows 10 - What is the Difference Compared With Windows 7 and Windows 8?
If you noticed, it seems that Microsoft skipped making a version for Windows 9 but that is not really an issue. In fact, Windows 10 looks like a hybrid of Windows 7 and Windows 8.
It's the Windows you know, only better
Microsoft's new tagline for Windows 10 will stir your interest and curiosity. Find out more about how Windows 10 is the Windows you know and why it's much better than its predecessors.
First off, as for the Start Menu. Windows 10 employs the look-alike Windows 7 Start Menu on the left side and the Windows 8 Start Menu interface on the right side. The left side menu shows all recently added software, the most visited folders, as well as the most used apps. A button at the bottom of the menu is also available to show all of your apps in one single list. The right side menu is a grid of app tiles like the live tiles found on Windows 8. Users can arrange how they want the app files to look and also shows updates from social media, news and sports, and Netflix shows you last watched and other updates.
The expand button of Windows 10 also makes the Start Menu go full screen which gives you a feel of the screen of a smartphone or tablet for a desktop. But this is voluntary since the default desktop configuration of the Windows 10 is the same with Windows 7 and Windows 8. Users will also admire the new task bar icons on Windows 10 which glow when opened. Unlike in Windows 7 where all the opened apps are highlighted, Windows 10 only highlights the app that is currently utilized which lessens the confusion.
Compared to the lower version of Windows, the latest Windows 10 has far less glitzy folder icons so that it works much better. Gone are the redundant libraries, the task manager is much simpler and easier to use, it's not as confusing as the odd tablet-style layout of the Windows 8 and it provides users a comfortable feeling on performance which makes Windows 7 users still loyal to it until today. But hey, Windows 10 can boast about Cortana. If you don't know it yet, she's the Windows 10 version of Siri which makes searching queries pretty quick and much easier with Windows 10. If you're also strict with messy workspaces and appreciate a design that looks chic and spotlessly clean, then Windows 10 is certainly for you.
The verdict? Upgrading your operating system to Windows 10 is definitely worth it! But there also comes the question despite Microsoft's earlier statement, can we really get Microsoft Windows 10 for free?
Take Microsoft's word, upgrading to Windows 10 is free and they've shown how users can get it quite easy. All you have to do is reserving your free upgrade, performing the upgrade, and enjoying the familiar yet much better interface of Windows 10. However, free upgrades do not last forever so it would suit you well to reserve your free upgrade as early as you can.
No one can guarantee that there is no accident happen all the time, so in order to make your personal data or crucial files on your computer safe, you're strongly recommended to move & backup these files to external hard drive. But if you have ignored this step before upgrading your system and found something important have gone, don't worry, you still have a chance to get them back by using Coolmuster Data Recovery software.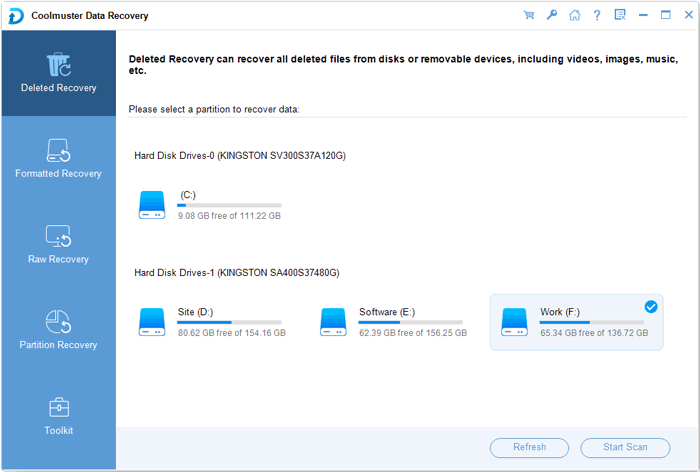 How to Update Your Microsoft Windows to the Latest Windows 10?
- Reserving your free upgrade is the first step to get Windows 10 for free. To do this, all you have to do is to click the Windows 10 icon on the lower right side of the system tray. If you can't find this icon yet, run Windows Update first and install all the recommended updates. You should find out the said icon once you're done with the update.
- "Reserve your free upgrade" button will appear in the app window, click it. And enter your email to confirm the reservation.
- When the above settings have been done, Microsoft will automatically download Windows 10 to your device which will take just about 90 seconds. A notification will be sent once the device is ready.
Just wait a little bit and voila! You can now enjoy an upgraded version of Windows 10 at the moment and understand why millions of people around the world love it.
Can't Miss:
New Features of Windows 10 That You Might Interested
Top Reasons to Upgrade or Not Upgrade to Windows 10
FAQs about Microsoft Windows 10 You May Wish to Know
1. Is Microsoft Windows 10 really for free?
This might sound like a redundant question but hey, being on the safe side wouldn't hurt. Yes, the Windows 10 upgrade is definitely free but only to those devices which run on genuine Windows 7 and Windows 8.1.
2. What is the Get Windows 10 app?
The Get Windows 10 app is specifically designed to make the upgrade process of new devices easier. With the help of this app, new users can see whether their device is ready for an upgrade. The app also checks the device's compatibility with the new operating system. If the app is missing on your device, just run the Windows Update and you will find the app's icon in the lower right side of the system tray indicating that it is already available for using.
3. What if I don't like Windows 10, can I still downgrade?
Every user is given a month to downgrade from their previous version of Windows operating systems if they find Windows 10 unsatisfactory. So far, the many cool features of Windows 10 will make you love it and not wish for a downgrade. But just in case.
Add a comment