Reasons to Upgrade or Not Upgrade to Windows 10
The launch of Windows 10 has definitely evoked a lot of curiosity among the existing Windows users with most of them getting confused, if they should be going for the upgrade or not at this stage. It is not an easy decision to make for individuals and company owners as a lot depends on their specific business needs and requirements. Through this discussion, we compare the pros and cons of switching over for an upgrade and what users are likely to gain or lose in this process. For starters, let us highlight about some of the positive features of having a Windows 10 upgrades.
Related: Features of Windows 10 You May Need to Know
Highlights for Upgrading to Windows 10
Start Menu Gets A Fresh Makeover
The start menu on Windows 10 offers a huge respite for most Windows 8 users who found it more cumbersome to handle. Its user interface is more suitable for tablets with its smooth touch control. However, the Metro interface is not easy to handle for a vast majority of users who still rely on standard desktop computers with a mouse and keypad in the workplace. Most of the people who have upgraded to the new Windows version can get them more familiar method of organizing folders and links. You can not only get the compact version of the Live Tile Launcher which is touch friendly as well. Moreover, users can customize their desktops by choosing to display or hide certain elements as per their preferences using this upgraded Windows version.
Better Exploration with Edge Internet Browser
The latest upgrade offers users a new top search browser - Edge, which is built from scratch for better speed and is far more efficient than the less popular Google Chrome browser. Edge has an array of digital tools that allow integration with Cortana and its voice functions. An in-built reading list for some of the unread stories on the web, digital ink support through Styli tablet and a neat with smooth user interface is some of the added features offered by this latest Windows browser.
Enhanced Voice Control Features
Cortana - the Windows Phone 7 voice assistant comes with some major enhancements in the new upgraded version and offer better standard search capabilities with smooth access to contextual information. It also provides access to users on their personal information through their connected devices and has the ability to perform most of the basic desktop actions using its voice commands. The best part is Cortana is now available to Xbox One user along with iOS and Android mobile phone users.
Easy and Smooth Access to Information
The overall user interface has been improved in the Windows 10 version, which keeping the needs of the users in mind. Comparatively Windows 8 that allowed users to collapse the Windows apps, downloaded from Windows store, Windows 10 allows for them to get re-sized or moved easily just like any other standard desktop app. The added capability of virtual desktops allows users to group different programs just like some of the other Linux or third party Windows apps.
Command Prompt Gets More Recognition
The humble Command Prompt in the new Windows 10 version offers better functionality to the users in terms of its utility value. The copy-paste, resizable windows, text wrap feature along with an opacity slider makes it a fancier feature than ever before.
Convenient Action and Notification Center
This has allowed the Windows 10 OS to display messages clearly along with a mini control-center underneath that provides access to commonly used settings. For example, e-mail notifications can be seen as they arrive, dropbox syncing and even software downloads can be seen as they happen and you can later check them out in the notification center even after they have disappeared off-screen. Comparatively, Windows 8 Notification systems are worthless as it only flashes alerts and then makes them disappear into the ether.
Reasons for the Downsides of Having A Windows 10 Upgrade
Limited Time for Totally Free & May Not Meet Your System Requirement
If you are using a real version of Windows 7 or 8.1, then there is no doubt that you can get a free upgrade to a similar version of Windows 10. However, there is a small catch which users need to know and that is that this upgrade is available for free only for the first year from the date of its official release that is, 07/29/2015.
Consequently, for your system to run a Windows 10 version smoothly, you need a PC which has a minimum processor capacity of 1GHz or even more, 1 GB of RAM, 16 GB hard disk spaces for 32-bit machines. However, you will need 2 GB of RAM, 20 GB hard disk spaces for 64-bit machines and meet other Microsoft system requirements and specifications to run this upgraded version. But for users who still depend on the old hardware from their existing Windows XP machine, upgrading to Windows 10 may give them the worst user experience ever.
OneDrive Placeholders May Not be Available
The smart files are also known as OneDrive placeholders which is currently a useful feature offered through Windows 8.1 is still missing in the updated Windows 10 version. However, this OneDrive functionality will be available to users of Windows 10 only at the end of the year.
Additionally, if there are older peripherals such as printers and scanners in your current Windows version, then they may not be able to work with the new Windows 10 operating system. Again for those who love Windows Media Center, it is a bit disappointing that this feature is not compatible with the Windows 10 upgrade.
Cortana is Not yet Bright
Just like Google Now, Windows 10's digital assistant Cortana can provide straightforward answers to some questions, show small graphical cards and speak a few words aloud. But compared to Google Now, it is still far from being a superior app and at the same level with the web-based Google voice search. Unlike Google Now, Cortana does not take follow-up questions at all. Moreover, the feature is expected to send e-mails for you at some point and also set appointments in your calendar but so far the feature does not seem to respond seamlessly as anticipated.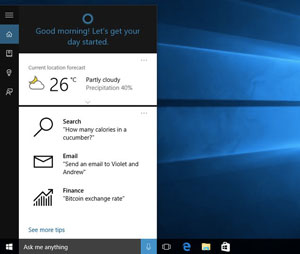 In a nutshell, the key in deciding whether to go for a Windows 10 upgrade or not is to make sure your hardware and system will be compatible with the new changes. Moreover, upgrade only if you are absolutely sure that it is going to be useful to you and make a positive difference to your business.
Add a comment