How to Retrieve Any Permanently Lost Data from Recycle Bin?
As computer users of many years, you won't be unfamiliar with Recycle Bin, which's mainly used to store temporarily deleted files, folders, web pages as well as shortcuts. Prior to Windows 95, when a file was deleted, it disappeared completely. Today, Recycle Bin has a notable feature of allowing users to retrieve those being put inside simply with a click on the restore button. Since Recycle Bin is a special default folder lying and hidden in the root directory of each hard disk partition folder, when you erase a file and send it to the bin, it's merely put into the folder and occupies the corresponding disk space. It won't be truly and permanently removed until it's wiped from the bin or the bin is emptied.
There was a time when I accidentally emptied the folder, which contained some PowerPoint files that I wanted to recover, not having the slightest idea what to do at the time. I was intensely worried and upset due to the fact that the files were in urgent need and there was no time left to redo. Later I learned from the Internet that a great number of computer users were confronted with the same situations, and there were other cases in which they wanted to get their data back yet the data were forever erased, as the files were deleted by a previous press on Shift and Delete, which led to permanent removal, or the deletion was caused on account of formatting, or owing to the fact that the size of the erased files exceeded the limit of Recycle Bin. Given such scenarios, it's of paramount importance to undelete what has been deleted forever from the folder.
Can we still get back the deleted files in Trash? Sure!
When you wipe and move a file to Recycle Bin, it will be stored there and take up the same amount of hard disk space as before. But as soon as you erase the file from Recycle Bin, empty the folder, or the file gets removed permanently for other reasons, it will be deleted from the hard drive which can no longer be retrieved under normal circumstances. However, with a special and powerful third-party tool, they can be recovered magically. When a file is removed under the Windows environment, only the directory information is deleted from FAT or MFT (NTFS), indicating that the file still remains on your disk. Yet first and foremost, so as to prevent the deleted data from being overwritten and losing the possibility of being restored, you should write no more new data on the disk partition.
Coolmuster Data Recovery (for Windows 8/7/XP/Vista) is the powerful software as mentioned to scan the hard drive thoroughly and help you recover the permanently erased files of different formats instantly with great ease. In addition to Recycle Bin, it can retrieve wiped data from various mobile storage devices as well. Sometimes even when the directory structure is damaged, the files can still be undeleted with this tool. Just turn to it at once and enjoy the best solution it provides for you! If you are using a Mac machine, Coolmuster Data Recovery for Mac provides you with the same features as the Windows version.
3 Steps to Restore Data from Trash with Recycle Bin Data Recovery
Step 1. Launch the program and select a recovery mode
Download and install the Recycle Bin data recovery software. Run it and you will be popped up with its primary interface like below. Four data recovery options are provided: Deleted Recovery, Format Recovery, Raw Recovery and Partition Recovery. Choose the suitable recovery mode and click on the button of "Next".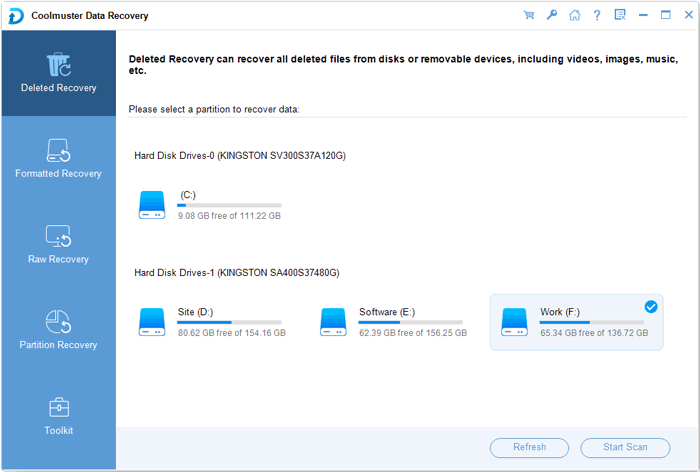 Step 2. Scan your pen drive data
All the partitions and drivers are detected and displayed on the main interface. Choose the volume you need to recover data from. For files deleted from your computer desktop, you should go to C volume, highlight it and click the "Scan" button to start scanning data in it.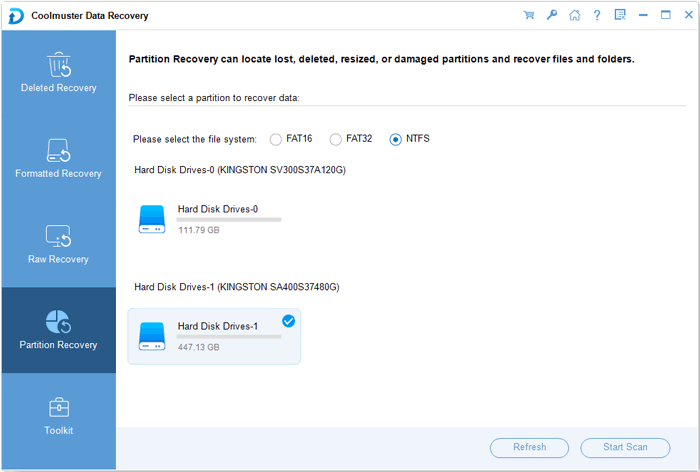 Step 3. Preview and start Recycle Bin recovery instantly
After the scan, all found files and folders will be scanned out and displayed for you. Preview the recoverable files with the Name, Type, Size, Data, etc. and select the exact files you want to recover from the Recycle Bin. Then, you can click on the "Recover" button, select a folder from your PC to save the recovered files!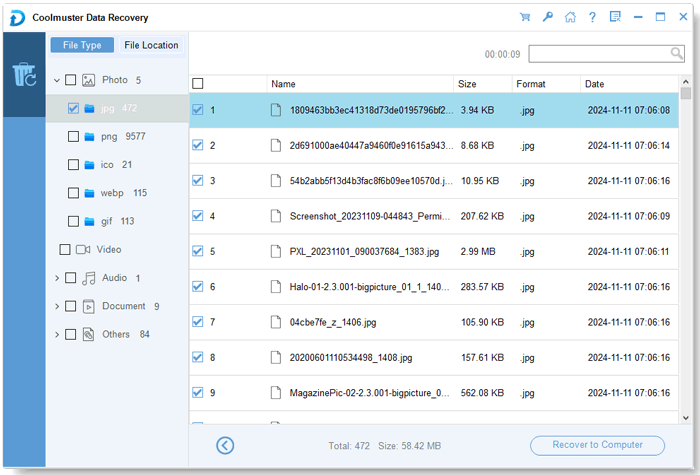 The recovery process will begin at once and finish in no time. Above are all about how to recover files that you erased from your computer recycle bin, by using Coolmuster Data Recovery. Just freely enjoy the reclaimed data!
Related Articles:
Recover Deleted Files from Kodak Camera