New Features of the Windows 10 You Might Interested
In late 2014, Microsoft previewed the next operating system - Windows 10, which was expected. However, the name took many by surprise. Interestingly, this is undoubtedly going to be the best Windows operating system this far. Apart from offering a free upgrade for Windows 8.1 and 7 users, the new Windows 10 operating system is awash with features that marry the world of mobile with cloud computing. And it is also user-friendly, ideal for keyboard and mouse users, and optimized for touch. Now, let us delve into new features in the coming Windows 10.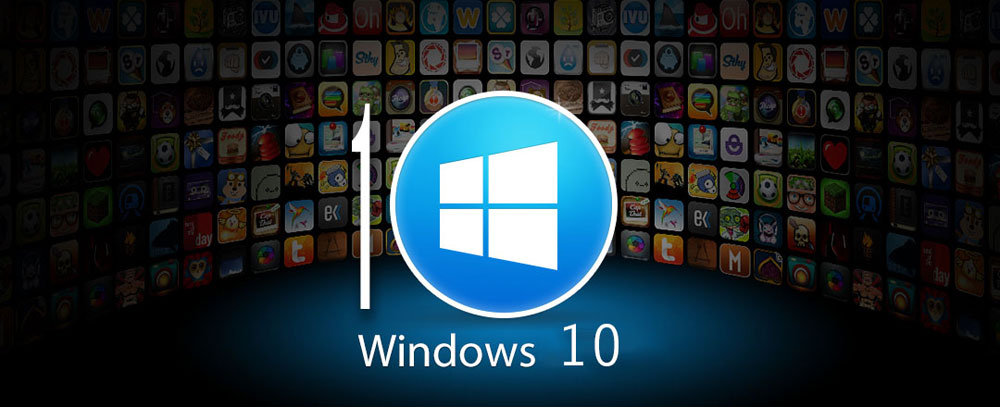 Start Menu
Windows 10 will have a Start Menu with standard Windows software and apps. The latest build showcases updated graphics and can go full screen. The menu is similar to Windows 7, but Live Tiles have been added. And it might make Windows apps be more frequently used than before. What's more, the newly designed Start Menu will provide a list of your most used apps, that as well as shortcuts to file explorer, settings, shut down and stand by.
The functionality of the Windows 10 start screen has been maintained on the right. It has resizable live tiles, which allow you to check unread mail or calendar appointments. The tile concept may be presented inelegantly, but what matters are what you pin. You can pin titles which are actually shortcuts to specific functions or even features within apps. For instance, you can pin a particular email or conversation thread even from social media. This is convenient re-defined, save for the time saved. Or you can customize the Start Menu, resize it, create groups of tiles, rearrange the tiles, or even revert to the Windows 10 start screen. The full screen start menu is ideally meant for use on tablets, but you can also use it on your PC.
Cortana
This is one of the headline features of the new Windows 10 operating system. It is a digital assistant that rivals Siri and Google. It has been available on the Windows Phone, but an upgrade will allow it to run on PCs and Tablets too. The Cortana search box will be located at the center of the task bar, that next to the start button on the desktop. This will make searching for any items more easier than before. When you click on the box, there is a prompt to enable Cortana. This is because Windows 10 treats Cortana and search as the same thing. Search is a part of the virtual assistant remit.
Better still, you can launch it via voice. To do this, tap the microphone button and reel your request off. This is undoubtedly faster than typing it. Cortana allows you to edit things that it knows about you. This way, the services it provides will improve. You can type to interact, for instance, you can request, "show me photos from January" or "show me PowerPoint slides about the innovation presentation". And if you type a single word, you will receive a list of apps, files, settings, that match your search in the Windows store as well as on the web. The only concern would be access to sensitive or personal files should someone else be using your PC or handheld device.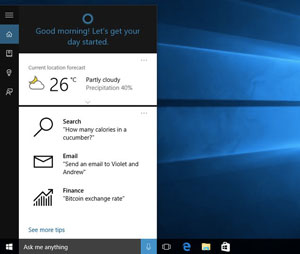 Furthermore, you can use Cortana for reminders, and attach them to people and places. It also shows top news stories, identifies the music playing, displays your schedule for the day, provides information on your commute from work, the weather, and even sports scores. It is one in all search bar, which is very convenient. You can allow it to access even information about flight numbers and notify you of delays in the case of factors like traffic on the way to the airport. This may be crucial, but security may be a concern.
However, Cortana cannot answer the question directly. It automatically launches the Edge browser and displays search results. This means that to effectively utilize this "mega app" you need to have access to the Internet. You can also utilize Cortana to record notes, launch apps, give directions on a map, play specific music, and even set alarms. Cortana certainly makes you more productive.
With Windows 10, you can easily find the recently used files and frequently visited folders, with the Quick Access option, that replaced the favorites section of the left-hand pane. This means that you need not manually pin items to the task bar, or even add folders to the favorites section. You also will not need to use the "last modified" column to access recently downloaded or edited files.
Xbox App and Streaming
Windows 10 will come with the Xbox app which allows for control of Xbox One and a DVR capture for Windows games. It will allow gamers to play multiplayer cross-platform between Xbox One and PC. It provides for streaming of games from Xbox Box. There is also support for DirectX 12.
Universal Apps
Universal Apps is a handy feature if you are using more than a single Windows device. This means you can use the apps across the devices, with the same feel and look, despite the device or screen size. The data is saved and syncs automatically via OneDrive.
Edge Browser
This is Microsoft's web browser, which was formerly known as "Project Spartan". This will replace Internet Explorer in Windows 10. According to Microsoft, the browser has been built with "interoperability" in mind. Some of the features it offers include: a reading mode and the ability to annotate (with a pen, finger or keyboard). The browser is integrated with Cortana. This provides further information, for instance opening times on a web page for a restaurant.
Enhancements
The Windows Insider program allows Microsoft to get to know what its users suggest all around the global. One of the suggestions that they have implemented is unified settings. This happens because Windows 10 will run across all the devices. There will no longer be separate control panels and PC settings. The Action Center will also provide notifications and will be synchronized across the devices. It will show recently installed apps at the top. You can also float the keyboard around the screen and reply to notifications in-line.
Other Features
1. As aforementioned, Windows 10 will run across devices, including smartphones, tablets and other handheld devices). This means that Windows phone will come to an end.
2. Windows 10 can be termed the first holographic computing platform. It comes with a set of APIs which means that developers are able to create holographic experiences in the real world. Windows 10 will work with the HoloLens, what Microsoft calls the first untethered holographic computer. It need not connect to a PC to work together.
3. Windows 10 features continuum mode, which comes in handy for hybrids and convertibles. The Operating System automatically moves between laptop (where there is keyboard and mouse) and tablet (where you use touch). It does this as it is able to detect the loss or addition of a keyboard.
4. Windows 10 will be free to upgrade for the first year for Windows 8.1 users on both phone and PC, as well as users running Windows 7.