Awesome Windows 10 Wallpapers for Your Desktop PC
Since Microsoft released the Windows 10 official version to the public, we know that there are lots of new features have been added into the Microsoft new operating system. People always like to get familiar with the functions and operations of a new system, and then try to customize their desktop PC like change a personalized wallpapers as they like. It is to be noted that wallpapers on your desktop PC can greatly reflect one's preferences and makes you feel comfortable while you're using it. So in this article, we have collected and picked up several HD Windows 10 wallpapers for your reference. You can download it from here and set them on your own PC by following the tutorial in this page easily.
Can't Miss:
How to Use Microsoft Cortana on Windows 10
How to Download and Install Windows 10 on PC Step by Step
Top 9 Awesome HD Wallpapers for Windows 10 Users
Note: Every Windows 10 wallpapers series above contain at least 7 different pictures under the same topic. And if you're interested in it, you can click the small title to get them at once.
How to Setup Wallpapers on Windows 10?
After selecting your favorite HD wallpapers and download it on your computer, you can right-click on the desktop and then you'll see an interface like below: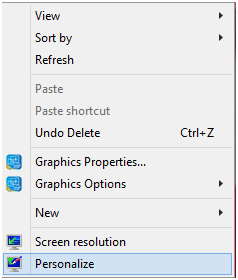 Don't hesitate to select "Personalize" to customize your desktop PC settings as you like.
Here, you'll be taken to a new interface as follow. Just choose "Desktop Background" and then you'll be able to select the pictures that you have prepared before as the background.

Related Articles:
Can We Get Microsoft Windows 10 for Free
How to Run Windows 10 on Your Tablet
Add a comment