Plenty of eReaders, as well as iOS and Android apps are existed that allows viewing ePub files. Even there is Firefox Add-on enables you to read ePub files or books in the browser directly. All the signs said that ePub books have already had a place in the eBook market. Supposing you have stored a good deal of ePub books on your computer and you e-reading devices, but all of of them are arranged in a totally random order with wrong titles. Some of them even have no title or are just something like "Untitle.epub" or "Doc1.epub", which makes it inconvenient and confused when you need to find a specific book in the library. Needless to say, a correct book title is important for book browsing, searching and arranging. In that way, do you have any idea on how to edit and correct the name of the ePub books?
Unlike other file types like Word documents, you can not edit the book tile of an ePub books by clicking, double clicking or right clicking. To make ePub books editable, you should ask help from third-party ePub editing software. As we all know that Sigil is the well-known ePub editing freeware that allows you to create your own ePub file and edit details about the book, including title, author, language and more. However, Sigil is running heavily and the interface, along with the operations are complex to be used. To ease the job of editing ePub title, we kindly suggest you have a try with Coolmuster SignPub, which is an advanced application that can help you edit ePub files or eBooks effortlessly. What you need to do is just loading the ePub book, go the Title section and type the correct title. Then, save the edited ePub files on your computer.
Main features of this ePub Title Editor:
* Add multimedia files like images, videos, audio files to your books;
* Edit table of contents, texts, images and metadata in your ePub books;
* Design the layouts, image cover, as well as presentation of your contents with this powerful editor;
* Add bookmarks, or some special effects to their ePub books to highlight some important words, sentences or a paragraph;
* It is 100% reliable that you can rest assured of using it to edit ePub eBooks and files on computer without any hassle.
The tool is easy-to-use that you can handle it without any specialized knowledge is required. The following guide will show you how to edit the title of your ePub books. Download the free trial version of the ePub title editing software for Mac or Windows on your computer. The below operations are appropriate for both Mac and Windows platforms.
Can't Miss:
How to Convert Word Document to ePub Format
A Simple Way to Embed Audio or Video Files into An ePub Book
Steps to Modify Book Title & Entry Title in ePub Books
Step 1. Open Source ePub eBooks/Files in The Program
After you download and install the program on your computer. Launch it and then import the target ePub eBooks or files to the program like this: click the "Open File" option to browse and open the ePub eBooks you want to edit, or directly drag and drop the ePub files to the software.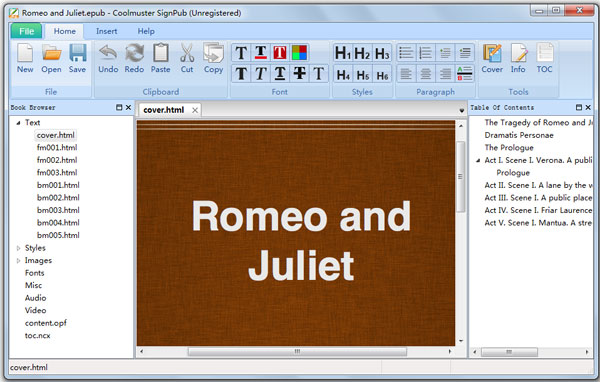 Step 2. Edit the title of the ePub book
Navigate to the top menu and choose the option of "Info" to bring out info editing window. Just type the correct book title in the Title section. Here, you can also edit Author and Language as you need.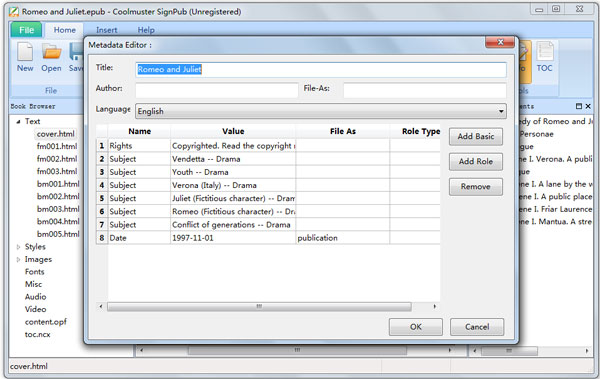 Step 3. Save the edited ePub
After that, you can click "Save" or "Save as" option to save your edited ePub book on your computer. You can customize the output location on your own.
Additional tips: The Entry Title of your ePub book can be also edited. Just click the "TOC" button from the top menu to bring out the entry title editing window like the below picture shows: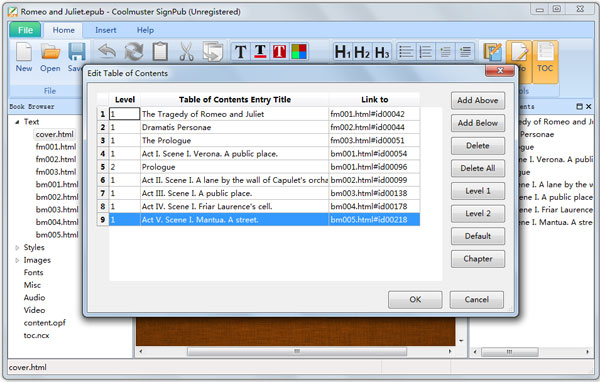 Related Articles:
How to Edit ePub eBooks with Ease