Coolmuster Free iPad iPhone iPod Disk Mode for Mac Online Help
Welcome to the online help center for Coolmuster iPad iPhone iPod Disk Mode for Mac! Here you can get detailed steps, frequently asked questions, as well as the detail information of this products. If you have any questions or suggestions, you can leave your comments here. First of all, let's check the main features of Coolmuster iPad iPhone iPod Disk Mode for Mac together.
Key Features
• Use your iPad, iPhone, iPod touch as if it were in disk mode.
• Transfer data to or from Apple device without quality loss.
• Create, delete and rename files/folders on iOS devices.
• 2 different viewing modes for easier files/folders browsing.
• Compatible with all generation of iPad, iPhone and iPod.
• Turning your iOS devices into external hard drives.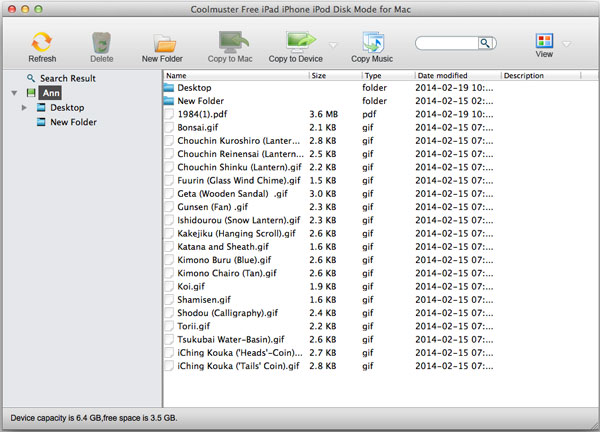 System Requirements
OS: Mac OS X v10.9 or later
Minimum Hardware Requirements: PowerPC® G4/G5 or Intel® processor, 30MB or above Memory, Super VGA (800 x 600) resolution or higher RAM
Installation&Uninstallation
Installation
Follow steps below to install this software on your computer. It is very simple.
* Click the download link to get the installlation file.
* You will find an .exe file on your computer. Click it and a window come up to remind you the installtion. Just follow prompts of the interface to continue.
* After installation, there will be a quick-start icon on your desktop.
Uninstallation
Go to the installation folder which you store the software to find the uninst.exe icon. Hit it to remove the whole software from your computer.
Registration
A totally free product, no registration needed.