Why Should You Choose Coolmuster Android Backup Manager?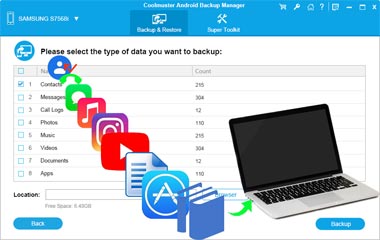 Back Up Android Phone in 1 Click
Wondering how to back up everything on Android phone effortlessly? This Android backup software allows you to back up Android phone to PC in one click and endows you with the full right to back up Android phone data with ease.
User-friendly Backup Process: With no special technical skills required, you can freely choose to back up either all or any target data types on Android device without quality loss, customize the storage location of backup files, and also track the backup progress.
Multiple File Types Supported: Various file types are supported for Android backup management, such as contacts, messages, call logs, photos, music, videos, documents and user apps.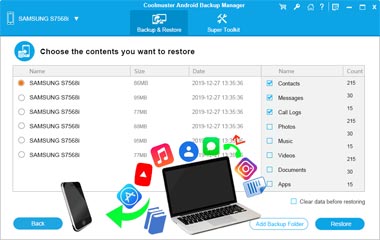 Restore Android from Backup in 1 Click
Want to make an Android backup and restore to a new phone? Whenever you need to switch to a new Android phone or share data with the other Android device, this Android data backup & restore app is always at your services, helping with Android restore from backup with one click.
Customized Restore Process: It can quickly scan out and list all the backup files you've made on your computer, you can freely choose to restore any listed backup file and any target file types into any connected Android device.
Other Restore Utilities: Can't find the backup file you've made from the list? No worries, you can add the previous backup file with the "Add Backup Folder" feature. Also, the exiting data on your Android phone won't be deleted unless you've chosen to clear data before restoring as it supports.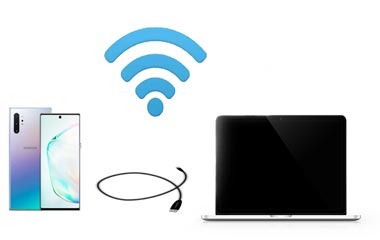 2 Device Connection Methods: USB and Wi-Fi
Coolmuster Android Backup Manager provides two ways to connect Android device to this software for successful Android data backup and restore: USB connection and Wi-Fi connection. You can freely choose either way you want.
Connect via USB Cable: Usually, you can connect your Android device to computer with a USB cable for a more stable connection, which is easy and also ensure fast Android data backup and restore.
Connect via Wi-Fi: With no USB cable around? Don't worry, you can also connect the Android phone to computer with stable Wi-Fi by scanning the QR code of this program, and wirelessly back up and restore Android data.
High Compatibility, Fast Transfer, Read Only, etc.
After rigorous testing, Coolmuster Android Backup Manager works well with almost all Android devices, and also stands out with various attractive features.
Supported Android Devices: Almost all Android phones and tablets in different phone brands and models are supported, such as Samsung, Huawei, Xiaomi, HTC, LG, Sony, Motorola, Google Nexus, ZTE, Dell, and so forth.
Highlighted Features: It's easy and fast to back up and restore Android data, READ-ONLY for Android data without damaging or leaking out users' personal data, able to manage multiple Android devices simultaneously, green, ad-free and light in size.
Don't Take Our Word For It
Product is easy to use and allowed me to create a backup of my phone and tablet prior to updating me devices. I am very pleased with the application.
- Joseph Hargis
Excellent product. Easy install, great functionality. It actually does exactly what I required, with great ease.
- Eoin Joyce
Excellent software. Very easy to use. Got 2 phones backed up with it. Came in very handy when I transferred to a new phone. Would recommend to anyone looking for an easy backup solution.
- John
FAQs and Tips for Coolmuster Backup Manager for Android