Why Should You Choose Coolmuster PDF Merger?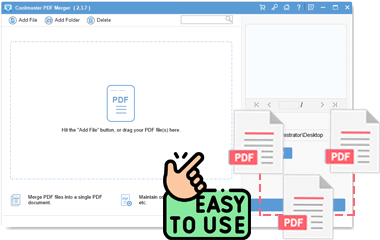 Combine Multiple PDF Files into One
Want to combine multiple PDF files into a single document? Coolmuster PDF Merger has got you covered. With its intuitive interface, you can effortlessly customize and merge PDFs exactly the way you want. No worries about file management anymore.
Merge Multiple PDFs: Merge as many PDF documents into one as you need at once.
Efficient Handling: Easily join large PDF files without compromising performance.
Customize Document Order: Arrange PDF files in any preferred order.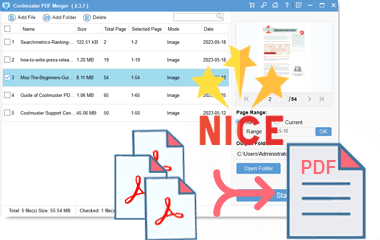 Merge PDFs and Images with Ease, Preserving Original Quality
Merge PDF files and images effortlessly while preserving the original quality. Enjoy a seamless merging process with outstanding results.
Preserve Original Quality: Our software ensures that text style, images, graphics, tables, hyperlinks, layout, and formatting are all retained in the output PDF document. No compromises on quality.
Superior Viewing Experience: The newly created file maintains the superb quality of the original documents, providing you with an exceptional viewing experience without any loss of quality.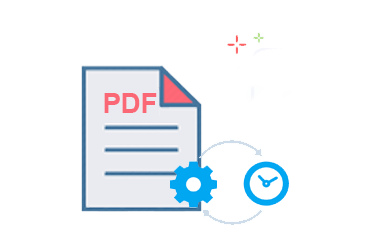 Efficiently Manage Your PDFs at Your Fingertips
Efficiency meets simplicity in Coolmuster PDF Merger. Merge, rename, and customize PDFs effortlessly, regardless of language barriers. Streamline your workflow with ease.
Easy Import Options: Import batch or single PDF documents, or load the entire PDF document for merging.
Multilingual Support: Merge PDFs in any language without limitations.
Rename Freely: Rename your merged PDF document as desired.
Preview and Customize: Check imported documents and customize their order using the preview screen.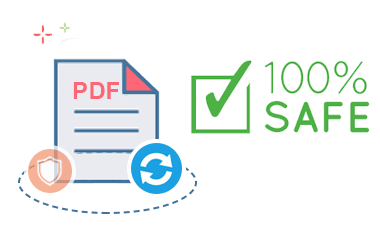 Reliable and 100% Secure PDF Joiner
Merge PDFs effortlessly with Coolmuster PDF Merger, a reliable and environmentally friendly PDF combiner. Its attractive interface and intuitive tutorial make merging a breeze. Your documents are safe and secure with us.
User-Friendly Interface: Enjoy an attractive interface with a simple tutorial for quick and accurate merging.
Stand-Alone Solution: No need for additional software like Adobe PDF Viewer.
Safe and Confidential: Your documents are secure with Coolmuster PDF Merger. No personal information is compromised.
Don't Take Our Word For It
Coolmuster PDF Merger has made my life so much easier when it comes to combining multiple PDF files. Its intuitive interface and seamless merging process have saved me valuable time and effort. Highly recommended!
- JaneDoe91
I've tried several PDF merger tools, but Coolmuster PDF Merger stands out from the rest. It flawlessly preserves the original layout, text, and hyperlinks of the merged documents. It's a reliable solution for maintaining document integrity.
- PDFEnthusiast55
Coolmuster PDF Merger is incredibly fast and reliable. It efficiently merges PDF files without any loss of quality. It has become an indispensable tool for my business needs, streamlining my document management workflow effectively.
- pdfPro789
FAQs and Tips for Coolmuster PDF Converter Pro