Why Should You Choose Coolmuster HEIC Converter?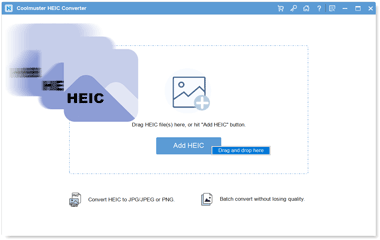 Batch Convert HEIC Images on Windows PC
Too many HEIC images to convert? Relax, you can batch convert HEIC images to JPG/JPEG/PNG on PC with ease. And there are 2 ways to add HEIF files and convert them in one click.
Drag and Drop HEIC Files: Directly drag one or more HEIC photos to the target area, the HEIC file converter will swiftly add and check them on the list for you to convert immediately.
Batch Add Files or Folders: Directly click the "Add HEIC" to add multiple files, or hit the "Add Folder" button to add a whole HEIC file folder to convert simultaneously.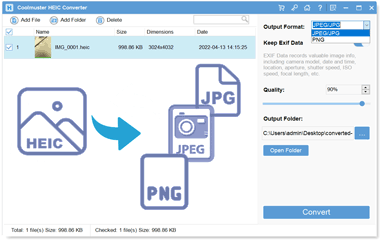 Convert HEIC Files to JPG/JPEG/PNG
This converter supports converting HEIC file format to other much more compatible image formats. Thus, you can easily open, view, and deal with your HEIC files on your iPhone/iPad.
Convert HEIC to JPG/JPEG: You can easily convert HEIF files to the widely compatible image format with the help of this HEIC to JPG/JEPG converter.
Convert HEIC to PNG: Also acting as a HEIC to PNG converter, it helps to convert groups of HEIC photos to PNG image format at a time without limit.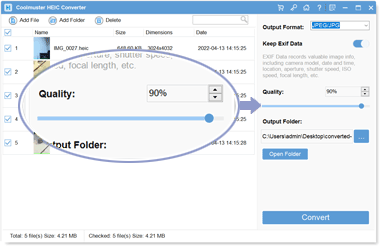 Convert HEIC Photos without Losing Quality
Are you worried about damaging the photo quality after converting? Luckily, this converter can keep the original image quality. What's more, you can set up the output image as you like.
Adjust Image Quality: Before coverting images, you can adjust the image quality from 0% up to 100%. It won't compress or damage your image if you don't want to.
Keep Exif Data: The Exif data contains all the image info like camera model, date and time, location, etc. You can choose to keep it or not when you convert to JPG/JPEG.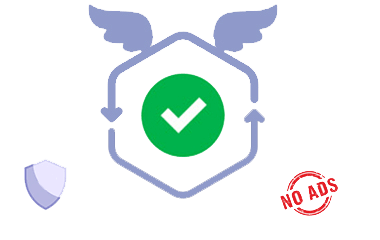 Fast, Easy to Use & Secure
It allows you to convert 10 HEIF images for free. Just give it a try, you can realize it is a quite handy, fast and time-saving converter.
Fast & Easy to Use: You can batch add and convert all HEIF files at a time, and customize the location to store the images. Importantly, the converting processes is surprisingly time-saving.
100% Secure: It won't save or disclose your uploaded files once the conversion is done, only you can access them. And the conversion process is ad-free. So you don't need to worry about privacy.
Don't Take Our Word For It
I found this HEIC converter by chance since I need to convert a bunch of HEIF photos. I tried it and then I realized it was worthy and it worked perfectly on my computer. I like it!
- BenBang
There are many HEIC images on my computer, but this software can convert all my images simultaneously. I drag my pictures to the software, and it will fast list them on the interface. What's more, I can convert my images to JPG/PNG with the original quality. That's so so so important for me. I like this converter.
- Gina
I have an iPhone and Android and want to get and use some HEIF photos on my Android phone. However, my Android device doesn't recognize the pictures. By chance, I found this HEIC to JPG converter and tried it. It worked for me. Anyone who wants to convert HEIF pictures to JPG should give it a try!
- Sarah Palin
FAQs and Tips for Coolmuster HEIC Converter