Coolmuster JPG to PDF Converter Online Help
Welcome to Coolmuster JPG to PDF Converter's online support center! This resource offers detailed steps, FAQs, and comprehensive information about this PDF to image converter. Feel free to ask questions or provide suggestions by leaving comments. Let's start by exploring the main features of Coolmuster JPG to PDF Converter.
Key Features
• Effortless Image-to-PDF Conversion: Convert JPG, PNG, TIFF, and BMP files into PDF effortlessly.
• Batch Processing: Convert multiple images to PDF simultaneously for efficient document management.
• High-Quality Results: Maintain original image resolution, colors, and formatting in the PDF output.
• Customizable Options: Adjust page size, orientation, and margins to suit your preferences.
• User-Friendly Interface: Intuitive and easy-to-use interface suitable for all skill levels.
• Lightning-Fast Speed: Swift conversion process without compromising quality.
• Efficient File Organization: Easily rename, rearrange, and merge PDF documents.
• Free Trial Available: Experience the power and user-friendliness with a free trial.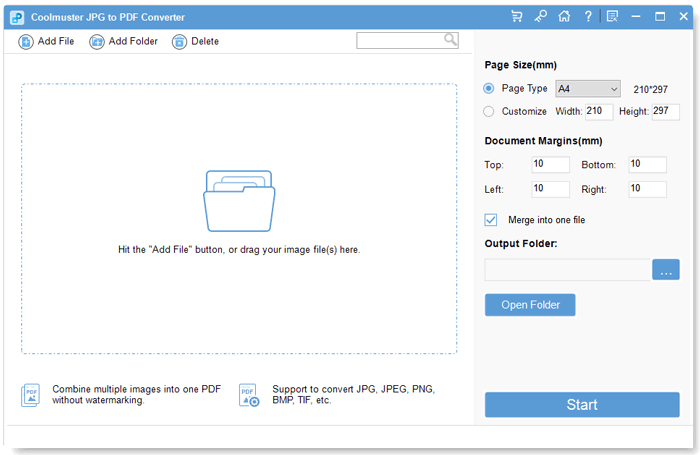 System Requirements
OS: Windows 11, Windows 10, Windows 8, Windows 7
Minimum Hardware Requirements: >750MHz Intel or AMD CPU processor, 512MB or above of RAM, 1GB above free space
Installation & Uninstallation
Installation
To install this JPG to PDF Converter on your computer, follow the simple steps outlined below:
* Download: Click on the provided download link to download the installation file.
* Install: Locate the downloaded .exe file and run it. Follow the on-screen prompts to complete the installation.
* Quick-Start: Find the quick-start icon on your computer after installation.
Uninstallation
* Locate: Go to the installation folder where the JPG to PDF Converter is stored.
* Uninstall: Find and click on the "uninst.exe" icon to initiate the uninstallation process.
Registration
* Order Confirmation: Upon ordering, you'll receive an email with the licence code and a download URL.
* prepare: Uninstall the trial version and download the full version, or directly register using the trial.
* Register: Click "Register" in the software window and enter the licensed email and licence code.
* Restart: Restart the software to fully explore and enjoy its functions.
Note: Make sure to use the same email address used for purchasing the program during registration.