Coolmuster Android Backup Manager for Mac Online Help
Welcome to the online help center for Coolmuster Android Backup Manager for Mac! Despite the key features, stepwise guide, frequently asked questions and this Android backup and restore tool's registration information, you can know all of them here. Without further ado, let's check the main characteristics of Coolmuster Android Backup Manager for Mac.
Key Features
* Back up and restore Android data on Mac computer with 1 click by category.
* Support multiple Android files, such as contacts, messages, call logs, photos, music, videos, documents and apps.
* Transfer data with the original format and quality.
* USB and Wi-Fi connections are available.
* User-friendly interface that can help you operate it without trouble.
* High compatibility for it works well with almost all Android phones and tablets: Samsung, Sony, Huawei, OnePlus, LG, Motorola, HTC, OPPO, ZTE, etc.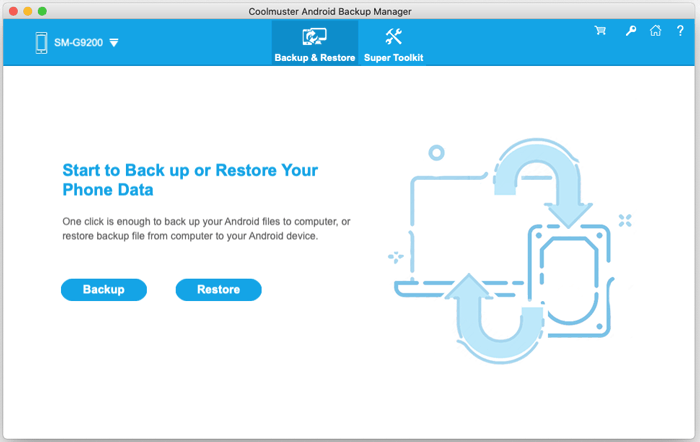 System Requirements
OS: Mac OS X 10.9 or upper
Minimum Hardware Requirements: 1G Hz or above PowerPC G4/G5 or Intel processor; 512 MB or more
Installation & Uninstallation
Installation
You can breezily install this software on your Mac computer. Here's how:
(1) Click the download link to get the installation file, and click "Agree" to begin installing it.
(2) Drag the Coolmuster Android Manager for Mac icon to the Application folder to get it installed successfully.
Uninstallation
To uninstall this Android backup and restore software, please follow these steps:
(1) Exit Coolmuster Android Backup Manager for Mac on your computer;
(2) Then open the Applications folder and drag the icon of this backup & restore program to the Trash can.
(3) Empty the Trash can.
Registration
When ordering this software, you'll receive an email that includes the license code and the URL for downloading the Coolmuster Android Backup Manager for Mac. After downloading and installing it on Mac, please follow the steps below to register it:
(1) After entering the program, please choose the "Android Backup & Restore" module and hit the "Key" icon at the top right corner of the main interface;
(2) Tap on the "Register" button on the pop-up window of this software to go to the register interface;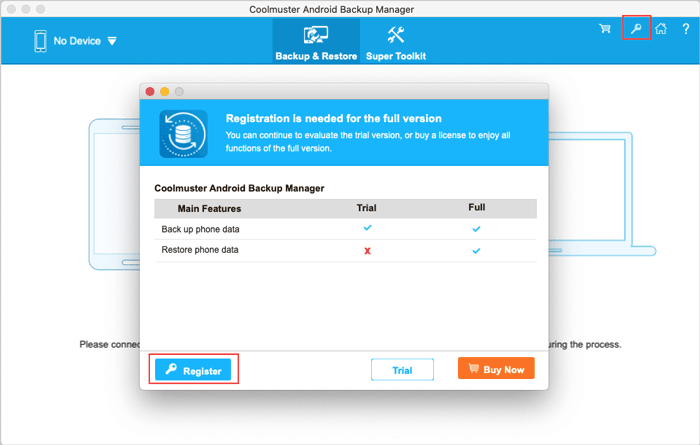 (3) Please enter the licensed email and license code to finish the registration. Please enter the email address that you used to purchase the software.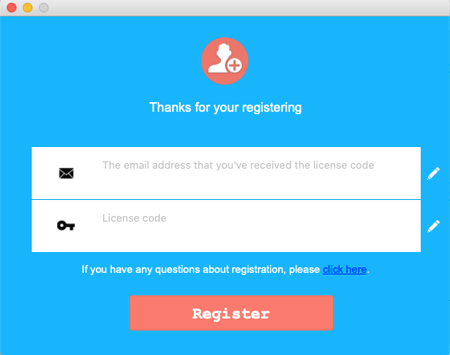 Once registered, you can make use of its full functions immediately.