Coolmuster PDF Locker Online Help
Welcome to the online support center for Coolmuster PDF Locker! This comprehensive resource offers detailed instructions, frequently asked questions, and in-depth information about this PDF to image converter. If you have any questions or suggestions, please feel free to leave your comments here. Let's begin by exploring the key features of Coolmuster PDF Locker.
Key Features
* Set User Password (Open Password) to prevent unauthorized access to the PDF.
* Encrypt PDF with Owner Password to protect against unauthorized reuse or modification.
* Three encryption levels available: 40-bit RC4, 128-bit RC4, and 128-bit AES.
* Full control over printing, copying, editing, and other permissions for the PDF content.
* Standalone and user-friendly interface suitable for users of all skill levels.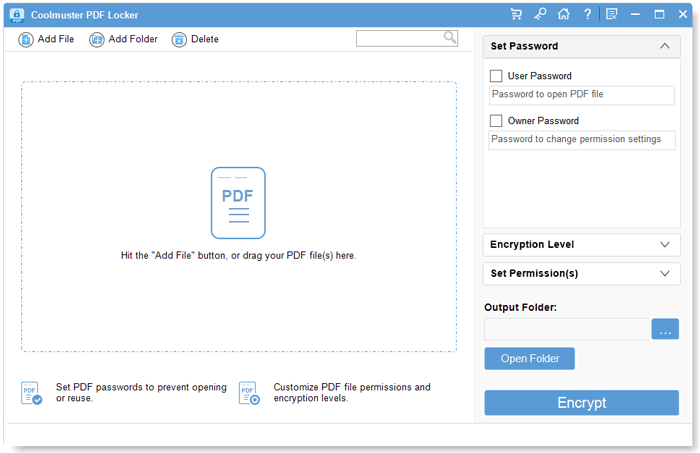 System Requirements
Operating System: Windows 11, Windows 10, Windows 8, Windows 7
Minimum Hardware Requirements: >750MHz Intel or AMD CPU processor, 512MB or above of RAM, 1GB above free space
Installation & Uninstallation
Installation
To install this PDF Locker on your computer, follow the simple steps outlined below:
1. Click on the provided download link to download the installation file.
2. Locate the downloaded .exe file and double-click it. A window will appear, guiding you through the installation process. Follow the prompts on the interface to proceed.
3. Once the installation is complete, you will find a quick-start icon on your computer for easy access.
Uninstallation
1. To uninstall Coolmuster PDF Locker from your computer, follow these steps:
2. Navigate to the installation folder where the PDF Locker is stored.
3. Locate the "uninst.exe" icon and double-click it to initiate the uninstallation procedure. This will effectively remove the PDF to JPG converter from your computer.
Registration
Upon ordering Coolmuster PDF Locker, you will receive an email containing the registration code and a URL to download the full version. You can either uninstall the trial version and download the full version or directly register the converter using the trial version.
To register the software, follow these steps:
1. Launch Coolmuster PDF Locker and click on "Register" within the program window.
2. Enter the licensed email and registration code provided in the email you received. Ensure that the email address matches the one used for purchasing the program.
Once you have successfully registered Coolmuster PDF Locker, simply restart the program to fully explore and enjoy its functions.